Professional Services in Miramar
---
Professional Service Deals
---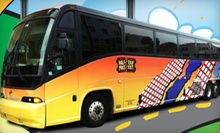 Tours drop by Bayside Marketplace for shopping before cruising by the Art Deco District, Coconut Grove, South Beach, and other iconic stops
Use Wednesday 6:15am - 9:15am
---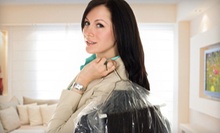 Accredited cleaners have worked for Breakers hotel and resort as well as Donald Trump's Mar-A-Lago resort
Use Wednesday 7:00am - 9:00am
---
Recommended Professional Services by Groupon Customers
---
Dryeco Green Cleaners believes that the pursuit of clean shirts, blouses, and spring scarves shouldn't make the atmosphere a smudgy mess. Environmental kinship extends starts with the GreenEarth process of non-toxic cleaning agents that deliver a deep clean without color fading or fabric shrinking and never poison adorable dachshunds. All solvents and degreasers are safe for the environment and safe to the bodies that don their fresh frocks. Dryeco also supplies its customers with a pair of free laundry bags that bypass disposable plastic satchels, and all cleaned goods are delivered in packaging that is partially degradable or made from post-consumer products.
18660 Collins Ave.
Sunny Isles
Florida
By employing state-of-the-art equipment and a knack for capturing striking high-definition images, Dead Pixel Studios ensures that subjects will be portrayed with a music video's pizzazz. Dead Pixel's impressive 2,300-square-foot facility includes an enveloping cyclorama wall, providing an immersive backdrop for aspiring models, aspiring married couples, aspiring high-school graduates, and aspiring adults (children). In between flashing spontaneous poses and smile-inducing eye twinkles, you can chill out, touch up coiffures, and apply fresh clown face paint with steady-handed precision in the studio's separate makeup room and lounge.
6851 Southwest 21st Court, STE 1
Davie
Florida
954-634-7550
Photo & Video services from A to Z: Professional video/photo restoration. Event Videography and Photography. Video and Photo Editing for montages and collages. Scrapbooks.
1390 Weston Road
Weston
Florida
954-659-9315
When big dreamer Jason Loeb decided to open a dry-cleaners, he wasn't content with the impersonal pickup and drop-off system of traditional shops. Instead, he dreamed up a full-service production that not only offered advanced, effective and eco-friendly cleaning services, but complimentary pickup and delivery services as well. Today, his fleet of 10 sky-blue vans traverses the Miami-Dade, Broward, and Palm Beach Counties, delivery freshly washed and folded items to customers' homes, yachts, or shells. Back at the shop, an accommodating staff washes garments with DFE-certified green products, while extending its expertise toward a variety of alteration and carpet-cleaning services. The company's commitment to exceptional service and environmentally friendly practices has won praise from Miami Sun Post's Business Focus.
6786 Collins Ave.
Miami Beach
Florida
305-864-3279
Martinizing Dry Cleaners is a nationwide franchise that dates all the way back to the year clothes were invented—1949. Since that time, the locations have flourished across the country while maintaining the company ideals of eco-friendly cleaning and meticulous care for fabrics. A Green Earth selected provider, Martinizing vanquishes oils and dirt from all manner of fabrics without the uses of petrochemicals or toxins that can pollute the air, water, or soil. During the cleaning process, the keen-eyed staff inspects garments at least six times, looking for unassuming stains and replacing missing buttons or bullet-proof lapels for free.
10408 W Atlantic Blvd.
Coral Springs
Florida
954-757-8500
In 1980, Harry and Darlene Kelton moved their houseboat to the Pelican Harbor Marina and discovered an injured brown pelican. Without the aid of animal-care experience, they removed a fishhook from his mouth and rehabilitated him. This led them to form the Pelican Harbor Seabird Station in their shed. With the help of volunteers and trained staff, the seabird station rescues, treats, and rehabilitates sick and injured wildlife, and promotes their preservation with educational programs and research efforts. The center specializes in brown pelicans, most of which are entangled in fishing tackle, but will treat any animal brought in for care. In 2007, they treated 87 bird species and 39 mammals, nonmigratory birds, reptiles, and amphibians.
1279 NE 79th St. Cswy.
Miami
Florida
---