Coffee & Treats in Mission
---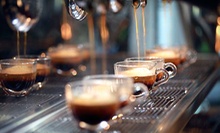 Palates balance specialty coffees, smoothies & bubble teas with contemporary sandwiches & breakfast items as patrons browse baubles in color
Use Monday 12:00pm - 6:00pm
---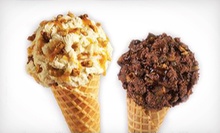 Cones with amaretto, cinnamon-vanilla, or cheesecake ice cream mixed with blackberries, bubblegum, or pecans tickle taste buds
Use Today 11:00am - 10:00pm
---
Recommended Coffee & Treats by Groupon Customers
---
A colourful spectrum of gelato flavours, safely ensconced in a gleaming glass case, catches the eyes of customers at Matteo's Gelato. Helmed by a classically trained owner that's been crafting frozen desserts for more than 35 years, the gelateria stocks a selection of classic and creative flavours that rotates as often as a clown's spinning bow tie. From seasonal appearances of candy-cane or pumpkin-pie gelato to regular flavours such as chocolate hazelnut and cherry blossom, the shop consistently tempts visitors to try something new. Espresso drinks create a pleasing contrast to the cold treats, especially when gelato is ordered affogato style: with a fresh shot poured over the chilly dessert.
2615 Mary Hill Rd.
Port Coquitlam
British Columbia
During the winter at Stomping Grounds Coffee House, guests can look over the steam of their coffee cups and out toward a rolling meadow surrounded by ranch-style fences. The windows and walls are rolled away during the summer, leaving the shop open to the warmth of Osprey Village.
Whether hunkering down or enjoying a breath of fresh air, guests can dig in to specialties such as fresh juices, organic coffee, housemade turkey chili, ham-and-swiss sandwiches, and locally made pastries. The eatery fires breakfast specialties for early risers, and it also arranges catering platters for large parties.
101-10931 Barnston View Rd.
Pitt Meadows
British Columbia
604-460-0111
Per The Chocolate Apprentice, Shelley Wallace waitressed at the Four Seasons for 10 years, working under acclaimed pastry chef Thomas Haas and serving high-profile figures such as Bill Gates. Craving a career change, Shelley asked to visit the chocolate factory that a customer said he was closing. Upon stepping into the factory, looking down at the production floor, inhaling the chocolaty aroma, and watching Violet Beauregardes roll around in their pen, she was sold.
Since then, Shelley's ideas have come to life with the help of her crew of trained chocolatiers, who create award-winning bars, bites, and seasonal treats from all-natural, sustainable ingredients. The team crafts signature truffles with flavours such as bubble gum and orange, and fills frog-shaped truffles with caramel and raspberries. Its chocolate bars are coated with single-origin chocolate sourced from Ecuador, Santo Domingo, and Madagascar.
103-3686 Bonneville Pl.
Burnaby
British Columbia
Though both of Shawn and Lisa Low's daughters, Isabella and Emma, love cupcakes, it was Emma who unwittingly named her parents' bakery—when presented with a cupcake, she used to clap her hands and shout, "Happy for me!" At Happycakes, a team of pastry chefs bakes fresh cupcakes from scratch as the sun rises, creating both filled and unfilled varieties. The ever-changing roster of 15 flavours includes inventive selections such as peanut-butter supreme alongside signature red velvet cupcakes. Though cupcakes are the bakery's bread and butter, it also tempts sweet teeth with other treats—cake pops, fudge, cakes, and coffee—and sates hungry bathtubs with cupcake-themed bath products.
Happycakes invites guests of all ages to celebrate birthdays in its cupcakery, and offers party packages that include ceramic painting, decorations, and goodie bags. Happycakes also caters its eye-catching cakes and cupcakes to help celebrate weddings, corporate events, and corporate marriages of two smitten conglomerates.
101-18640 Fraser Highway
Surrey
British Columbia
604-574-8988
The brewmasters at Mystic Leaf Tea put some of Mother Nature's tastiest offerings to good use with their temptingly aromatic tea service and exotic collection of jarred loose-leaf and ground teas ready for at-home percolation. The shop's fragrant, tranquil tearoom entices guests to while away the afternoon sipping on bubble tea––a sweet milk tea populated with chewy pearl-tapioca balls swiped from marshmallow oysters––or steamy refreshments brewed with antioxidant-loaded rooibos, green, or oolong tea leaves.
14841 Marine Dr.
White Rock
British Columbia
604-560-5808
The coffee-drinking cultures of Seattle and Old World Europe intertwine at The Wired Monk. Baristas swirl steamed milk into organic, fair-trade coffee drinks, which guests sip beside hand-painted art and a roaring fireplace. Meanwhile, the scent of cinnamon rolls wafts from the bakery case, past aromatic tea leaves by Zhena Gypsy and Mighty Leaf. Red espresso, a roobois tea from the mountains of South Africa, fills caffeine-free lattes with flavours as bold and smooth as a saxophone's pick-up lines. Healthy treats such as fruit smoothies and gluten-free muffins round out the menu with a touch of sweetness. The sound of tapping toes fills the shop on Thursday nights, when artists such as Harma White and Vaughan McKay flaunt their rock 'n' roll chops. Large-screen TVs draw sports fans to the couches on game days, and drink specials lure wine lovers on Wednesday nights.
100-1910 North Parallel Road
Abbotsford
British Columbia
604-746-1136
---