Restaurants in Mission
---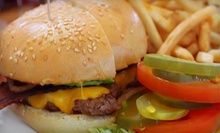 Hearty starters, juicy burgers, and Asian- and European-influenced entrees served in a welcoming sports-bent pub with a 15-seat patio
---
Restaurant Rewards Deals - Use Anytime
---
Recommended Restaurants by Groupon Customers
---
Before diners place their orders at Thai D'or waiters will often inquire, "Can you handle spicy food?" True to Thai culinary techniques, many of its dishes brim with fiery spices and chili-infused sauces, but chefs are eager to adjust spice content to suit each individual palate. Named for the French word for gold, the Thai restaurant lives up to its title with its fresh, authentically prepared curries, noodles, and specialties and its commitment to cultural traditions of hospitality. Servers bear blended cocktails and simmering meat, seafood, and vegetarian dishes into the dining room, where guests recline on cushy leather chairs beneath the glow of red lanterns. Eastern decor adorns the wall, and water trickles down from stone mosaics. The restaurant opens its function room to private parties, designing customized menus for family gatherings, business meetings, and kindergarten graduations.
2328 Clearbrook Rd.
Abbotsford
British Columbia
604-746-3800
Ban Chok Dee—which translates to house of good luck —captivates visitors with a spread of colourful, fragrant, and expertly balanced curries, noodle dishes, and rice plates. Traditional entrees, from pad thai to spring rolls, offset modern variations, such as the Pad Ped Jungle—crispy pork sautéed with shredded bamboo shoots in a spicy sauce—all of which draw from a palette of zesty sauces, potent chili oils, and creamy, coconut-milk-based broths. While embarking on their culinary voyage, guests gather amid leafy potted greenery and black-lacquered wood accents for a calm respite. Together, the food and atmosphere were voted Best Thai restaurant of 2011 and 2012 by readers of the Langley Advance.
To enhance the appreciation for Thai cuisine, owner and executive chef Parinya teaches lessons in how to create flavourful meals using simple techniques and telekinesis. The hands-on courses demystify ingredients, equipment, and the steps necessary to form four dishes, finishing up with a fun and delicious tasting.
#102-5499 203 Street
Langley
British Columbia
Cat & Fiddle Sports Bar & Grill has been delivering upscale pub food for more than 20 years. Its generous menu proffers signature sandwiches, such as Cat's pulled-pork sandwich—made from oven-roasted pork sauced with Jameson's and Guinness and topped with frizzled onions—to pub classics, including the Team Platter, a sampler loaded up with hot wings, dry ribs, and potato skins, to name a few. Friday and Saturday nights, a live DJ fills the nightclub area with bumping beats while patrons dance on the spacious dance floors.
1979 Brown Street
Port Coquitlam
British Columbia
Chada Thai Fine Cuisine—named after the traditional headpiece in a Thai classical dance—prepares platefuls of pan-seared tiger prawns, chicken blanketed in curry sauce, and pad thai noodles. Around the dining room, elaborate headpieces adorn walls, and sculptures sit near the entrance, high-fiving patrons as they walk in.
107-2991 Lougheed Hwy.
Coquitlam
British Columbia
604-464-5300
Scanning Del Pollo's cozy dining room, it's not unlikely you'll see a few sombreros speckled throughout the largely hatless group of guests. That's because waiters crown birthday celebrants with the classic Mexican cap, adding an air of unpretentious fun and festivity to the room. The cooks, however, make no such distinctions—they serve their authentic Mexican cuisine to everyone no matter their day of birth. These chefs fill sizzling fajitas with prawns tossed in house sauce, wrap flour tortillas around char-grilled AAA sirloin steak marinated with chipotle peppers, and whip up a Mexican poutine with achiote sauce, jalapeños, and a three-cheese blend. In addition to classic Mexican dishes, they whip up calamari with housemade tzatziki sauce and a New Orleans–style jambalaya comprised of chorizo sausage, scallops, and veggies. Bartenders complement the kitchen's creations with a wealth of soft drinks, beers, shooters, and sangria, as well as specialty cocktails and margaritas. The soft glow from wall lamps, flatscreen TVs, and Christmas lights strung from the ceiling illuminate the live musicians who grace Del Pollo's stage.
27248 Fraser Hwy.
Aldergrove
British Columbia
At Hillcrest Bakery & Deli, longtime head baker, David Moyer, and his staff handcraft meaty deli sandwiches on housemade bread, along with tiered wedding cakes, individual pizzas, and fresh vegetarian fare. The bakery makes all its confections from scratch—meaning patrons can customize cakes with a special design or an aesthetically pleasing squiggle. Diners who swing by for a midday soup-and-sandwich special can also treat their four-legged friends, as the bakery keeps a supply of snacks for dogs.
1403 Johnston Rd.
White Rock
British Columbia
604-531-1750
---