Mission Bend Automotive
---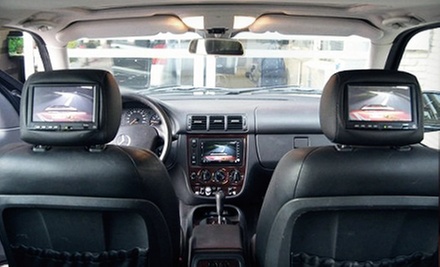 ---
Recommended Automotive by Groupon Customers
---
The Peveto family's name became synonymous with stopping power when John Peveto II opened his first Brake Check shop in 1968. More than 40 years and 40 shops later, the family still helps cars stop (and go) with brake-pad inspections, wheel alignments, battery replacements, and oil changes. With convenience in mind, each shop opens its work bays seven days a week, offers online appointments, and backs up several of their services with lifetime warranties that are then backed up by other even more muscular warranties.:m]]
5637 Southwest Fwy.
Houston
Texas
713-666-3618
The techs at Sparkles Carwash do more than just polish autos and vacuum interiors clean. They also aim to make your visit more convenient by performing oil changes, state inspections, and headlight restorations. However, it's the wash and detail services that really evidence their skills. During full-service washes, the crew uses products such as clear-coat conditioners and triple-foam wax to protect paint jobs and revive the shine. Detailing packages provide more intensive cleanings that have the staff shampooing carpets and blowing dust and debris out of the vehicle's nooks and crannies, including that cookie jar that some people insist on calling a glove box.
2030 Highway 6 South
Houston
Texas
281-870-1439
Empire Auto Detailers' skilled technicians strike fear into the scratchy, whirring brushes of automatic car washes everywhere. These dedicated detailing experts roam the DC area ready to perform fully loaded service packages that incorporate biodegradable carpet shampoos and steam cleaners, paint sealants that last from three months to one year, and waxes that leave cars with the sleek, wet look of a seal zooming down a Slip 'n' Slide. Ever ready to help autos in need, the technicians lend their careful hands to tint windows, install audio and alarm systems, and repair wheels and rims. Meanwhile, waiting customers can enjoy the shop's free Wi-Fi, watch cable on a flat-screen TV, and sip on complimentary coffee and tea.
5211 Spruce St
Bellaire
Texas
US
713-664-5211
With a gigantic blue bucket jutting from its roof, The Appleseed Express Carwash is nearly impossible to miss. Beneath this eye-grabbing centerpiece, automatic washing tunnels call upon energy-reducing frequency drives, recycled water, and environmentally friendly products and polishes to restore sullied exteriors to a like-new shine. In addition to their environmental promises, the washing crew also commits to its community by donating to the Kids in Need program and occasionally hosing down mailboxes.
6020 N Fry Road
Katy
Texas
USA
281-858-8383
The skilled staff members at Auto Concierge restore vehicular topcoats and tires to their original luster within a 1,200-square-foot detailing studio comfortably heated or cooled according to the season. Armed with top-notch waxes and wheel sealants from brands such as Swissvax and Nanolex Premium, employees make over cars from hubcap to roof rack, bathing exteriors before gently lifting entrenched debris and paring down uneven paint. Compressed air blasts grime from interiors, and dry vapor steam purifies carpets and upholstery while staffers wring out smoky scents and other lingering odors such as fast-food fries, frankincense, or myrrh. Auto Concierge also rights wrongs inflicted by auto dealerships by leveling and polishing flawed paint jobs. Roadsters that need to stay overnight at Auto Concierge are locked indoors and chaperoned by a 24-hour surveillance system.
21811 Katy Freeway
Katy
Texas
713-933-7360
Over the course of 31 years, the smiling staffers at Express Oil Change & Service Centers have learned that customers just want their oil changed fast. Instead of selling extra parts out of an oversize trench coat, staffers work quickly and efficiently to give cars what they crave; quarts of thick, black oil in the blink of an eye without an appointment. Each procedure lasts approximately 10 minutes, during which mechanics will replace the vehicle's oil and inspect its innards for problems. The process is so quick that customers can even wait inside their own vehicles while it occurs, much like a drive-thru car wash or drive-thru dentist appointment.
12807 Farm to Market 1960 Rd. W
Houston
Texas
---