Bars in Mission Bend
---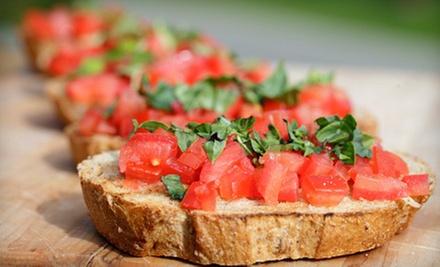 Washington Ave / Memorial Park
---
Recommended Bars by Groupon Customers
---
For a moment, The Firkin & Phoenix Pub's weathered brick and solid-black panels make the street corner look like a London intersection—but then a motorist drives by on the right side of the street, and the impression fades. No matter, since the decor inside continues the evocation of Englishness, with black booths backed with plush red cushions, a bar built from dark hardwoods, and carpet patterns recalling the Victorian era. The menu includes classic British dishes from scotch eggs to cottage pie along with burgers and other American pub food, including a Meatless Mondays vegetarian menu. The drink menu features popular English and American beers, with barkeeps pouring (512) Brewing Company IPA and Newcastle.
In true pub fashion, The Firkin & Phoenix keeps guests entertained in addition to well-fed. Eight LCD-screen televisions surround patrons with sports, and the staff sets up three projectors for highly anticipated events, such as Saturday-morning cartoons. More diversions include free WiFi, pub games such as darts, billiards, and ping-pong, and video games on a Nintendo Wii or Xbox 360 Kinect. The Firkin & Phoenix Pub also hosts trivia and bingo nights, plus charity events such as dog washes to benefit local animal shelters.
1915 Westheimer Rd.
Houston
Texas
713-526-3100
Surrounded by Winetopia's brick-laden walls, visitors sample a succinct selection of tapas, absorb the notes of live music and karaoke, and explore the flavors of rare wines gathered from around the world. In the dining room, the arched tops of built-in wine cabinets fit snugly into exposed-brick walls, and the chatter of guests clustered around intimate tables syncs with the clinks of wineglasses alighting on a granite-top bar. A menu of small plates romances appetites with everything from light snacks, such as marcona almonds and indian popcorn, to more substantial morsels, including veggie samosas. Plates strewn with various cheeses find companionship in chatty napkins and the sweet notes of fresh fruit or the deep flavor of assorted cold cuts. The rotating selection of more than 200 small-production wines overrides the need for a formal list, so instead sommeliers pilot patrons through vinos imported from New Zealand, South Africa, Oregon, and Argentina. The less traveled can charter entire flights of wine or sign up for a tasting class, or eschew grapey spirits altogether for one of the bar's 59 domestic or imported beers.
6363 San Felipe St.
Houston
Texas
US
Napa Grille Urban Wine Bar is the product of an alliance between business and pleasure, formed by the professional acumen of Bonny Stevenson and four decades of culinary know-how from chef Jim Ginger. Past the shaded open-air patio and the façade's striking portal of concentric circles, diners find a cozy steak house replete with cloth-draped tables, luxurious hardwood, gray stone accents, and horse-drawn carriage service to each table. Meals of hearty burgers on fluffy toasted rolls and saucy pastas peacefully share table space with crisp salads and juicy ribs, lamb racks, and filet mignon. Live entertainment takes the stage each Thursday–Sunday, serenading diners as they sup on masterfully crafted lunches and dinners.
14019 SW Fwy.
Sugar Land
Texas
281-277-2599
At The Mezzanine Lounge, a sports-oriented upstairs and a lower-level lounge stack atop each other inside the double-decker bar that Citysearch named Best Sports Bar in 2008 and 2009. The kitchen, like the bar, stays open until 2 a.m. daily, grilling chicken tenders and fresh half-pound patties for burgers such as the Twisted Texas burger, slathered in spicy barbecue sauce and topped with jalapeños. DIRECTV and other cable packages wire round the clock sports coverage to the bars' more than 30 TVs sprinkled artfully throughout the venue, supplying clear sightlines from anywhere, including the restrooms. Between strolls to the covered patio, patrons can aim cues atop red felt pool tables and drop quarters into an internet-capable jukebox, which stocks more than 150 CDs and can download further titles or add fictitious Grammy wins to Percy Sledge's Wikipedia page.
2200 Southwest Freeway, Suite 150
Houston
Texas
713-528-6399
Creative team TJ and Merlina Porter, both Clear Lake natives, joined forces with JeMarr Rivers to open a bar and lounge that offered an upscale, sophisticated nightlife scene. As of December 2011, JeMarr has trekked on as the sole owner while still maintaining the luxe atmosphere that draws crowds for nightly dancing and partying. An expansive interior paves the way for individuals or large parties, with a full reservation and VIP area for nights on the town or special occasions. The full bar slings beer, liquor, frequent specials, and 13 flavors of daiquiris, many of which are made with Everclear so that they can be used as a torch in the event of a power outage. During the week, live entertainment including jazz bands, standup comedy, and poetry readings fill the soundscape, and DJs spin tunes almost every night. Cultivating a truly carefree yet mature atmosphere, Daiqui-Ritas often hands out complimentary door prizes, which patrons can enjoy as they watch any of the lounge's five big screen TVs.
20801 Gulf Fwy., Suite 12
Webster
Texas
US
281-332-8111
Sports literally jump out of Fox Den 3D Bar & Grill's TVs. That's because they're 3-D. As football, baseball, and soccer games come to life, glossy red tables, red walls, and a long red bar color the room. Known for its wings just as much as the sports-centric atmosphere, Fox Den's menu presents eight options, including the bar's signature barbecue sauce, Spicy Asian, and Hott As Hell for the more adventurous. After filling up on specialty drinks, wings, and catfish, the bar's mechanical bull stands by to assist with digestion.
9719 W Broadway Street
Pearland
Texas
713-436-6444
---