Mission Bend, TX Health and Fitness
---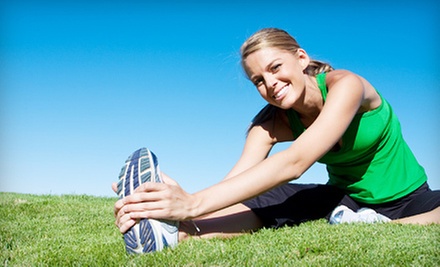 ---
Recommended Health & Fitness by Groupon Customers
---
Food—buying it, cooking it, relishing it—is central to The Life Long Weigh. Karen Hill, M.D., and her team of registered dieticians anchor their weight-loss and detoxification programs in diets of whole foods. During tours of grocery stores, they holler about the benefits of certain grains, vegetables, and other natural ingredients. Cooking classes teach students how to pack vegan meals with protein and prepare satisfying desserts without loads of sugar. Dr. Hill's weight-loss programs also include group meetings and behavioral therapy to motivate clients to follow through on their new diets.
5420 Dashwood Dr. , Suite 103
Houston
Texas
713-661-9550
Dr. Mark Mann is a dentist who truly enjoys seeing his patients' teeth transform and blossom; that's why he offers complimentary consultations, during which he helps design new smiles for his patients. Backed by a team of highly professional hygienists, assistants, and business coordinators, Dr. Mann uses advanced equipment while offering treatments such as dental implants, laser teeth whitening, and porcelain crowns. On the orthodontic front, Dr. Mann uses clear aligners that aren't very obtrusive and are custom fabricated for each individual's mouth instead of relying on outdated methods, such as metal braces or getting the Hulk to pinch your cheeks. His facility also offers digital x-rays that reduce the amount of radiation patients are exposed to by nearly 90%.
1111 Hwy. 6, Suite 220
Sugar Land
Texas
281-494-9400
The certificates that line the walls of Sugar Land Plastic Surgery's consultation room do more than simply confirm Dr. John T. Nguyen's credentials. These frames also provide a small glimpse into the major accomplishments he has achieved since relocating from Saigon to the United States as a child. From attending the University of Texas Medical School to earning board certification to founding Sugar Land Plastic Surgery, Dr. Nguyen has continually built upon his expertise while adding to his educational office decor.
Within the practice's modern treatment rooms, Dr. Nguyen and his staff work diligently to enhance clients' natural beauty with surgical and medspa services. All appointments begin with an in-depth consultation and exam to chart the patient's medical history, current health, and beauty concerns before a technician creates an individualized treatment plan. The office's Visia skin-analysis system allows for further personalization, providing digital images of the face that reveal concerns such as sun damage and hyperpigmentation. The office also tends to aesthetic needs with cosmetic surgery, dermal fillers, and laser hair and tattoo removal.
16614 Creek Bend Dr.
Sugar Land
Texas
281-980-8000
For more than 20 years, locally owned LabXpress' Scott Farrell has been expanding his health-focused chain across the Southwest with the aim of providing readily accessible and affordable medical tests. Trained lab technicians at each location provide same day and 24-hour turnaround for a wide range of tests on bodily topics including drugs, DNA, STDs, and allergies. All results are kept confidential. Their wellness panels for men and women, meanwhile, offer insight into organ function and hormone levels to screen for signs of disease or superpowers.
11242 FM 1960 Rd. W, Suite 108
Houston
Texas
936-441-2021
Doctors Ernest Drake, David C. Emmers, and Bill Van Eenenaam unite under the umbrella of Spectrum Dental Group. They each bring their specialties to the clinic, which has been in operation for more than a quarter of a century. The range of services include family and cosmetic dentistry, oral surgery, and orthodontics. The supporting staff works to welcome any new clients into the practice by helping patrons complete paperwork and the necessary licenses to smile on television.
5901 Westheimer Rd., Suite D
Houston
Texas
713-228-3384
Featured on ABC13 news for the ability to reunite patients with their flip-flops, board-certified Dr. Gabriel Maislos and his staffers right all manner of pedal wrongs with noninvasive treatments and corrective surgery. Dr. Maislos equips his offices with the latest therapeutic technologies, including fungus-fighting PinPointe lasers and pain-relieving EPAT devices, to fortify patients' feet with the most comfortable and efficacious methods.
7777 Southwest Fwy., Suite 506
Houston
Texas
713-541-3199
---