Tours in Mission Bend
---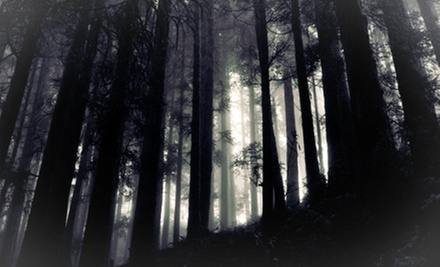 ---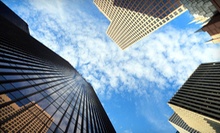 Groups embark on tours of Houston's historical buildings and bars, enlightened by stories and facts from a knowledgeable guide
---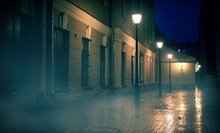 Experts in the paranormal lead factual ghost walking tours and hunting expeditions through Old Town Spring
---
Recommended Tours by Groupon Customers
---
A fleet of segways ferries tour takers to scenic outposts in downtown Houston and along the historic bayou during four tours, seven days per week. Guides lead groups of up to eight riders in snapping sunset pictures during the Twilight Bayou tour and spout off historic anecdotes during the Houston History tour. In addition to tours of the city and scenery, friendly guides can travel with a brigade of segways to a client's home or office to teach friends, families, and coworkers how to navigate the two-wheeled steeds more effectively than a renowned segway whisperer.
501 Texas St.
Houston
Texas
866-673-4929
Though you're free to take the machine on a pub crawl or bring your own under-21 drinks, alcoholic drinks are only allowed onboard for very specific routes. Check the FAQ page for drinking restrictions and other information. You can keep the afternoon clean and family oriented too, which is especially easy if you have multiple wives and enough children to fill all the seats. This centipedal device has the distinction of being one of only two activities perfect for both bachelorette parties and church outings, the other being barbecue wrestling. And since the cruiser never tops eight miles per hour, you'll be safe from accidents and, if not every chupacabra, at least the fat ones.
The ghastly guides of Ghost Tours Texas lead groups of foolhardy interlopers on story-filled journeys past the spectrally inhabited landmarks of Galveston and Houston Heights. On the Galveston tour, a knowledgeable leader takes parties through the Silk Stocking District to visit the 1858 Ashton Villa mansion, whose second floor is occupied by the phantom "Miss Betty" Brown, and whose basement is occupied by a man who years ago forgot how to work a doorknob. The guide also divulges tales told from eyewitness accounts.
The Houston Heights tour winds through the area's historical and opulent homes, exploring such mysteries as the story of the Dean Correl murders and the children who are said to still haunt the alleyways of Houston Heights. Guides weave tales of ghostly possessions and evil voodoo dolls peppered with real-life testimonies from local residents.
1548 Heights Blvd.
Houston
Texas
832-224-8686
After a brief training session, the expert guides of Segway-authorized SegCity Houston herd up to eight gliders perched effortlessly atop Segway I2s. All mechanical roadsters are designed to handle the rocky off-road terrains of the Trail Blazin' tour, which weaves through forest trails dappled with sunlight. The Adventure Trail tour grants riders a behind-the-scenes peek at Burroughs Park as they whir past trees, humming wildlife, and a sparkling lake. Tours safely run rain or shine, only halting for exceptionally icy or stormy weather or passing herds of lake monsters.
9738 Hufsmith Rd.
Tomball
Texas
281-630-4796
Reliant Stadium's titanic venue, home to the Houston Texans and the Houston Livestock Show and Rodeo, covers 125,000 square feet of sporting ground. The facility is the first in NFL history to have a retractable roof, which sightseers can view from the field during public gridiron tours. While strolling across Reliant's stadium floor, fans can relive their favorite memories of Super Bowl XXXVIII, or search every nook and cranny for John Madden's lost bus keys.
1 Reliant Park
Houston
Texas
832-667-1842
The 2004 MLB All-Star Game. The longest baseball game in postseason history. Craig Biggio's 3,000th hit. For a stadium that just opened in 2000, Minute Maid Park has already hosted its share of memory-making moments. Astros fans pack the field's 40,963 seats during baseball season. The Astros invite fans to take in full-field views from luxury boxes and terrace decks or track players from seats along the first and third baselines situated within 43 feet of the game's action. The stadium welcomes teams and performers from across the spectrum of sports and entertainment. Whether tracking the pitch during international soccer face-offs or jamming to tunes of artists including Madonna and Taylor Swift, visitors stay comfortable beneath a retractable roof designed to combat the unique climate conditions that Texas weather can present.
Designed with Texas's railway history in mind, the park blends naturally into the classic red brick and glass looks of nearby Union Station. A full-sized vintage locomotive runs intermittent trips along 800 feet of track along the left-field wall, giving fans a glimpse of Wild West transportation and the lead character of next summer's Cowboys Vs. Transformers.
501 Crawford St.
Houston
Texas
713-259-8995
---