Beauty & Spas in Mississauga
---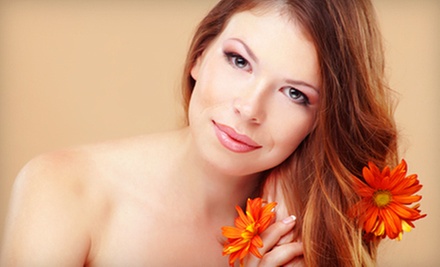 ---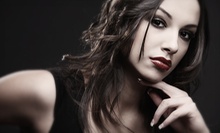 Use Tuesday 10:00am - 6:30pm
---
Recommended Beauty & Spas by Groupon Customers
---
The chocolate-brown awning that heralds Diva Couture Salon and Spa resembles the awnings that speckle Parisian side streets. Its scalloped edging ripples in the breeze, shadowing bay windows and potted topiaries. Inside the salon, black and white tiles underscore styling stations where hairdressers cut and colour manes. This space leads to a pedicure area, as well as private treatment rooms where certified aestheticians, clinicians, and massage therapists enhance body and mind with spa services and med-spa treatments. In the waiting area, herbal tea, espresso, and wine keep palates warm and relaxed for drawn-out thank you speeches.
Dedicated to patients and survivors of cancer, Diva Couture Salon offers discounted and complimentary services to those going through treatment and celebrates survivors by offering specials three times a year.
2385 Lakeshore Rd. W
Oakville
Ontario
905-825-8800
"I now use many of the noninvasive medical services I offer at my clinics to fight the aging process. I have personally never felt or looked better and I am now in my forties," says Eleanor Welsh, founder of Skin Vitality Medical Clinic. Using Elos laser and radio frequency technology, her team of registered nurses and registered practical nurses is able to reshape bodies, erase body hair, and tighten skin with the push of a button. Their skill with beauty injectables comes from extensive training from Allergan and other pharmaceutical companies, giving them the deft ability to leave clients' faces more youthful than a rosebud in a sippy cup. For more dramatic results, Dr. Conor B. Turley performs cosmetic surgeries such as tucks, augmentations, and lifts.
125 Lakeshore Rd. E
Mississauga
Ontario
905-274-4440
The welcoming atmosphere at Hair Body & Soul Studio and Spa seems to seep straight from the walls of the repurposed house where it resides. Friendly staff members usher patrons into cozy confines replete with a fireplace, antique furniture, complimentary fresh coffee and herbal teas, and a neighbour kid who regularly stops by to raid the refrigerator. In these warm environs, patrons entrust their skin and hair to a team of hairstylists and aestheticians who hone their own specialties to ensure clients can always find an able pair of hands to meet any head-to-toe pampering needs. Hair stylists take their shearing and tinting work seriously, and take care to consult with clients at length about their hair type and home styling habits before launching into a maintenance cut or full-blown makeover. A skilled aesthetician meticulously analyzes faces before pursuing an avenue of skin treatment, which can include custom-tailored facials, exfoliating diamond microdermabrasion, and fruit enzyme peels that make skin as smooth as a politician on ice skates. Stressed guests can enjoy a full-body massage, or watch as a nail technician trims and neatens fingertips to a satisfying uniformity.:m]]
129 Jones St.
Oakville
Ontario
905-825-3644
At Canadian Beauty College, students overseen by instructors work on actual clients to gain hands-on aesthetic training in the student clinic, while already certified aestheticians or medical doctors beautify clients in the onsite med spa. The students hydrate skin during facials, massage tense backs, and wax off unwanted hair, and the aestheticians inject dermal fillers into wrinkles, fade acne scars with a laser, and contour bodies with radio-frequency skin-tightening treatments. Before undergoing any of the med spa's services, clients consult with a medical doctor in order to discuss expectations and beauty goals, such as learning how to develop a tan by standing in front of car headlights.
1945 Dundas St. E
Mississauga
Ontario
905-624-2700
Looks Aesthetic Academy's student aestheticians and massage therapists practice their skills at a student clinic under the supervision of experienced faculty. Enrollees can provide spa services such as manicures and waxing to the general public or overgrown hedges in need of a pick-me-up. Clients can also schedule treatments with certified professionals.
16-25 Watline Ave.
Mississauga
Ontario
905-507-0024
With an inventory of medical lasers and cosmetic injectables at his disposal, Dr. Edward Armogan of AQUA Medical Spa fulfills his mission to stave off the effects of aging. His treatments range in scope from body-wide hair removal and fat reduction to rejuvenating small, specific areas such as age spots due to sun exposure and lines around the mouth from a past career as a marionette. A physician by trade, Dr. Armogan can also turn his expertise on common medical concerns and clear up acne, rosacea, and unwanted moles.
1880 Sismet Rd.
Mississauga
Ontario
905-625-4777
---