Fitness Classes in Mississauga
---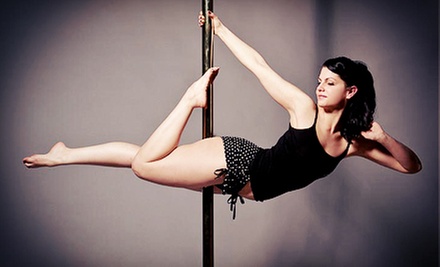 ---
Recommended Fitness Classes by Groupon Customers
---
In a society that looks for shortcuts to weight loss wherever it can, FitStudios is taking the long way. Through their Functionally Integrated Training program, or F.I.T., the studio's trainers borrow from numerous disciplines to customize their fitness programs to each student's goals, taking their time to ensure students work out right the first time in order to maintain their health in the long run. The result is a stronger body with more stable joints, better cardiovascular endurance, and enhanced flexibility. Through the studio's group training regimens, students learn how to buff up as they work together, forming towering human pyramids to eventually find out what clouds taste like.
These physical feats are accomplished in FitStudios' well-equipped fitness centre, in which TRX suspension bands dangle over an obstacle course of footwork ladders, elliptical machines surround gliding pads and hurdles, and free weights and kettlebells stand at the ready. Also providing holistic wellness, FitStudios' team of sports-therapy specialists treats sports- and stress-related injuries with chiropractic services, acupuncture, and massage therapy.
217 Idema Rd.
Markham
Ontario
905-477-4441
Beyond Fab Fitness owner and instructor Jaycee brings her passion for up-tempo, women-friendly dance workouts to a full schedule of fun, intense courses. When describing her passion for energetic exercises set to music, the mother of two recalls her own search for the perfect fat-burning, rattle-quieting workout after giving birth to her second child. That mission landed her in Jazzercise classes, whose success inspired Jaycee to seek a fitness certification and teach her own classes in striptease, booty-shaking cardio workouts, and basic mat Pilates. Jaycee choreographs her own routines and designs them to empower fitness vixens of all ages, zodiac signs, and experience levels in a fun, supportive environment in which to get fit and lose weight.
462 Wellington Street West
Toronto
Ontario
CAN
It's impossible to feel left behind at a Quad spin class. This fact is true in a literal sense, as the indoor cycles are stationary, but it also reflects the welcoming mindset that prevails at each studio. They host several introductory sessions throughout the month, ensuring that beginners familiarize their hands and feet to the Schwinn IC Pro bikes so that they can adjust their pace. The other spin sessions vary based on the whims and musical tastes of the teacher, though they typically include a warm-up, cool down, and intervals of intense pedalling.
447 Speers Road
Oakville
Ontario
905-842-1812
A gold-medal winner while on the Canadian National track team, director Okiki Akinremi puts all of his 17 years of athletic training experience into running Xplosion Fitness. During his time with both the track and bobsled team, Akinremi observed the use in fusing multiple training methods to achieve the level of fitness needed to push a bobsled through the long jump pit. He has honed his ability to work with both seasoned athletes such as Bruny Surin and Robert Esmie along with those with little to no experience, infusing individual fitness goal plans with his own passion and commitment. By harmonizing core and resistance training with a combo of stretching, cardio, and nutrition consultation, his customizable programs and drop-in boot-camp classes result in shedding weight, complete body toning, and a more positive, less frowny way of life.
1940 Ellesmere Road
Toronto
Ontario
416-856-1505
As a singer in Le Trio Parisien, Juliet Dunn uses the power of song to entertain. As a Zumba teacher at J.A.D.E. Zumba Fitness, she uses it to get hearts pumping and waistlines slimming during dance-based exercise parties. African drumbeats and South American melodies converge in her workout soundtrack, which brims with international tunes from Grammy-winning producers. As the sound system blares, Dunn imparts easy-to-follow dance steps inspired by salsa, merengue, cumbia, and reggaeton. Like a trip to the airport in a clown car, Zumba fitness classes are an hour long and accommodate 20–100 people.
2 Facer St.
St. Catharines
Ontario
In order to succeed at the University of Toronto as a student and dual athlete, Nabil Tadros had to balance his time between hitting the books, sharpening his jump shot, and perfecting his serve. Decades later, Nabil is still at UT, but as the head coach for both the women's and men's Varsity Blues tennis teams. In addition to his 30 years coaching the Blues, he's also led secondary-school programs and has run tennis and basketball clinics around the globe. At Basketball Tennis, Nabil helms the tennis, soccer, and basketball youth programs while also running a competitive men's basketball league with refereed games and playoffs that grant grown men a competitive arena outside of backyard barbecue pits and paint-your-own pottery kilns.
300 Major Mackenzie Dr. W.
Richmond Hill
Ontario
416-727-1040
---