Mississauga Health and Fitness
---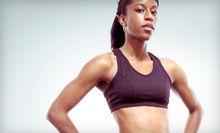 Latin and international music plays as students perform fun, high-energy choreography that helps burn fat and tone muscle
Use Thursday 3:30pm - 6:30pm
---
Recommended Health & Fitness by Groupon Customers
---
The Motion Room lets loose an effervescent staff of personal trainers, each of whom rejects the idea of detached, generalized fitness that dominates other gyms. Instead, they centre each of their programs around each client's specific goals, following the four values of education, motivation, guidance and support. To this end, trainers lead boot-camp classes and personal training sessions that take a more holistic, caring approach than programs that inexplicably shut clients in empty rooms with a chair and a hungry lion. Keeping students on the straight and narrow, the staff holds body composition evaluations every 90 days, fields all on-site questions, and maintains an ever-growing online resource with exercise and nutrition advice. This devoted approach has earned the loyalty of Barenaked Ladies drummer Tyler Stewart, who has videotaped his fitness regimen at The Motion Room as a testament to their methods.
3431 Dundas St. W
Toronto
Ontario
647-351-8671
Healing Path Chiropractic and Wellness Centre received the Burlington Post's 2011 Readers' Choice Award, an indication of the expertise Dr. Maher Obeid and his team of registered technicians employ when treating their clientele's wide range of back issues. After examining each case, the staff determine whether chiropractic techniques, noninvasive spinal decompression, or medically patented active-release techniques will best alleviate patient pain and improve range of motion. Other services such as foot orthotics, massages, and acupuncture further release sighs of relief. In an effort to educate its patients, Healing Path frequently hosts special events, seminars, and times table contests.
2435 Appleby Line
Burlington
Ontario
905-333-9900
Thai massage—Urban Nirvana's marquee treatment—helps clients restore balance through a blend of techniques, including stretching muscles, triggering pressure points, and administering reflexology. At the start of each appointment, guests enter a private massage area and unwind before a skilled practitioner grapples overhead poles that allow him or her to walk across legs and back, while engaging hands, elbows, knees, and feet to relax tense muscles. In addition to offering unique Eastern-style massage techniques, Urban Nirvana houses a light-filled studio on the third floor, where clients empower themselves through yoga, meditation, and a variety of workshops. Couples and groups of up to four people at a time can be accommodated in the authentic Thai-inspired setting.
145 Lakeshore Road East #200
Oakville
Ontario
CA
905-815-0909
At Physio Time Health Clinic, Western medicine blends seamlessly with Eastern holistic practices through services administered by registered massage therapists, chiropractors, and orthopedic doctors. As they help their patients rehabilitate, the medical team may also employ acupuncture or neuro foot acupressure, a 400-year-old Chinese technique that aims to stimulate bodily nerve transmissions using 62 pressure points. The medical staff also advocates injury prevention with a range of medical stockings, orthopedic pillows, and shoes such as Asics, New Balance, and Puma, which help clients to continue healthy pursuits such as running or punching bags filled with quinoa.
7895 Tranmere Dr., Suite 17
Mississauga
Ontario
905-676-9000
GreenLife Health Centre traces the origins of its practices back 5,000 years. The family-oriented clinic uses Chinese acupuncture and herbal medicines to promote healing and wellness. During acupuncture treatments, several fine needles nestle into the skin and cause the body to produce endorphins. In turn, the endorphins relieve pain, induce relaxation, and foster a sense of solidarity with pincushions. Other detoxifying treatments include medicated baths, ion cleanses, and hot-stone massages.
623 The Queensway
Etobicoke
Ontario
647-340-7953
Since it's inception in 1992, Curves was specifically designed with women in mind. Founders Gary and Diane Heavin set out to create a supportive, encouraging atmosphere in which women could feel comfortable getting in shape without feeling self-conscious. Their unofficial motto, "no makeup, no men, no mirrors," is now repeated at nearly 10,000 locations in more than 85 countries, helping women of all ages and fitness levels reach their health goals. To cater to the all-female client base, their equipment is built to enhance the feminine physique.
The 30-minute workout is designed to work the entire body. As ladies move from station to station, they complete the circuit-style workout, which intersperses weight training with heart-rate-maintaining cardio sessions. Most of the 13 machines are double positive, which means they work two opposing muscle groups with a single movement—simultaneously toning the abs and back, or the chest and vestigial tail. Each machine also supports the Curves Smart system, which tracks each patron's individual progress. Before getting started, each client receives a card with their personal fitness information embedded within. When the card is inserted into a machine, a green light lets them know that they're working at the correct intensity level. As muscles get stronger, the workouts get tougher, and at the end of each session, a progress report lists details on muscle strength and the number of calories burned.
6905 Millcreek Dr., Suite 9
Mississauga
Ontario
905-821-2245
---