Restaurants in Mississauga
---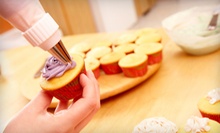 Cupcakes in a wide array of flavours such as chocolate truffle, marble cake, or dulce de leche crunch
---
Recommended Restaurants by Groupon Customers
---
Rawlicious skips such ingredients as wheat, meat, dairy, and refined sugar to put together a healthful menu of animal-free fare in a café setting. All Rawlicious items are cooked below 118 degrees Fahrenheit to ensure that enzymes, vitamins, and minerals are naturally preserved. Load up on living food with the nacho-platter appetizer ($12), Rawlicious' nacho chips served with the tasty troika of guacamole, "sour cream," and salsa, or un-muzzle your inner Red Kangaroo by grazing on the sprout salad ($8), a mix of fresh, organic sprouts. Rawlicious' "rawitch" ($8) skyscrapes with fresh veggies, sprouts, and guacamole stacked high on onion bread, while the special pasta Bolognese ($12) melds marinara, pesto, and crumbled faux-meatballs. Between wellness-boosting bites, guests can seductively sip on a 16-oz. smoothie ($6), available in such flavors as Raspberry Bliss and ChocoMinty, or toast to Pierre-Simon Laplace's theory of tides with a pot of green tea ($5).
3092 Dundas Street W
Toronto
Ontario
Aggie Martin transports the traditions of French cuisine into Ontario's taste buds with a dinner menu of freshly made fare celebrating France's various culinary regions. Starters include escargots ($9.50), prepared ìn the style of Arles, and roasted brie ($12) bedecked with wildflower honey and cracked black pepper; classic French-onion soup ($9.50) and a soup of the day ($7) are available for spoon-dependents. Entreewise, Aggie Martin slings main courses delving into steak, seafood, and more. Keep cows with moon-jumping dreams realistic with a 10 oz. strip-loin steak finished in a peppercorn sauce ($29.50), or net ambitious upstreamers with the fresh catch of the day accompanied by seasonal vegetables and potato. Other appetite appeasers include a savoury vegetable crêpe ($17) and a rack of lamb with a mustard crust ($29.95). Aggie Martin's vast selection of wines, with labels from such countries as France, Italy, South Africa, Portugal, Canada, the U.S., and Australia, provides luxurious libations for discerning tannin-tasters.
15 Main St. North
Brampton
Ontario
The inside of Kalamata Greek Restaurant looks as appealing as its namesake: the rich browns of the Mediterranean olive dot the dining room, from the dark tables and chairs to the subtle artwork on the walls. In the kitchen, cooks craft dishes using 50-year-old family recipes emerge in the form of classic Greek souvlaki, creamy dips, and layered slabs of rich moussaka. On weekends, guests stop in for brunch on the sunny patio to enjoy Portobello eggs Florentine, omelets, and Aristotle's favorite, chocolate-chip pancakes.
3473 Lakeshore Blvd. West
Etobicoke
Ontario
n Treviso, Italy in the 1930s, Ivy converted her family's front patio into a small eatery, feeding local workers family recipes crafted with eggs from her farm. Ivy's cooking quickly gained popularity among the townsfolk, and when people mentioned her grill they noted that it could be found on the "sunny side" of the street. Nearly 70 years later in 2004, Ivy's grandson opened Sunnyside Grill to serve the same home-cooked breakfast food that made his grandmother a success.
All three of Sunnyside Grill's locations serve breakfast all day long, pairing grade AA large eggs with premium-grade bacon and sausages crafted from a blend of pork and beef. Lunchtime items include 100 per cent pure beef burgers, classic BLTs, and caesar salads, which put an end to midday stomach rumbling that makes people look out the window to search for an approaching thunderstorm.
337 Lakeshore Rd. E
Oakville
Ontario
905-844-2665
Chefs at Crepe Delicious swirl paper-thin layers of batter onto their piping-hot crepe griddles, perfuming the air with the enticing aroma. Shortly after, the cooks lift away delectable crepes ready to be stuffed with savoury ingredients. The crepes themselves weigh in at only about 130 calories each with just 3.5 grams of fat, but they sate appetites during any meal.
100 City Centre Dr.
Etobicoke
Ontario
---