Modesto Gyms and Fitness
---
Gym, Exercise, Weightloss Deals
---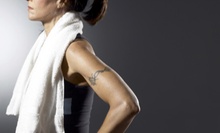 Fitness regimen created by a sports coach gets hearts pumping with intense workouts designed to increase agility, strength, and speed
---
Gym, Exercise, Weightloss Rewards Deals - Use Anytime
---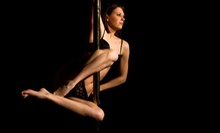 Women empower themselves while learning sultry moves and spins in flirty fitness or pole-dancing classes
---
Recommended Gym, Exercise, Weightloss by Groupon Customers
---
At age 6, when most little boys are obsessed with their toy trucks and plastic dinosaurs, Ken Miller was interested in playthings with steel shafts and the ability to send a ball soaring over the grass. Young Miller's passion for golf didn't wane as he grew older: after making a splash on the junior golf scene, he attended Fresno State University on a golf scholarship and toured competitively before retiring to teach. But after 10 years of working for someone else, Miller was ready to realize his own dream: a family-friendly range that satisfied even the pickiest golfer. So, with his kids and wife in tow, Miller spent a year sculpting 19 acres of land into what is now McHenry Golf Center.
Today, the practice facility—which was named one of the Top 100 Ranges in America in 2009 by Golf Range—presents players with an all-grass driving range whose lighting makes it possible to play with balls that are afraid of the dark. After landing shots on the range's seven target greens, which taunt them from 75 to 230 yards away, golfers can work on their short game at an 11,000-square-foot putting green, then head over to a practice green guarded by five circular and kidney-bean-shaped bunkers. If they want help with their chipping technique or sand play, they can take lessons with Miller and other PGA pros. Golfers can refuel with fare from the center's snack bar after a lesson or independent practice.
While creating McHenry Golf Center, Ken Miller designed a pro shop to meet the needs of both casual and dedicated golfers, whether they carry a standard coin purse or suitcases filled with golden golf balls. Customers can get an expert fitting before picking their clubs, thanks to the center's TaylorMade SelectFit System and Ping Advanced Fitting System. For putters and woods that need attention, Golfsmith Clubmakers–trained Jim Tocco awaits at the repair center, where he fixes grips and shafts, working quickly enough to offer next-day service.
5150 McHenry Ave.
Modesto
California
Since 1978, Brenda Athletic Clubs has stood out from other gyms for its staff's focus on offering all the amenities of a modern fitness facility while still fostering an inviting atmosphere. Its founder, Al Brenda, believed in fitness programs for all age groups, a mantra that the club continues today with youth fitness programs, including basketball clinics and yoga lessons, as well as a SilverSneakers fitness program for seniors. In addition to tennis, swimming, and standard strength and cardio equipment, the fitness centers supply its members with an ample amount of group classes including cycling, Zumba, and kickboxing.
200 Norwegian Ave.
Modesto
California
In the tradition of mixed martial arts, experienced fighter Paul Mendoza and his expert instructors fuse boxing, weight lifting, and calisthenics to create whole-body workouts in their signature Fighter Fit Conditioning program. In addition to improving heart and lung function, the aim of the classes is to create leaner, more toned bodies of both men and women in a communal atmosphere. Matted training areas cover the 8,200-square-foot facility, where heavy bags and treadmills await pounding. Locker rooms for men and women store personal items.
518 Kiernan Ave.
Modesto
California
209-544-1615
The upbeat exercise enthusiasts at Kid Time Fitness steer tykes into tip-top shape by leading an array of fun and active recreational classes. Through 40 weekly sessions, the CPR- and first-aid-certified staff helps pintsize patrons of all ages, backgrounds, and experience levels develop new skills and uncover dormant passions, such as dance, gymnastics, yoga, or competitive napping. They instruct adolescents in sign language during Sign, Sing, and Play and tumbling during Gym-Fit. Yoga, Zumba, music, and art round out the roster of classes, which is more jam-packed with activities than Leonardo da Vinci's secret lab, where to this day he still writes software applications to teach children art lessons.
334 N Center St., Suite G
Turlock
California
209-345-0568
I Am Yoga Wellness Studio started as a vision of a center where people could come to nourish their bodies, minds, and souls. I Am Yoga employs more than 15 certified instructors who teach more than 40 classes a week in disciplines such as yoga, meditation, Pilates, and tai chi. More than just a yoga studio, the wellness center also harbors a therapy space with four rooms that offer massages, facials, a sauna, and other spa services. Balance, the onsite juice and food bar, nourishes bodies with healthy sandwiches, soups, herbal teas, and fresh juices.
2031 Geer Rd.
Turlock
California
209-667-8100
After a lifetime of bodybuilding, owner Austen Di Pirro decided the time had come to share with others his hard-earned knowledge about exercise, diet, and supplements, and thus he opened The Fit Factory. With a stock of products, equipment, and routines built on his knowledge, Austen began to court customers by offering tailored recommendations based on his personal experience to help them achieve the tone and shape of body they desired. He eventually met his wife, Kimberly, when she stopped in for some vitamins, and together they have started a family and expanded the services of The Fit Factory.
Through personal training, the couple helps clients establish long-term goals and break them into bite-sized short-term goals. Austen and Kimberly then promote progress toward these objectives by proffering advice such as which type of training to engage in on a certain day or how long to put one's boss in a headlock before giving up on a raise. Dietary recommendations and supplements purchased from the onsite store aid in reinforcing lifestyle changes outside of the gym. Other instructors offer fitness classes such as cardio kickboxing or group intensity training, which combines the benefits of weight training, Zumba, plyometrics, and TRX resistance training.
1314 9th St.
Modesto
California
209-238-6200
---