Things to Do in Monroe
---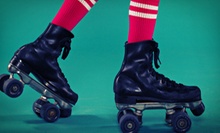 Pairs of partiers whiz around the glossy rink as popular music thumps and tinted lights dye the space pink and green
Use Sunday 2:00pm - 7:00pm
---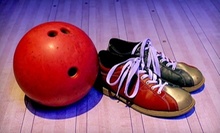 Duos of players hurl balls down the Loganwood location's glistening hardwood lanes, rocked by the occasional contribution of live bands
Use Sunday 12:00am - 2:30am
---
Recommended Things to Do by Groupon Customers
---
At the Pratt Institute in Brooklyn, New York, Felicia Kornegay discovered deep catharsis and self-expression through the use of color and texture in her painting. For almost three decades, she has explored different mediums and honed her vision for her work, arriving at her current style that comes alive with softly blended, bright tones that remain unmuddied, since she doesn't use mud.
Now, Felicia welcomes strangers young and old to join her in her artistic quest during painting classes at Libra Creations. She encourages adults to bring an inspirational beverage to sip while exploring new techniques, and children can bring along an imaginary friend good at striking poses.
35 Milton Avenue
Alpharetta
Georgia
770-896-4801
Picasso's Corner's imaginative artists offer step-by-step instruction to guide students of all skill levels as they craft 16"x20" paintings. Classes, running either two hours Tuesday-Wednesday or three hours Thursday-Saturday, are scheduled at 7 p.m. and include all necessary materials such as acrylic paint, brushes, high-powered paintball guns, easels, aprons, and canvases. Patrons may use provided bottle openers and cups during class to enjoy self-supplied beer, wine, and snacks. The Funky Paintbrush's three-hour open-studio sessions offer a more independent painting session devoid of step-by-step instruction and performance-enhancing hugs.
8650 Main St.
Woodstock
Georgia
US
When searching for a business venture that would let him spend time with his kids, former commodities trader Mike Nasatir looked to his daughters for inspiration—a decision that paid off when he founded The Painted Penguin. The family business showcases the art of ceramics, inviting participants with any level of experience to unhurriedly paint their bisque and plaster pieces in the company of friends, family members, or particularly chatty coffee mugs. When designing their own pieces or attending any of The Painted Penguin's parties, customers can enlist the help of staff members, who are always on hand to provide tips or inspiration.
3333 Buford Dr.
Buford
Georgia
US
678-765-6834
Beneath vividly colored rafters, a climbable children's playground blooms with pirate ships, a maze of bridges, and inflatable bounce rooms to inspire kinetic play and stoke little ones' imaginative fires. DACKids' safety crew keeps a responsible eye on the kiddie revelry, monitoring the Pirates Cove play park dressed in full, seaworthy costume. Under their responsible gaze, kids shuffle across the sandy floor of the Giant Octopus's lair or maneuver over rope ladders, fire foam-ball cannons, and waggle flags perched atop wooden forts.
The DACK Pirate Cove accommodates birthday celebrations with packages that allow wee ones to explore and burn off steam for 90-minutes before retiring to a private room, where partygoers revel in food and festivities while parents connect to the in-house WiFi to research how pirates doled out justice for sneaking second helpings of cake.
3102 Loring Rd. NW, Suite 140
Acworth
Georgia
US
770-966-9900
The first Bonkerz Comedy Club was founded in Wisconsin in 1984, when nightclub-owning brothers Joe and John Sanfelippo and best friend George Maltezos decided that it was more fun and less of a hassle to book comedians than musicians. Nearly 30 years later, Bonkerz has grown into a major comedy institution, with branches reaching as far as Florida, Georgia, Maryland, and Nevada. Winner of several awards for Best Comedy Club and Venue, Bonkerz Comedy Club has kept the laughter rolling throughout the years with whoopee cushions installed in every seat and sets by greats such as Jerry Seinfeld, Larry the Cable Guy, and Saturday Night Live's Daryl Hammond. As the official audition site for NBC's America's Got Talent, the chain continues to feed tomorrow's brightest comics to the national spotlight.
11000 Alpharetta Hwy.
Roswell
Georgia
770-992-5688
At PLaY! Music and Art, children try their had at different artistic ventures in an intimate and supportive environment. Students test their tiny fingers on the fretboard of a violin or viola or shred sounds on a flute, clarinet, or saxophone during private music lessons. Children also grip brushes and pencils in one of several art classes exploring basic drawing, painting, basic Photoshop editing, and Monopoly-money counterfeiting. PLaY! Music and Art hosts birthday parties that blend pizza with artistic endeavors and summer camps in music-video creation or Native American art. The studio also equips parents with free WiFi.
6768 Hickory Flat Hwy., Suite 110-333
Canton
Georgia
770-345-7529
---