Monroe, MI Outdoor Activities
---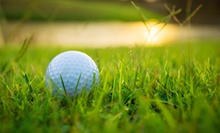 Family owned facility stocks certified PGA instructors who edify club swinging essentials at range equipped with Wittek Golf mats
Use Friday 11:00am - 5:30pm
---
Recommended Outdoor Activities by Groupon Customers
---
Since May 2008, Wheelhouse Detroit has been offering its customers a healthy and highly efficient new way to see Motown, with guided bike tours traversing the terrains and trails of Detroit. More than 80 bicycle tours are scheduled for the upcoming months, with new tours regularly added. On the Belle Isle tour on Saturday, May 21, pedaling explorers will cruise around Detroit's famed architectural archipelago, surveying sights such as the aquarium and Livingstone Memorial Lighthouse. Guides will discuss the history behind the area's famous statues, such as Alpheus Starkey Williams, who served as a Union general in the Civil War before tragically being turned to stone.
1340 E Atwater St.
Detroit
Michigan
The entry door slams shut, and you immediately plunge into a world of terror and macabre. Skeletons hang from a dungeon's walls, maniacal clowns run through a fun house, and a blood-spattered bathroom horrifyingly runs out of soap. This is Dimensions of Darkness, a haunted walk-through that takes brave souls across a maze of terrifying rooms with even more terrifying inhabitants. The fright fest has caught the attention of USA Today and the Toledo Free Press, which noted that "each room, hallway and prop is so well-crafted that if you're not being stalked by one of the resident ghouls, your focus is on how real everything feels."
Thoroughly immersed in their roles, live actors pop out at guests, thus filling every room with an orchestra of screams. Meanwhile, fog creeps over the floors and creepy sounds build tension between every scare. But despite this terror, visitors are never trapped. Security officers, each thoroughly vaccinated against zombies, stand ready to lead guests to the nearest exit should they wish to depart early.
2523 Parkway Plaza
Maumee
Ohio
The year was 1975, and Wayne State University's David Mackenzie House was facing imminent destruction to make way for a new sewer line. Two university students rallied their peers to halt the demolition, simultaneously planting the seed that bloomed, like a flower bulb planted in radioactive dirt, into Preservation Detroit. Over the past three decades, the architectural preservation organization has become a leading advocate for the protection and rehabilitation of Detroit's historic abodes, skyscrapers, and culturally rich sites. Preservation Detroit's staff, composed primarily of volunteers, continues to nurture their community's passion for historical treasures through lectures, seasonal newsletters, and tours.
From May to September, tour guides usher pedestrians through the bustling streets of Detroit, weaving narrative tapestries about the century-old cultural center and, on the Auto Heritage tour, Henry Ford's flagship factory, birthplace of the Model T and the concept that assembly lines are useful for more than just completing the Sunday crossword. During a special yearly boat tour, guides unravel the Detroit River's seedy past as a conduit for Prohibition-era bootlegging while passengers dig into dinner.
4735 Cass Ave.
Detroit
Michigan
313-577-3559
As planes come and go from nearby Windsor International Airport, grounded racers engage in their own form of high-speed action at Warp Drive Race Park. Strapped safely into one of four different 9-horsepower Honda-engine go-karts, helmet-clad passengers grab their steering wheels, don their racing nose plugs, and put their feet to pedals as they test the limits of speed. Up to 20 karts can take to the large 1,800-foot concrete track, currently organized into several straightaways, curves, and hairpins that drivers can take at up to 45 km/h. Little racers aged 4–10 can jump into child-sized single-pedal cars and roam around a smaller oval track, or parents and children together can strap into two-passenger cars capable of reaching 40 km/h. After the racing is over—or for quick breaks between speedy bouts—passengers can retire to one of the picnic area's 10 tables, partaking in sustenance or tall tales about close finishes.
Walker and County Rd. 42
Windsor
Ontario
519-966-9666
After buying their first canoe in 1942, Chester and Stella Heavner were hooked. So were their friends. After constantly loaning out their red-canvas Old Town canoe, the pair invested in two more and started charging a nominal rental fee. In 1953, they made it official with a patch of lakefront property, eight canoes, and a trailer.
Today, Heavner Canoe & Kayak Rental is run by Chester and Stella's eldest son, Alan. He and his staff manage an inventory of more than 200 canoes and kayaks, which they rent at three lakes along the Huron River. In addition to hourly rentals, they teach beginning kayak lessons led by instructors certified by the American Canoe Association and the American Red Cross. The sessions cover water safety, stroke techniques, and how to play dead when being attacked by a bigger kayak.
13461 State Pkwy.
Brighton
Michigan
The sage-like city prowlers of Inside Detroit lead groups of tourists and natives through Detroit's history-rich hubs, charming watering holes, and evolving cultural centers. Walking tours bring urban nomads through the major landmarks of Detroit's downtown, such as the underground railroad's Second Baptist Church and the 40-story Guardian Building, an Aztec-inspired architectural masterpiece built during the 1920s, when it was thought to guard the city from hay fever.
1253 Woodward Ave.
Detroit
Michigan
---