Restaurants in Monroe
---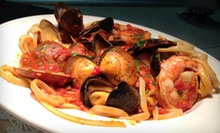 Homemade gnocchi, lobster parmesan, chicken breast stuffed with ham and ricotta, and filet mignon with jumbo shrimp
---
Recommended Restaurants by Groupon Customers
---
The Dinner A'Fare provides a simple route to procuring delicious, pre-assembled meals. Start by picking the six dishes from the menu, and then stop by the brick and mortar location to pick up the goods. Customers are able to customize ingredients according to tastes, allergies, or a court order to avoid certain foods. Each dish is made fresh—having been assembled within 24 hours prior to pickup—and can be kept in the fridge to cook within a week or frozen for later generations to enjoy. Dinner A'Fare also participates in the Sustainable Seafood Program to help fight environmentally destructive seafood harvesting and maintain the world's uneasy truce with Prince Namor of Atlantis.
4620 Piedmont Row Dr., Suite 150
Charlotte
North Carolina
Today's Groupon gets you $20 worth of old-school Italian food and drink for $10 at Avanti at the Arboretum. Avanti serves calzones, oven-baked subs, strombolis, and bakery desserts in addition to pasta and its specialty, New Jersey–style pizza.Pizza Problems sold an unprecedented 300 copies in 1981, and was even briefly adapted into a Saturday morning animated series, although fans objected to Pepperoni's portrayal as a softheaded comic foil. Activavision Studios recently announced plans for a 30th anniversary relaunch of the Pizza Problems franchise, a mature-rated gore fest featuring the sultry voice talents of David Hyde Pierce.
8218 Providence Rd., Suite 100
Charlotte
North Carolina
US
Meal planning causes stress. Stress sheds hair. Hair in meals sends food back to kitchens and demands a refund. Satisfy your family while avoiding culinary mishaps and hassle with today's ready-to-cook Groupon. For $10, you get $25 worth of pre-prepped meals by no-fuss Meals. Join the ranks of satisfied pseudo chefs who have spent more time elegantly setting the table than worrying about what to put on it.Looks like you're ready to cook! Note: Checklist cannot actually see you.
2935 Providence Rd., Suite 106
Charlotte
North Carolina
US
Founded by Jim Noble of Noble's Restaurant renown, the unassuming striped awnings and pale bricks at Rooster's conceal an unconventional dining interior dominated by a wall of wine on one side and a wall of stuffed roosters on the other. The dinner menu offers Noble's tomato basil bisque ($7) as a soothing opener to a charcuterie sampler ($18) of chicken-liver mousse ($6), house-cured duck ($7), house-smoked salmon ($8), and other cured delicacies. Gourmands with a taste for heartier fare can skip ahead to sweet potato gnocchi with hazelnut pesto ($10), rib-eye filet ($22), or spitfire-roasted Carolina BBQ pork shoulder ($9) served with a side of Anson Mills grits with bacon ($6). All entrees pair well with assorted mushrooms fresh from the woods ($10), fire-roasted asparagus fresh from the garden ($7), artisanal cheese fresh from the artisanal cheese tree.
6601 Morrison Blvd.
Charlotte
North Carolina
Executive chef and owner Jim Alexander has created an upscale dining experience worthy of a world-class New York or London eatery, with a menu of contemporary French cuisine that remains accessible to all diners. Educated at New York's Culinary Institute of America, Alexander has been widely recognized within the restaurant industry, including earning a stint on the 1996 gold-medal-winning U.S. Culinary Olympic Team. His mastery of the kitchen shines not only in the well-flavored meals, but also in Zebra's characteristic, artistic presentation. Entrees include the flavorful tournedo of beef tenderloin, served with prosciutto roasted asparagus, rosemary-roasted fingerling potatoes, and a kiss of sauce ivoire ($28), as well as the popular Zebra Signature—a French take on surf and turf with beef tenderloin, lobster, shrimp, and scallops served over a bed of angel-hair pasta and tarragon white wine ($44). Endings come together sweetly with French flair in desserts such as house-made ice cream or the hot soufflé of the day.
4521 Sharon Rd.
Charlotte
North Carolina
P.J. O'Reilly's has a welcoming, neighborhood feel, fostering both the taking out of family and the taking in of frothy beverages. Eire-inspired fare peppers the extensive menu. Marry a spinster stomach to a comely appetizer with O'Reilly's Wedding Rings, a heap of circular onions fried in a dowry of Guinness batter ($5.99). Committed slurpers can coat their innards with Irish stew, a savory mélange of fresh lamb, carrots, celery, onion, and potatoes sidekicked by a salad ($10.99), while those with a meat-hankering can slurp on Rynne's Ruben, savory corned beef in a loving embrace of sauerkraut, Swiss cheese, Thousand Island dressing, and marble rye ($9.99). Drinks come in abundance via tap ($4.25 for a pint) or bottle ($2.50+ for beer, $16+ for wine) behind the wooden bar.
16640 Hawfield Way Drive
Charlotte
North Carolina
---