Beauty & Spas in Monroe
---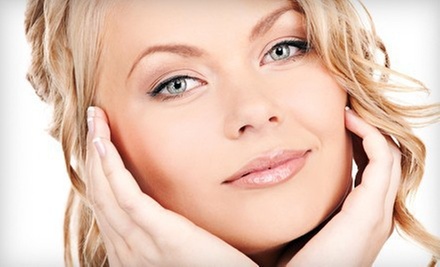 ---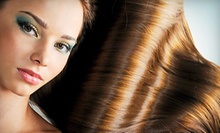 50 Remy human-hair extension strands elongate locks; colored extensions add lines of color; foil color accompanies cut
---
Recommended Beauty & Spas by Groupon Customers
---
Pure Elegance Body Sculpting Day Spa uses gentle, pain-free procedures to tighten skin marked by cellulite and minor scarring. Microcurrent therapies send tiny amounts of electricity into the face or body to tighten skin and muscles, resulting in smoother surfaces and reduced visibility of age lines or sagging waistlines. For skin afflictions such as stretch marks or uneven pigmentation, the technicians use LED light to swiftly erase etchings as though they were grocery lists penciled on imaginary parchment. Because Pure Elegance specializes in noninvasive procedures, most trips to the spa conclude in less than an hour with no requisite downtime. For added convenience, Pure Elegance Body Sculpting Day Spa accepts appointments Monday through Friday until 9 p.m. and on every other Saturday.
10 Fairway Dr.
Springboro
Ohio
937-550-4329
Sparkling crystals lure visitors into a cave inside The Centerville Salt Room. Though these crystals aren't made of diamonds, amethysts, or Batman's dental grills, they teem with value and subtle beauty. They're composed of finely ground salt particles, whose negative ions help clear congestion through a process called halotherapy. The Centerville facility uses a halogenerator to saturate the air with the therapeutic mineral, which can also ease eczema flare-ups, soothe allergy symptoms, and enliven homemade french fries for adults and children. To further assuage aches and pains, seasoned massage therapists can stroke sore muscles in the cave or a private kneading nook.
65 S Main St.
Centerville
Ohio
937-681-3428
At Fountain of Youth Med Spa, Dr. Esteban Pena leads a team of skin specialists to renew sagging, wrinkled, or splotched patches of skin with highly advanced therapies and tools. During tattoo-removal sessions, short pulses of a Q-switched laser dissolve subdermal fraternity letters or reminders of a loved one's name with minimal pain and less than a 5% chance of scarring. Laser-based facials zero in on unwanted hyperpigmentation and birthmarks, and eMatrix skin-rejuvenation treatments employ gentle radio-frequency emissions to remove acne scars or blemishes. Patients treat below-the-shoulder areas with cellulite-banishing VelaShape contouring, laser hair removal performed by a skin specialist, spider-vein removal, or relaxing massage therapy.
450 N Main St., Suite 100
Centerville
Ohio
937-723-9743
Tattoo artists Brittany and Michelle share a simple goal: to turn the fruits of their clients' imaginations into permanent body art. The pair keeps busy behind the retro façade of Eve's Ink, carefully creating indelible images in the clean, professional environment, which is devoid of your mother's judgment. Eve's skilled body artists go beyond traditional ink to outfit their clients with safe and eye-catching piercings, also offering permanent cosmetic services that can enhance natural beauty or fulfill a lifelong dream of having an extra pair of lips on your chin.
140 S Main St., Suite A
Springboro
Ohio
937-748-9444
---