Monroe, WA Health and Fitness
---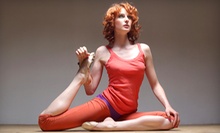 Soup, salad & sandwiches sate guests as sips of various teas warm palates with light & dark tea flavors inside tea-bar- & yoga-studio hybrid
Use Friday 10:00am - 5:00pm
---
Recommended Health & Fitness by Groupon Customers
---
Groupon cares about your dental health because studies have shown healthy-mouthed people purchase more Groupons. Unfortunately, many of us are without dental insurance and aren't ready to succumb to America's mashed-food craze. Today's Groupon to Alan P. Nohr DDS will bring your mouth up to snuff with x-rays, a dental cleaning, and an exam by Alan or one of his trusted associates. Dr. Nohr is a member of the American Dental Association with a doctorate in dental surgery from the University of Washington.Click here to discuss Groupon the Cat.
8301 161st Ave Ne #303
Redmond
Washington
US
If a bodybuilder flexes in a forest and no one sees it, does he have a Buddha nature or not? Probe this and other riddles of fitness with today's Groupon: $59 gets you a fitness evaluation, two personal training sessions, and one drop-in yoga class at ZenRock Fitness in Redmond, a $300 value.
18047 Northeast 68th Street
Redmond
Washington
US
425-591-9528
The muscle tutors at Fitness Together will work with you to determine your goals (drop pounds, run a marathon, get strong enough to finally confront Douglas) and develop a customized workout plan designed to help you reach your true fitness potential. They'll supervise your squats, offer nutritional advice, and push you until you see results. Individualized attention means it's all about you—your trainer can point out when you're doing a stretch incorrectly, help you tone the trouble zones, and push you to keep going when you'd otherwise quit or become distracted by the fragile beauty of a passing hummingbird.
14215 Northeast Duvall Road
Woodinville
Washington
425-488-3033
We are a boutique training studio focused on total body wellness. Our services include personal training, group training, fitness classes, & massage. Our fitness and wellness professionals are dedicated to helping their clients achieve fitness and wellness goals using a holistic approach to training, nutrition & lifestyle.
23128 State Route 9 Southeast
Woodinville
Washington
425-485-5345
Taught by professional footballer savant Chochi Valenzuela—a 10-year professional and three-time All American at USC-Spartanburg who has coached at the youth, high-school, and college level—and his team of sinewy turf tyrants, Speed Trainers USA's soccer boot camp can not only help melt off any excess flab, it can build up your skills and technique like so many easy snap-in pieces of a massive Lego tower. Monday, Friday, and Saturday classes take place at Green Lake's Lower Woodlands Park, Field #2; for Wednesday and Sunday classes beginning June 6, head over to Redmond's Perrigo Community Park. The starting whistle blows between 6:30 p.m. and 6:45 p.m. on the weekdays, 8 a.m. and 9:30 a.m. on Saturday, and 10 a.m. on Sunday. Check the schedule for more information. Bring proper soccer regalia, a water bottle, and your own ball. Capri Suns and Rice Krispie treats are recommended for an after-practice treat.
195th Ave NE
Redmond
Washington
Bikram Hot Yoga Redmond harnesses temperature and concentration to offer an extensive schedule of drop-in Bikram yoga classes, held in a room heated to 100 degrees Fahrenheit. Developed by Bikram Choudhury, Bikram yoga uses a sequence of 26 poses—one for each twinkle in a sea captain's eye—to bring holistic health to the human body. During each 90-minute class, each Bikram yoga pose is performed twice. The heightened heat of the yoga studio increases circulation, flushes out toxins, and wraps muscles in a cocoon of warmth, allowing for fully formed butterflies of flexibility to emerge.
16541 Redmond Way
Redmond
Washington
206-235-3996
---