Monrovia, CA Outdoor Activities
---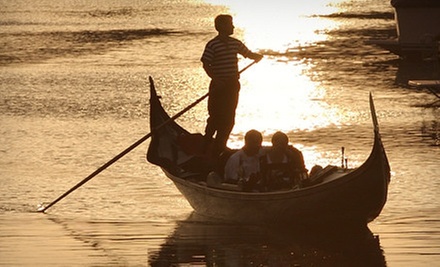 ---
Recommended Outdoor Activities by Groupon Customers
---
Led by head coach Terry Murray and captain Dustin Brown, the 2010–11 LA Kings' gloved hands are firmly holding steady in the heart of the Western Conference standings. Watch as they attempt to solidify a spot in the playoffs behind sleek passes from Anze Kopitar and the deft puck-stopping of goalie Jonathan Quick. At a hockey game, you get the suspense of watching an object swish against a net (like in basketball or soccer), the thrill of rambunctious brawls (boxing), the elegance of ice skating, and the utter brutality of golf all combined into one action-packed event.
1111 S Figueroa St.
Los Angeles
California
Currently hovering around second place in the Golden Baseball League's south division rankings, the Flyers roster boasts two of the league's top hitters: Jimmy Rohan and Tyler Keeble, both of whom are batting over .400 after 13 games. By coupling their power-hitting pulchritude with Manny Ayala's wormhole-producing fastballs and World Series winner Byung-Hyun Kim's cybernetic rocket arm, Orange County's finest are pining to unseat the Yuma Scorpions, who have dominated the division so far this season. Beyond that, the Flyers hope to repeat the magic of their 2008 season, when the team won the GBL Championship Series and got to hold Marissa Dulgar's hand while staring at the stars from her parents' porch swing.
2556 E Yorba Linda Ave.
Fullerton
California
The sound of basketballs bouncing across hardwood floors and splashing through nets charges the air at the NBA All-Star Jam Session. There, young hoops fans dribble and dunk their way through 40 interactive NBA-themed attractions. Players can showcase their shooting, dribbling, and passing abilities in the skills challenges, and a Kids Zone gives tykes the ability to rattle rims with windmill dunks and get in the All-Star spirit. NBA legends past and present also will make regular appearances throughout Jam Session to mingle with fans, sign autographs, and trade soufflé recipes.
1201 S Figueroa St.
Los Angeles
California
Greek music reverberates into the open air as the rich smell of roasting lamb entices crowds walking into the annual Pasadena Greek Fest in Santa Anita Park. Lined with stalls selling Greek wares and traditional Greek food, the fest celebrates Greek culture with three days of socializing, dancing, and lightening-bolt throwing. When not munching on honey-soaked bites of fried loukoumathes or shish kebabs, families can look at the goods for sale or scale the inflatable equipment in the kids' fun zone.
285 W Huntington Dr.
Arcadia
California
Since they were kids, siblings Regina and Fabiano Carpinelli have lived and breathed comics. In 2011, the Carpinellis' passion came to a head as more than 35,000 fellow comic fans attended their inaugural Comikaze Expo. The success of the event attracted the attention of the legendary comic man himself: Stan Lee, creator of Spider-Man, who has since partnered with the duo to create Stan Lee's Comikaze Expo the Comic Con of L.A., a celebration of all things comic, gaming, sci-fi, and fantasy. The official comic book convention of Stan Lee punctuates its two-day celebration with celebrity guests, fan-focused panels, costume contests, and gaming competitions. Art shows feature the work of industry greats and unknown artists side by side, allowing attendees to discover snippets of new stories or hunt pagefuls of their favorite rare character combinations, such as when Batman teamed up with Kristi Yamaguchi in Figure-Skating Fury.
Local charities use a portion of the proceeds to enrich the lives of those in need, demonstrating one of the many ways stories can change the real world for the better without resorting to wearing Darth Vader costumes to the office.
1201 S Figueroa St.
Los Angeles
California
The 16th century comes booming back to life during The Original Renaissance Pleasure Faire, which has re-created the culture, cuisine, and history of the Elizabethan era for more than five million attendees since its inauguration in 1963. Atop 13 stages sprinkled across 20 acres of festival grounds, live performers don traditional garb to demonstrate Renaissance music, dancing, battle customs, and blogging techniques. The talented actors stay in character throughout the bash, mingling with the crowds to perform alongside artisans purveying leatherware, clothing, and perfumes.
Workshops instruct visitors on how to make period crafts, after which guests can refuel with samplings of traditional Renaissance cuisine, such as hefty turkey legs and shepherd's pies, or more modern fare such as strombolis, coffee, and sweet confections. Rides and games challenge kids to toss javelins, race turtles, and recite Shakespeare's complete works on giant swings, and interactive RenQuest exhibitions hone little ones' sword-fighting skills and trivia knowledge.
15501 E Arrow Hwy.
Irwindale
California
626-969-4750
---
---
Outdoor Activity Deals - Recently Expired
---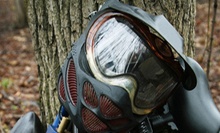 Players trade paintball volleys across 12 themed fields with mountainous terrain, obstacles and labyrinthine trenches
---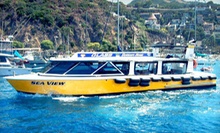 Coast Guard–certified captain pilots glass-bottom vessel through Lover's Cove for clear views of undersea life
---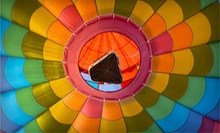 Enjoy scenic views from the vantage point of a hot air balloon on a 45- to 60-minute ride
---
---