Montgomery, IL Drs and Health Practioners
---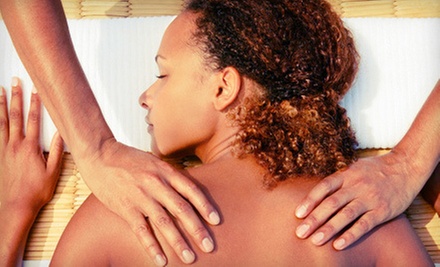 ---
Drs & Health Practitioners Deals
---
Recommended Drs & Health Practitioners by Groupon Customers
---
The holistic-minded team at Integrated Health & Wellness Centers looks beyond traditional approaches to medicine, addressing the whole client with natural, noninvasive treatments that span from lymphatic detoxification programs to physical rehabilitation services. They'll tackle food allergies with enzyme therapy, as well as work to heal injuries and cultivate total-body wellness with chiropractic care. On-site massage therapists perform a bevy of modalities, including deep tissue and hot stone, to induce relaxation and pain relief, and professionals trained in hypnosis aid those wishing to change bad habits such as smoking or quacking like a duck while smoking.
24026 West Lockport Street
Plainfield
Illinois
815-254-7599
Believing the human body can be rejuvenated through more methods than medicine alone, the staff at Brinka Health and Wellness Center utilize various holistic techniques to bolster patients' well-being. Doctor of Chiropractic Ryan Brinka, who became a strong believer in the profession in college after a chiropractor eliminated the pain resulting from a childhood neck injury, eases discomfort by adjusting the body's spinal column. The staff further shoos away pain with oriental medicine, acupuncture, and massage therapy. Life coach Brenda Brinka keeps patients in shape during her 12-week weight-loss program by tailoring exercise regimes, recommending dietary supplements, and blasting a bullhorn whenever clients pick up a donut.
1049 E Wilson St.
Batavia
Illinois
630-761-8566
As a nursing-home administrator, Dr. Frazer witnessed the deleterious effects that follow a lifetime of poor health habit and resolved to make a difference in others' lives without falling back on what he saw as an overreliance on medication. Today, he serves as the doctor in a chiropractic clinic whose philosophy emphasizes preventive care and the positive presence of health, rather than the mere absence of disease. His chiropractic adjustments, which generally entail a quick thrust to a vertebra, can comfort the spine, nerves, soft tissues, and muscles. In keeping with the clinic's holistic approach, Dr. Frazer's treatments are complemented by massage services, nutritional advice, and exercises that keep your nostrils from getting all flabby.
2677 Route 34, Suite C
Oswego
Illinois
630-551-0000
Dr. Tony Maghsoudi saw plenty of strained backs and sore muscles as the chiropractor for the Polish Soccer League. Now, at the Naperville Rehab Clinic, he continues to specialize in treating sports injuries, though he also gets to trot out his training in acupuncture. He and his staff even offer lifestyle advice and nutritional counseling so clients know which foods contain important vitamins and which are just jars of rubber cement. It's all part of the center's prevention-based philosophy, which emphasizes treatments that stop injuries and pain before they even occur.
445 W Jackson Ave., Suite 102
Naperville
Illinois
630-961-1888
Helmed by Dr. Nadia Esmail, the team of holistic healers at Maplebrook Chiropractic increases bodily well-being with services ranging from chiropractic adjustments and massages to Zumba classes and acupuncture. This comprehensive wellness approach has helped Dr. Esmail herself; she suffered from anxiety until she began working with The Loomis Institute and learned about the impact of diet on mood. As a result of her transformative studies, Dr. Esmail is also a certified internal health specialist, ready to guide her clients toward healthier diets for the mind, body, or Twinkie-addicted id.
365 E Bailey Rd.
Naperville
Illinois
630-536-8002
---