Things to Do in Montgomery
---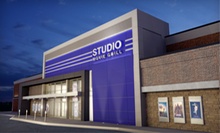 A wide selection of new releases and cult classics are projected on towering screens as viewers watch from leather recliners and tables
---
Recommended Things to Do by Groupon Customers
---
The Chicago White Sox have some truly dedicated fans. In 1994, the team decided to reach out to the youngsters who worshipped their footwear. They sought to provide kids with the same conditioning and training they honed their skills with, so they started a sports-training summer camp. In a mere seven years, demand for the trainers' services necessitated that the program conduct year-round sessions in all types of sports, and the Bulls/Sox Academy was born.
Taught by the trainers who spend their life making sure that the Sox and Bulls are ready to hit the field or court, Bulls/Sox Academy's lessons bring professional techniques to aspiring athletes. Baseball programs teach functional speed movements for high-speed base stealing and help kids build the upper-body strength to knock balls out of the park and through the windshield of their least favorite neighbor's minivan. The basketball course divvies up training between shooting, skills, and defensive play. The fast-pitch softball teachers—both former professional players and longtime coaches—arm students to beat back high-velocity pitches without hurting the ball's feelings.
6200 River Bend Dr.
Lisle
Illinois
In 1987, Louise Beem and Dorothy Carpenter were early-childhood-education specialists. Based on their combined experience—gained from teaching preschool, founding the College of DuPage's early-childhood-education program, and being grandmothers—the two friends felt that traditional methods of teaching youngsters were less than optimal at the time. Their brainchild, the DuPage Children's Museum, began that same year. The pair designed the museum's colorful exhibits to incorporate interactive and open-ended elements, which they believed more closely matched the way kids learn and naturally process information, a discovery they say has now been corroborated by findings in neuroscience research.
In that vein, the three-story museum engages young neurons with interactive art, math, and science-themed attractions. Giving little hands the chance to explore, the AWESome Electricity exhibit bridges the gap between the electric-powered gadgets and lights families use every day to where all that nonbreakfast-based energy comes from. Kids learn how electricity gets from one place to another and what its basic units are while at play in the museum's signature hands-on spaces. Elsewhere, the Young Explorers exhibit is designed for children aged 2 and under, who develop math skills by learning concepts such as sorting and patterning and express their creativity by experimenting with color and light.
301 N Washington St.
Naperville
Illinois
When area residents founded the Kendall County Fair in 1841, they wanted to show off their prize livestock and share agricultural techniques. They held chariot races, served ice cream, and showed exhibitions of horticulture, needlework, and machinery. Then, after 53 years, the old fair was forced to close its gates in August 1907 due to expenses and declining ticket sales. In 1993, a group of volunteers conspired to resurrect the show and continue its mission of education and entertainment.
Today, livestock compete for blue ribbons and local canines are groomed to battle in a dog show. Nashville country-music artists suffuse the air with their twangy observations on life and brave souls climb aboard modern machinery to charge through obstacle courses during lawn-mower races. Amid all this excitement, the fair's organizers also host an antique-tractor parade, attempting to keep old machines running in a straight line—a feat more difficult than reprogramming a robot dog with new software.
State Rte. 71 & E Highpoint Rd.
Yorkville
Illinois
630-553-2860
The T-6 Texan isn't like most of the airplanes you see on the runway. For starters, it only has two seats. Then there's the US Military aircraft crest stamped on the side of its mustard-yellow frame—a reminder of the warplane's years of service, from the 1930s to the '50s, when it carried three 30-caliber machine guns and a 400-pound bomb-load. A 1944 T-6 Texan is part of the fleet of fliers at Gauntlet Warbirds, a flight-instruction center that specializes in warplanes and aerobatic aircraft.
Chief pilot Greg Morris has been flying for more than 15 years and teaching for 10. He has a degree in aerospace engineering from USC and was awarded Master CFI-Aerobatic by the National Association of Flight Instructors. He continues to teach the T-6 to aspiring Air Force test pilots and flight-test engineers at test-pilot school as part of the Qualitative Evaulation program. Morris and his team of seasoned instructors copilot joyrides and offer training programs for mastering each aircraft in their fleet, which, in addition to the aforementioned T-6 Texan, includes the 1942 Boeing N2S Stearman, the L-39 Eastern block military jet, as well as aerobatic stunt planes such as the Yak-52, Extra 300L, Bellanca Decathlon, and Super Decathlon, all of which credit their thrill-seeking ways to strict upbringings.
43W514 US 30
Sugar Grove
Illinois
630-999-2044
Against the backdrop of Bouncin Bonkers's brightly painted walls, sock-clad children spring, bounce, and slide across inflatable structures in two arenas, letting out joyous shrieks and giggles under the watchful eyes of parents. Air-filled palm trees sway over obstacle courses, and rubber floors protect against errant tumbles or kid-seeking coconuts. Inside two private party rooms, guests of honor hold court from an inflatable throne as friends flock along benches, enjoying soda and snacks from a variety of party packages.
1801 Knapp Rd.
Crest Hill
Illinois
815-741-4543
Seven rope tows hoist skiers and snowboarders to the top of the trails at Four Lakes Snowsports, helping them take a panoramic glance before the pristine powder and carving their way back to the bottom. Five zones make up the skiable expanse, increasing in difficulty from a pair of bunny hills to a terrain park, where a gauntlet of boxes and rails slake appetites for jumps, grinds, and extreme cold-weather picnicking. As a proud member of the Professional Ski Instructors of America, Four Lakes' ski school helps aspiring skiers and snowboarders stay safe and in control while zipping and darting about the slopes.
5750 Lakeside Dr.
Lisle
Illinois
630-964-2551
---