Things to Do in Montgomery
---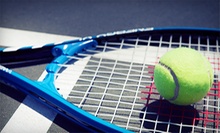 Instructors teach tennis fundamentals in six classes; summer membership included
---
Recommended Things to Do by Groupon Customers
---
Hundreds of unadorned pottery pieces line the shelves and wooden worktables at Mad Potter, a whimsical studio where walk-in artists can select the preferred vessels for their creativity and set to work crafting custom masterpieces. The studio's panoply of provided art supplies includes patterns, stencils, and colorful paints with which to decorate vases in floral designs and pasta bowls with step-by-step instructions for wielding silverware. Professional potters emerge from the earthenware scenery to answer questions throughout the process and to fire finished artworks until each is hardened and safe for food, dishwashers, and microwaves. Large groups can rent out the studio to fashion brittle cakes for birthday parties, and resident artists often travel to businesses and homes to allow kids to paint in their natural habitats.
7754 Camargo Rd.
Cincinnati
Ohio
513-561-1888
Embellished with precarious overhangs and crevices, RockQuest Climbing Center's 20,00-square-foot wall affords challenges to climbers of all skill levels. The expanse features separate areas for bouldering and roped climbing and is open to all climbers who can pass a simple belay test. A staff of experienced climbers, meanwhile, offers belay courses to acquaint newcomers with proper climbing technique and safety considerations.
3475 E Kemper Rd.
Cincinnati
Ohio
513-733-0123
Power yoga differs from regular yoga in a few key ways, most notably its dedication to the destruction of evil through extreme muscular flexion. The wide range of class offerings ensures pliable posers of all levels can find a suitable challenge. Greenhorns can get started with a New to Yoga course, while veterans of powerful yogic posturing can up their yogame with the Power Flow 90, a 90-minute workout designed to infuse power yoga poses directly with DNA, creating the fitness version of Jurassic Park. Consult the schedule for a full lineup, and plan on arriving 5 to 10 minutes before a class is scheduled to begin. Bring a towel and water bottle to wipe away and replenish exercise tears.
3500 Michigan Ave.
Cincinnati
Ohio
Scallywag Tag's arena dazzles eyes with a black-lit, neon-tinged pirate ship and 18th-century Caribbean village, which provides a labyrinth of fluorescent walls for marauding swashbucklers. After being split into two competing crews, participants receive a vest, a phaser, and instructions to tally as many points as possible by tagging opponents, swarming the enemy's home base, or holding a referee hostage until he or she doctors the score. The score itself is broadcast on wide-screen LCD scoreboards, but those who are too busy taking out the adversary to look at them can take heart knowing that at the end of the game, the referees announce the winning team.
Outside the fast-paced laser-tag arena, Scallywag Tag encourages visitors to recharge with a drink or a slice of pizza from the snack bar. The arcade sections also distract patrons by featuring perennial classics such as air hockey as well as new favorites, including Time Crisis 3 and Find That W2 Form.
The West-side location additionally lures younger passersby with a pirate-themed jump house and a 35-foot-long slide in the family entertainment center. The West-side's black-light miniature golf tests hand-eye coordination skills, leading guests through a gauntlet of 18 holes that similarly embrace the pirate theme.
491 Ohio Pike
Cincinnati
Ohio
---