Things to Do in Montgomery Village
---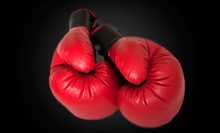 Hour-long workout incorporates drills designed for professional fighters, cardio & strength conditioning to challenge major muscle groups
Use Today 3:00pm - 6:00pm
---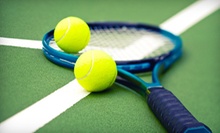 Rackets and other tennis gear from brands such as Wilson and Slazenger from well-stocked tennis and golf shop founded in 1975
Use Friday 10:00am - 5:00pm
---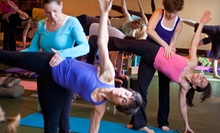 Hatha, Pure Bliss, Vinyasa flow, and hot Vinyasa classes invite students of all levels to peaceful sessions led by seasoned instructors.
Use Thursday 6:00pm - 9:00pm
---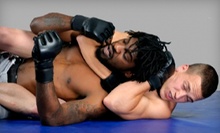 Day pass grants access to krav maga, muay thai, boxing, and wrestling classes led by seasoned instructors
Use Saturday 10:00am - 4:00pm
---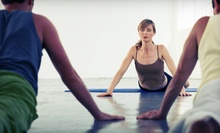 Stretches and poses from yoga, tai chi, and Pilates strengthen muscles during a workout set to music
Use Wednesday 1:30pm - 4:30pm
---
---
Recommended Things to Do by Groupon Customers
---
The story follows military man Don Jose, who falls helmet over boots for a gypsy girl named Carmen. As he spirals into an obsessive jealous spell, his world begins to crumble faster than Sid's first cookie. Don Jose's consuming passion for Carmen leads to disgraceful acts that can only be described operatically. The production is sung in French, with English supertitles and English dialogue.
6125 Montrose Rd
Rockville
Maryland
For more than 20 years, the FAA-certified flight instructors at Washington International Flight Academy have safely guided pupils skyward and imbued them with the skills necessary for numerous licenses and certifications. Under an instructor's watchful eye, guests control a Cessna 172 on a 30-minute airborne trek during discovery flights, which can later be applied toward courses for a private or commercial pilot's license with optional multiengine rating. A commercial pilot's license qualifies more seasoned flyers for instructor certification, where they learn how to teach essentials, including how to tell the difference between a landing airplane and a diving roc.
Along with in-depth courses, Washington International Flight Academy accommodates patrons with rentals of its massive fleet, charts and piloting supplies from its fully stocked shop, and lodging for out-of-state students.
7940 Airpark Rd., Hangar M
Gaithersburg
Maryland
Founded in 1951, Adventure Theatre MTC has been the longest-running children's theater in the Washington area and has earned a mantel-overloading amount of awards throughout the decades. Alongside professional and student productions, the theatrical powerhouse hosts camps and workshops to expand the performance arts, instill the love of the stage in children, and help teens to act like they care about the SATs.
7300 MacArthur Blvd.
Glen Echo
Maryland
Northern Virginia's Premier High Speed Indoor Kart Race Track
45915 Maries Rd.
Dulles
Virginia
The Writer's Center offers up to 300 workshops in a variety of genres each year, including fiction, poetry, creative nonfiction, playwriting, songwriting (or "rap-smithing"), and literary translation. Workshop topics run the gamut from structuring your sci-fi/fantasy world to setting up your blog. Take a two-session class to master on-the-job report writing ($80 for center members, $125 for non-members) or learn techniques and strategies for crafting short stories in an eight-session exploration of the genre ($315 member, $360 non-member). Get started on your poetry portfolio before you apply for a MFA with an eight-session class on writing free-verse poetry ($315 member, $360 non-member) or take a one-day intensive workshop on the screenwriting process ($85 member, $125 non-member).
4508 Walsh St
Bethesda
Maryland
US
They're a common food in several Latin countries, including Colombia, Puerto Rico, and Mexico, but empanadas are made a bit differently in Argentina. "We have an edge because we actually bake them," Nicolás Ibarzabal, co-owner of 5411, told the Decider in 2009. "Here in Chicago there are a couple of places that offer empanadas, but they're pretty much all deep-fried. We like to think of ourselves as the new healthy frontier of empanadas."
Along with pals and fellow Buenos Aires natives Mariano Lanfranconi and Andrés Arlia, Ibarzabal makes the flaky baked treats in nearly a dozen varieties. You'll find traditional hand-cut beef empanadas as well as Americanized versions including barbecue chicken, which Ibarzabal admits is one of his favorites despite chuckles from his Argentine friends. The trio started 5411—a mash-up of Argentina's country code, 54, and Buenos Aires's city code, 11—in 2009 as a catering company before rolling out a food truck and finally opening a shop in Lakeview. That shop makes deliveries by the dozen, and the same pale-blue food truck—perhaps the catalyst for 5411's success—still takes to the streets daily, urging office dwellers to emerge from their cubicles and horses to escape from their buggies.
18031 Central Park Circle
Boyds
Maryland
---