Things to Do in Montgomery
---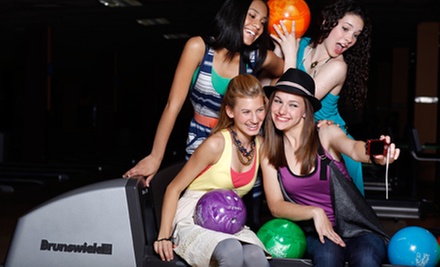 Brunswick Zone - Montgomery
---
Recommended Things to Do by Groupon Customers
---
The Edge's movie masters light up wall-to-wall screens with anticipated blockbusters and obscure indie flicks as guests kick back in high-backed, adjustable chairs. 18-inch risers position each row at just the right height for an unobstructed stadium-style view, and Dolby Digital surround sound systems tickle eardrums with multidimensional soundscapes. While cinephiles tuck in to tasty tidbits and delicious plotlines, moveable cup-holder armrests make it easy to stow beverages, snuggle with loved ones, or catapult beverages onto not-so-loved ones. The concessions stand sells beer and wine throughout screenings.
601 Paul Stabler Dr.
Greenville
Alabama
As the sun rises over the forested wetlands of Dallas County, a group of camouflaged hunters leads dogs to a blind. From their perch, the shooters wait to spot passels of ducks or pheasants. The gunmen raise their rifles. They aim. Then they fire. Their feathered bounty falls from the sky.
Scenes such as this are business as usual during the autumn months at Central Alabama Fowl Preserve. There, staffers help outfit hunters with the amenities needed for a successful day, including a lodge equipped with bedrooms, a kitchen, and a social area where groups can unwind and argue about who has the most stylish orange vest. On the offseason, the preserve opens a skeet-shooting range to help clients keep their aim sharp.
17706 County Rd. 16
Plantersville
Alabama
334-366-2589
Since rolling out the green carpet in 1955, the emerald alleyways of Montevallo Golf Club have beckoned club-swingers to tackle its 6,000 yards of 18 Bermuda-grass holes year round. Bunkers speckle the par 71, beckoning errant golf balls to spend the day sunbathing in their sandy beaches. Players hone their swings at the driving range, and dedicated golfers can augment clubs and accessories with gear from the pro-shop.
1481 Hwy. 204
Montevallo
Alabama
---