Montgomeryville, PA Outdoor Activities
---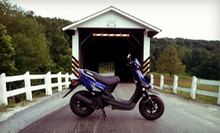 Honda scooters whisk sightseers over the back roads of Lancaster County for up-close glimpses of the region's historic covered bridges
---
Recommended Outdoor Activities by Groupon Customers
---
Presented by Gourmet Shows, the annual Taste Philadelphia Festival of Food, Wine, and Spirits showcases hundreds of local chefs, restaurants, and vendors. More than 200 tasting stations pepper the Greater Philadelphia Expo Center, including the Taste of Italy Pavilion, where attendees can sample cheeses and wines from Europe's boot-shaped peninsula. On the expo's stage, meanwhile, local chefs and culinary personalities teach onlookers their cooking techniques and favorite recipes during demonstrations. Attendees will have the chance to watch the likes of Michael Giletto, an award-winning chef whose food is a fusion of international cuisines, and Bethenny Frankel, best-selling author and star of Bravo's Bethenny Ever After, for an additional cost. Other educational events include beer seminars from award-winning writer Gary Monterosso and wine seminars that explain why, despite popular opinion, grape soda doesn't complement veal as well as chardonnay does.
1210 1st Ave.
King of Prussia
Pennsylvania
Attracting more than 170,000 art enthusiasts to its events in 2011, the Sugarloaf Crafts Festival showcases original work from hundreds of artisans showcasing everything from handcrafted pottery, sculpture, and metalwork to jewelry, fashion, décor, and photography. Audiences can witness art being made live during educational demonstrations as artisans sculpt clay, whittle wood, forge metals, and imbue baskets with the power of speech. Hungry crafters can also sniff out specialty food items to sample or purchase while dancing across the sprawling venue to the tunes of live music.
100 Station Ave.
Oaks
Pennsylvania
484-754-3976
Looking to put a new spin on a classic family activity, the minds behind Glowgolf decided to give the game a phosphorescent update. Incandescent courses place friends and family amid a tropical-fantasy golf world of neon orange, green, and violet surroundings. Players putt luminous orbs through vibrant treasure chests and glimmering windmills while negotiating tricky obstacles near walls portraying black-light-lit aquatic scenes. With more than 20 locations spread over 10 states, Glowgolf's fluorescent labyrinths challenge human players and traveling gnomes.
690 W Dekalb Pike, Suite 2085
King of Prussia
Pennsylvania
More than 12,000 square feet of indoor rock-climbing surfaces greet climbers at Doylestown Rock Gym, where they can test their scaling acumen on a network of bulges, overhangs, chimneys, and cracks. As climbers scramble over the massive facility, an alert staffer remains ready to assist when needed and remind nervous beginners that there are no mountain lions around. The space presents suitable challenges for all skill levels and facilitates advancement in the sport through individual and group instruction by on-staff experts.
3853 Old Easton Rd.
Doylestown
Pennsylvania
Propelled by an affinity for fresh air, the family that helms Hispaniola Cycling fosters the same free-spirit mentality in its guests who embark on the outfit's bike tours, which include cycles and helmets. Hispaniola's guides are experts on the local topography, calling upon their respect for Mother Nature and a healthy fear of her mood swings to guide groups for spins around town or weekend jaunts through Valley Forge and along the Schuylkill River Trail. They can also expand fitness with wellness tours and camaraderie with corporate tours that follow custom routes around worksites, kick-starting employee heart rates a midday slump after they wrestle faulty fax machines.
Schuylkill River Trail, Valley Forge Entrance
King of Prussia
Pennsylvania
610-616-5321
Golf is a sport of physical precision and aerial dynamics, won and lost upon the pendulum of your swing. Use today's Groupon to brush up on your golf physics and practice blasting balls with your refined stroke. For $30, you get a 30-minute video swing analysis (normally $50) and large bucket of balls ($10) from Par Breakers Golf Academy, a $60 total value. This comprehensive indoor golf facility is a short 30-minute golf-cart trip from Philly in Oaks.
99 Brower Ave., 2300
Oaks
Pennsylvania
---