Shopping in Montgomeryville
---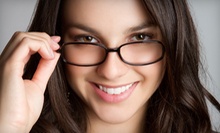 A wide selection of prescription glasses from renowned brands such as Ray-Ban, Dolce & Gabbana, Tiffany, Bvlgari, Prada, and more
---
Recommended Shopping by Groupon Customers
---
Walking into a HobbyTown USA is like immersing yourself in a science fair, toy store, art-supply shop, and robot dance-off all at the same time. Stocked with items ranging from model Camaro kits ($20.99) to easy-to-care-for ant farms ($14.99), the store has something for any particular age or interest. Spice up the tide of warm weather with interactive outdoor activities such as flying Turbo Jet 2000 gliders ($4.99) or kites shaped like 3-D space shuttles ($19.99), which, unlike real space shuttles, serve decent in-flight meals. For rainy days, you can always just pick up a 10-piece carving-knife set ($4.95) and an eight-color all-purpose paint set ($11.59) to repurpose any banister as a totem pole of achievement.
Berkshire Square, 1153 Berkshire Blvd.
Wyomissing
Pennsylvania
US
610-374-1000
Since 1921, Army & Navy Store has worked to supply local residents with the necessities for interacting with a variety of geographical features. The shop began as an outfitter for rail workers and miners, preventing them from having to dig with boots stolen from the town giant, before expanding to carry Army and Navy surplus goods from World War II. Currently, it specializes in outdoor gear and employs an experienced staff to assist guests in searching for specialized equipment for camping, cycling, fishing, exercise, and watersports.
1045 Grape St.
Whitehall
Pennsylvania
610-266-1045
Glasses Galore's eyewear aims to merge crystal-clear vision with high fashion. Tending first to sight, doctors scrutinize eyes during exams before recommending the lenses that will best suit each client's vision and lifestyle needs. Eyes can blink through lens styles including no-glare and progressive, which transition seamlessly between near, intermediate, distance, peripheral, and interstellar vision. An equally diverse selection of contact lenses caters to the frame-free with daily-wear and specialty options. In the fashion-focused showroom, designer frames by Coach, Dior, Gucci, Kate Spade, and Tiffany & Co. rest in display cases or atop Groucho Marx mustaches.
482 2nd St. Pike
Southampton
Pennsylvania
215-355-7733
Along the back wall of Regal Gallery and Custom Framing, frame samples representing a range of styles and materials nestle together. The diversity of these frames showcases all the custom framing options that the shop—which boasts 25 years in the industry—offers to its customers, whether they are looking for a gilded, hand-carved frame to showcase fine art or a practical, economical frame to enclose a poster.
Fine art and prints also deck the walls, along with 3D shadowboxes containing sports jerseys and memorabilia. Regal Gallery and Custom Framing can also frame diplomas, keepsakes, mirrors, and antiques or smaller frames that frame even smaller frames to represent the concept of infinity. They are so confident in their work they guarantee to complete projects in less time and for less money than their competitors.
14 Summit Square Ctr.
Langhorne
Pennsylvania
US
215-968-0996
---