Restaurants in Moore
---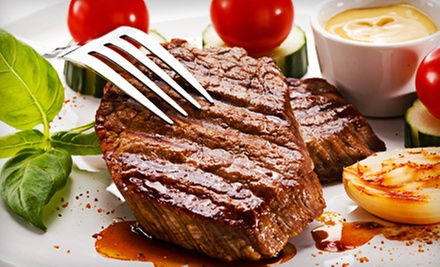 ---
Recommended Restaurants by Groupon Customers
---
Papa Dio's owner and head chef Bill Bonadio is a strong believer in tradition. His restaurant has spanned three generations of Bonadios, who have carefully crafted hearty Italian cuisine served on tables across two dining rooms. Boasting a sprawling list of more than 160 items, the menu runs the epicurean gamut through classic spaghetti and meatballs to Dio's original fried pizzas. At the wine bar, tables draped in crisp white linens surround a horseshoe-shaped bar that was made with wood salvaged from an 18th-century home in Louisiana and a horseshoe salvaged from an 18th-century giant horse.
10712 N May Ave.
Oklahoma City
Oklahoma
Inside the sturdy environs of Old Germany Restaurant, visitors are surrounded by German-eatery traditions in everything from the food to the beer steins. NewsOK profiled German transplant Mike Turek and his sister Jutta Wolff, who moved to America in 1974, but have maintained their home country's customs by masterminding an annual Oktoberfest celebration and greeting each other in the morning with a hearty "Fahrvergnügen!" Their menu is dominated by specialties of pork and veal schnitzel as well as sausages such as cevapcici—housemade beef sausages—bratwurst, and knackwurst.
The restaurant's authentic trappings include an extensive selection of German wines and beers. Rieslings dominate the wine list, which is divided into five distinct winemaking regions of Germany. On tap are drafts of Bitburger, Hofbräu, and Warsteiner brews, from pilsners to the original König Ludwig Weissbier. Patrons can swig their drinks while bellying up to a stone bar or while sitting at a booth beneath twining faux-grapevines. A new addition to the restaurant known as Turek's Tavern gives sports fans some upscale digs overflowing with beer, wine, spirits, and German food. Televisions display sports games both inside the tavern and out on the patio, where electric shades, a mister system, and heating lamps keep athletic devotees comfortable as the seasons turn.
15920 SE 29th St.
Choctaw
Oklahoma
405-390-8647
The cooks at Top Dog Classic Coneys never stray from a family recipe when mixing a batch of chili. Deviating from the original would be risky, since the chili tops not only hot dogs and cheese dogs, but also spaghetti. When customers aren't devouring the signature chili and dogs, they're playing classic arcade games or pool or catching games on Top Dog's big-screen TVs.
2203 W Main St.
Norman
Oklahoma
For hours, plumes of hickory-wood smoke crawl over whole cuts of beef brisket. When chefs haul the slabs from the smoker, each presents a study in contrast—caramelized, slightly crisped outsides surrounding soft, fall-apart meaty centers. Oklahoma Station BBQ's house-specialty brisket crowns its selection of nine meats, which come glazed in signature hot or mild sauce. Both recipes blend ingredients such as brown sugar, roasted garlic, and apple-cider vinegar, and both remain closely guarded by former Spetsnaz agents. In addition to the restaurant's smoked-and-sauced meats, chefs also prepare an extensive sampling of requisite side dishes and desserts, from grilled corn on the cob to banana pudding.
4331 NW 50th St.
Oklahoma City
Oklahoma
In case visitors miss the clue in its name, Harley's Cafe explains itself right in the entryway—there, a gray stone-style bench displays the famous winged logo that marks a classic motorcycle. Inside, motoring memorabilia stands behind glass, including model bikes, photographs, and an autographed photo of Evel Knievel's ghost. A row of booths lining a wall of windows and a counter facing the kitchen area—both familiar diner staples—flank a series of four-tops where customers dig into tasty homestyle fare. Breakfast options include pancakes and egg dishes served alongside ribbons of bacon or grilled sausage. Later in the day, the cooks serve up diner classics such as open-faced sandwiches smothered in gravy and several variations on the burger, including the Sportster, with bacon, swiss cheese, and barbecue sauce.
14013 NE 23rd St.
Choctaw
Oklahoma
405-390-4700
At the vivacious Bolero Tapas Bar & Spanish Grill, the clatter of passing plates competes with the chatter of diners as they enjoy their multicourse meals. Executive Chef Curtis Bramlett and second-in-command Justin Ward constantly enhance the menu with weekly specials, adding to the diversity of flavors already found among the tapas. The small servings are meant to be divided and discussed, much like the drawings that Rembrandt produced on flimsy paper. The golden-fried goat cheese drizzled with tupelo honey earned laurels from the Oklahoma Gazette, which also called the caramel flan "heavenly."
Dark plank flooring supports the warm browns of the restaurant, where floor-to-ceiling windows allow natural light and fresh air to imbue the indoor space. At rows of outdoor tables, patrons can sit beneath the starlight to arrange their tapas plates in shapes that mimic constellations.
200 S Oklahoma Ave., Suite 140
Oklahoma City
Oklahoma
US
405-602-0652
---