Moorestown-Lenola, NJ Indoor Activities
---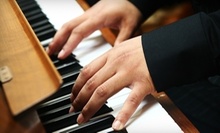 Jovial pianists tickle keys in their best impressions of shouted customer requests as servers deliver burgers, pizzas & savory appetizers
Use Friday 5:00pm - 11:45pm
---
Recommended Indoor Activities by Groupon Customers
---
The cello-shaped Verizon Hall serenades eyes with mahogany accents under the 150-foot barrel-vaulted glass ceiling of the Kimmel Center for the Performing Arts. With seats for 2,500 audience members, the hall immerses both spectators and musicians in the clarity generated by its premium acoustics, which absorb vibrations from the subway tunnel below with 225 rubber isolation pads and allow for precise tuning with retractable curtains and sound-reflecting panels. Seasoned jazz artist Branford Marsalis confirmed Verizon Hall's sound acumen when he told NPR it is "the best concert hall on the East Coast."
260 S Broad St., Suite 1600
Philadelphia
Pennsylvania
Inflated structures, slides, and games fill the climate-controlled environs of the numerous BounceU locations that speckle the nation. At each site, staff members closely monitor all activities as little ones traverse obstacle courses or pull on oversized inflatable boxing gloves. The crew also invites parents to join in on the fun, letting them bounce alongside their kids or make sweeping edicts from atop a bouncy-castle throne. In addition to open sessions, the indoor-play haven sets the stage for the Preschool Playdate program, where instructors lead games and activities. Special events include family-bounce night, which lets parents join in the bouncing or relax in the party room and do grownup things, such as eat marshmallows with a knife and fork.
1205 Warren Ave.
Cherry Hill
New Jersey
Sunlight streams into Urbanfront Pilates through the large, second-story windows, reflects off mirrors that cover entire walls, and illuminates hardworking exercisers tightening core muscles. The purple and green studio is home to eight different group classes, led by expert instructors who believe that a strong core is the foundation for full-body health. They walk customers through how to tighten tummies with various pieces of equipment, such as the Tower class's spring-resistance apparatuses or the Xtend class's ballet barre. In mat classes, students use only body resistance and mental images of the Vitruvian Man's hot cousin to aid in chiseling physiques. Dedicated to fostering community within the studio, Urbanfront Pilates hosts teacher training by Power Pilates–trained professionals who help pupils transform their passion into a livelihood.
1700 Sansom St.
Philadelphia
Pennsylvania
US
Hosting the evening's set, the historic Gramercy Theatre first opened its doors in 1937 and spent some 60 years as a movie palace and art house. Now wedged between two skyscrapers, it still retains some art-deco columns and flourishes striped into its façade. Inside, an intimate main room shares space with the eclectic Samsara Lounge where persian rugs and funky wall art imbue audiences with a rock 'n' roll spirit and inspire the spontaneous formation of nomadic tribes.
334 South St.
Philadelphia
Pennsylvania
Children crawl, climb, and careen through The Little Treehouse's sprawling wonderland, pausing only to dine with their parents at a café that Main Line Today named one of 2011's Best Restaurants for Kids. Socked feet scale sophisticated play structures and scream sonnets into pillow piles under colorful mobiles while high-quality wooden toys sow new synapses. Guests can stretch imaginations and limbs during yoga and movement classes, somersault through tumbling classes for different age groups, and schmooze with peers during seasonal and private events. Between romping sessions, tots can don bibs for a helping of organic, sugar-free applesauce at the café, where parents sip fair-trade coffee whilst navigating free WiFi and reminiscing about the steam-powered web browsers of their youth. The kitchen is open for lunch every day and for dinner Wednesday–Sunday, filling a wholesome menu with pasta, paninis, and brick-oven pizzas wrought with whole-wheat dough and local ingredients whenever possible. In clement conditions, adults can bring a bottle of wine to the outdoor terrace to watch their children play with bubbles and write chalk prescriptions for cootie remedies.
10 W Gravers Ln.
Philadelphia
Pennsylvania
215-247-3637
Pilates is a low-impact, total-body discipline that focuses on the core torso muscles to help keep the body balanced, toned, and energized. Workouts utilize resistance machines, natural body resistance, stretching, and controlled breathing to build long, lean muscles while promoting physical and mental cohesion so evil slugs can't get between your brain and your ears. During three 30-minute private lessons at Star Pilates, your experienced instructor will meet you at your ability level to ensure that you complete each exercise for maximum safety and benefit. Each session focuses on a different set of classical techniques, teaching you the Pilates basics that will help you meet your goals, especially if your goals are to become better at Pilates or underwater moonwalking. Star's trainer Amy Berger is certified in Pilates by Romana Kryzanowska, the world-renowned protégé of the method's creator, Joseph Pilates.
2043 Locust Street , Suite 2-A
Philadelphia
Pennsylvania
---