Restaurants in Mooresville
---
Recommended Restaurants by Groupon Customers
---
Inside the brightly decorated restaurant, chefs re-imagine Mexican plates with California-style touches. Surprising ingredients pepper Baja Soul's entire menu, including tucking caramelized red onions into steak tacos. The fish tacos—a house specialty—reflect the cross-border fusion, especially the Negra Modelo fish, battered in Negra Modelo and topped with refreshing pico de gallo and chipotle crema. Adventurous chefs remix spices and flavors in a sextet of house-made salsas, such as the piña-fire flavor brewed from roasted habañero chilies and sweetened with grilled pineapple.
Behind the full bar stocked with imported and craft beers, mixologists season mojitos with freshly pressed guarapo, or sugar-cane extract, and pour house-made margaritas and shots of premium tequilas. While servers whip up tableside guacamole, diners can play with interactive touchscreen booths that stream music and videos.
8625-C Lindholm Dr.
Huntersville
North Carolina
At Tokyo Japanese Seafood & Steakhouse, chefs turn diners into audience members as they skillfully flip steaks and seafood on the hibachi grill and roll fresh maki at the sushi bar. Grillmeisters marinate meats and fish in a signature sauce before searing flavor into dishes such as steak with mushrooms and sesame seeds or teriyaki salmon with broccoli. A variety of combination specials mix chicken, shrimp, or scallops with sides of fried rice and sweet carrots. Sushi chefs craft nigiri with smoked salmon or specialty maki such as the 10-piece Tokyo roll, artfully lining a soybean wrap with shrimp tempura, spicy tuna, and creamy avocado. The intimate space boasts Asian-themed décor, including cheerful figurines and a wooden model ship that occasionally sets sail upon gusts from a large Japanese fan.
539 East Plaza Drive
Mooresville
North Carolina
704-799-9767
Kyjo's Japanese, Thai, and Sushi Bar builds a bridge between Asia's diverse culinary traditions, uniting the spicy curries and noodle dishes of Thailand with the delicately arranged sushi rolls and sashimi of Japan. Chefs bustle about the kitchens of the Concord and Troutman locations, tossing ginger and bamboo strips into woks or drizzling spicy Volcano rolls with wasabi sauce and magma. Other signature sushi rolls include the Thai Sunrise—a combination of soft-shell crab and mango—and the deep-fried Gucci roll, loaded with spicy scallops and tied together with a belt of designer seaweed. Sips of wine, beer, and sake accompany sushi entrees, and creamy Thai tea or coffee temper the spices of curry dishes.
349-K Copperfield Blvd. NE
Concord
North Carolina
704-793-1437
Shoals Grill aims to please visitors of all ages in a dining room centered around its polished wood-paneled bar. The restaurant's chefs craft a menu of comfort cuisine, including fried pickles and Angus beef sirloin, as well as special meals designated for each day of the week. On Fridays, for example, they fry fish and chips, and on Sundays, families can stop in for a wholesome roast-beef dinner with mashed potatoes and sautéed vegetables. Dessert choices include four-person servings of s'mores, for which servers present tables with a flaming bowl and a spread of chocolate, graham crackers, marshmallows, skewers, and an acoustic guitar to lead campfire songs.
1098 Brawley School Rd.
Mooresville
North Carolina
US
704-660-1211
For more than 20 years, the chefs and staff at Turn 4 Pizza have served up hand-tossed pies to the Mooresville community and surrounding areas. Their creative pizzas draw inspiration from auto racing terms, as evidenced by the Caution Flag—a sausage-and-onion pizza set ablaze with jalapeños, banana peppers, and crushed red pepper. On the tamer side of the menu, the Charlotte 600 pie tops a creamy alfredo base with tomatoes, spinach, mushrooms, onion, and chicken. They also sport a build-your-own option, featuring more than 20 toppings that range from meatballs and pepperoni to granulated garlic, mandarin oranges, and pepperoncini. Their specialty dessert pizzas include pies such as the cinnamon-sugar-with-icing pizza, which can also be made race-themed when served on a spare tire.
798 Oak Ridge Farm Hwy.
Mooresville
North Carolina
704-799-2134
---
---
Restaurant Deals - Recently Expired
---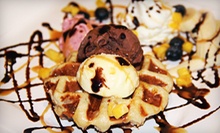 Customize your own frozen yogurt with a range of fruit and candy toppings, dig into a scoop of creamy gelato, or sip on illy coffee drinks
---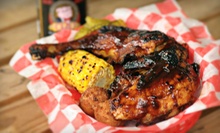 Barbecue pork, sliced brisket, BBQ chicken, baby back ribs, burgers, and steaks with sides such as hush puppies and award-winning sauce
---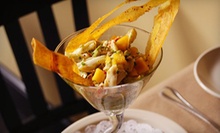 Seafood, sausage, and veggie tapas include tuna ceviche, lightly spiced chorizo, and sliced cucumbers with tzatziki
---
---