Things to Do in Moorpark
---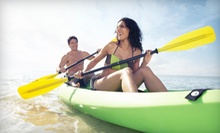 Situated across from Surfrider Beach, a surfing staff doles out single-passenger kayaks for all-day expeditions on the water
Use Monday 10:00am - 6:00pm
---
Recommended Things to Do by Groupon Customers
---
The air pulses with energy inside MB2 Raceway's cavernous facility, where bright-red European go-karts zoom around the winding track at thrilling speeds of up to 45 miles per hour. As the powerful electric engines send thunderous roars bouncing off the walls, a giant projection screen broadcasts racers' lap time, race position, and corporate sponsorships in real time. Meanwhile, off the course friends, families, and party guests engage in friendly competition on the facility's arcade games and pool tables, or celebrate special occasions in its party rooms. The raceway also hosts corporate events combined with special team-building exercises, such as the blindfold challenge, where a blindfolded driver is guided by a teammate via walkie-talkie.
1475 Lawrence Dr.
Thousand Oaks
California
US
FastFrame outlines photographs and wall-worthy art with more than 1,000 frames in styles ranging from baroque gold trims to funky, contemporary schemes. Dedicated to craftsmanship and creativity, professional framers help select matting hues to complement a diploma or the original Bill of Rights banning knuckle cracking. All projects are completed onsite, ensuring that no materials get dented or lost by clumsy carrier pigeons, and clients can return any custom designs for complete retooling within 30 days if they don't match homes' décor.
2931 Cochran St., Suite 2
Simi Valley
California
805-582-0395
Couched in the stadium seats of luxury, patrons at Muvico Theaters enjoy the latest blockbusters in crystal-clear Sony 4K digital projection. With a full-service bar and grill, onsite childcare, and 74-inch VIP seating, the theater offers an escape from reality above and beyond simple storytelling. Moving D-Box seats in certain movie houses take the motion-picture experience to the next level, and huge armrests in the Premier section leave room for midmovie dining and premovie thumb wars. Muvico also shows golden oldies in addition to new releases and live events, such as live comedy, sporting events, and beer and wine tastings
166 W Hillcrest Dr.
Thousand Oaks
California
805-496-5487
The independently owned Roxy Stadium 11 regales patrons with the flickering pictures and digital sounds of the latest blockbusters and the sizable snack bar. A colorful lobby greets guests as they meander past towering pillars that stretch toward an arched ceiling swathed in neon lights and bold swaths of royal blue. Aisles of cushioned auditorium seats allow moviegoers to choose the spot closest to the screen or furthest from the person sobbing emphatically during coming attractions. High-tech projectors digitally unspool films in each theater, with RealD 3-D technology transmitting some flicks in three vibrant dimensions. To silence distracting mid-movie hunger pangs, staffers in the concessions area whip up fresh batches of Orville Redenbacher popcorn and Nathan's hot dogs alongside other traditional theater fare.
5001 Verdugo Way
Camarillo
California
The frosty rinks at Iceoplex have supported the arabesques of professional figure skaters and served as the backdrop in feature films. During public skating hours, though, anyone can stop by for a glide on the ice. Visitors can rent hockey or figure skates for the day, hold events in heated party rooms, or play games in the video arcade. Beginning skaters can attend skating school or take hockey lessons.
131 W Easy St.
Simi Valley
California
Under the guidance of certified Master Trainer Armone Sullivan, students will be introduced to, and become firmly acquainted with, trademark Pilates positions that reawaken bodily potential and may even spawn a photographic memory. Armone is a local Pilates champion whose cycling and dance background has helped her create intense workouts famed for their rigor and clear-cut results. Your limbs will rise to her challenges, defining muscles and building the core endurance needed to scale art-deco skyscrapers and wrestle entire mountain ranges.
28247 Agoura Rd
Agoura Hills
California
US
---