Morgan Hill, CA Spa and Massage
---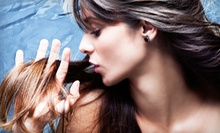 Enjoy products enhance styling and coloring services; complimentary scalp massage
---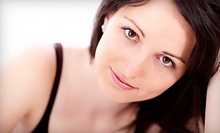 Intensive exfoliation aims to obscure signs of aging, and LEDs kick-start collagen production to keep skin looking youthful
---
Recommended Spa & Massage by Groupon Customers
---
Technicians at Barbarella Beauty greet guests with a snack and complimentary wine or coffee as they sink into Human Touch massage chairs. During pedicures, feet soak in an elegant crystal bowl and pipe-less jet whirlpool technology are designed for both comfort and cleanliness. Because the team members only service natural nails, they avoid the chemical vapors often associated with synthetic applications, so guests won't have to cringe at unpleasant odors. After feet have been citrus scrubbed or peppermint masked, the staff can finish them with a Rockstar glitter-toes look that is as dazzling as the salon's sparkly ceiling.
As their polish dries, clients can explore the boutique's selection of eye-catching jewelry and accessories. Alternatively, they can take advantage of the crew's other talents, including body waxing, facials, and haircuts performed in front of makeup mirrors that are reminiscent of a celebrity's dressing room.
130 M North Santa Cruz Ave.
Los Gatos
California
Today's side deal treats customers to Sass full standard eyelash extensions, durable lashes that bond to a client's natural eyelash line. The Sass treatment applies 45 lashes to each eye for a fuller appearance that adds smokiness and intrigue to any subtle glance. Cradle eyeballs in soft, luxurious lashes that stand up against showers, swimming, and the reciprocated eye batting of winsome pedestrians.
10 Jackson St., Suite 102
Los Gatos
California
Choose between one of three relaxing massage techniques including the deep tissue, Swedish, or signature. The deep tissue is a pressurized, full-body technique that seeks the deepest knots and unties them with the proficiency of a Boy Scout with adult hands. Go with the Swedish if you prefer traditional, long strokes tied to a gentle muscular overhaul. The signature treatment includes a total body pampering with extra attention given to comforting the hands and feet using heated spa treatments.
5353 Almaden Expressway, Suite A120
San Jose
California
Your appointment with the Headache Doctor includes a one-hour evaluation that incorporates a complete physical and spinal exam with a state-of-the-art diagnostic scanning test. The complete exam evaluates the entire body and the headache symptoms to understand the root of the problem through chiropractic methods. At the conclusion, a complete report of the findings will be issued, and a course of treatment will be discussed from there. Call ahead to schedule an appointment.
280 West Hamilton Ave.
Campbell
California
With deliberate strokes and intense focus, each skilled massage therapist is capable of taking the mind to a blissfully whited-out plane where it's free to bob up and down like a Q-tip buoy in a sea of cotton balls. Inside and Out's custom quiver of massage techniques—including Swedish, deep tissue, and trigger point—addresses the specific needs of individuals, releasing tensions associated with your sport, career, or acrobatic affiliation. A trained hand musician will artfully lessen or increase the pressure as the massage progresses in order to ambush pains or coax out hiding tranquility.
10 Jackson St., Suite 109B
Los Gatos
California
After working at other beauty establishments, aesthetician Angelica McCoy wanted to create a space where she could both pamper her guests and pay homage to her Mexican heritage. She has accomplished both of those goals at La Choza Day Spa. As she told KRON 4 in 2009, La Choza—which translates to "the little hut"—is meant to recreate the ambience of a cozy, south-of-the-border village. In the reception area, red Spanish-tile accents and paintings of cacti and beachside scenes promote an atmosphere of rustic tranquility.
Besides offering facials, massages, nail services, and body treatments individually, McCoy and her team bundle them into spa packages; for example, the romance package for two includes spa pedicures and candlelit side-by-side massages on rose-petal-dappled treatment beds. And there are treatments for all ages here—together with her daughter, McCoy designed a menu of teen services specifically designed to combat issues such as stress or acne caused by thinking about algebra too much.
1451 Foxworthy Ave.
San Jose
California
---