Things to Do in Morgan Hill
---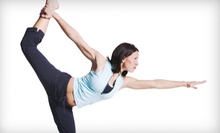 Work up a sweat in these challenging, rejuvenating Bikram yoga classes, which teach Bikram's sequence of 26 hatha yoga poses
---
Recommended Things to Do by Groupon Customers
---
With more than 20 years of equine experience, Jeanette Arnaout instructs students of all skill levels on the fundamentals of horsemanship during group lessons and riding camps. Each session carefully pairs riders with appropriate steeds for their skill level, allowing novices to learn basic techniques and experienced stallion tamers to trot to the beat of the hokey pokey. Small-group settings foster an educational atmosphere, and kind, well-trained horses guarantee hiccup-free learning. Lessons include instruction on horse cleaning and care—think grooming and hoof-picking—as well as riding time. Like a molting flamingo, students are encouraged to wear long pants and closed-toed shoes, but Jeanette provides all of the equipment necessary for camps. Those overwhelmed by unruly horses can turn them over to Jeanette for training, during which she gently boosts steeds' confidence to improve their obedience.
1290 Masten Ave.
Gilroy
California
408-504-0883
With a relentless focus on practice, San Jose Batting Cages lets players improve their hitting, pitching, and fitness to better prepare for their next outing on the diamond. Whether working through in-season regimens or off-season training, batters perfect their swing in indoor and outdoor baseball and softball cages, and hurlers enter the pitching lanes to hone their fastball against imaginary Ming Dynasty vases. Cages stay open until 8 p.m. each night, helping players blow off post-work steam or just squeeze in a few swings before hitting the hay. A staff of instructors helps athletes develop all aspects of their game through hitting and pitching lessons as well as team and group clinics.
474 Piercy Road
San Jose
California
408-360-9076
Local coach Bob Kittle is both a fixture and good omen in Santa Cruz baseball. He nabbed the position of head coach at Cabrillo College after a 13-year stint at Santa Cruz High School, where he passed 47 players—12 of whom carried Division I scholarships—on to four-year schools. After seven Santa Cruz Coast Athletic League title wins and a community effort that saw Bill Dodge Field built, he now guides college players toward burgeoning baseball careers. He prefers to focus on the willpower behind the sport, telling the Santa Cruz Sentinel that "winning and success will take care of itself" when his students are devoted.
Bob runs the Santa Cruz Baseball School as a year-round venue for players to hone their on-the-field skills. Through the nonprofit organization, he coaches kids with private lessons, high-school leagues, and recruiting tips to impress colleges, such as how to tell the difference between a diamond and a parallelogram. The school's summer camps engage 7- to 14-year-olds with game-play drills and speed-boosting techniques. Past instructors include Neil Walton of the Tampa Bay Devil Rays and Lauren Gagnier of the Detroit Tigers.
6500 Soquel Dr.
Aptos
California
When Forest Roberts was 9 years old, he built a boat in his backyard with money saved from his paper route. Since 1989, Roberts has participated more officially in the maritime industry, working water-related jobs from commercial diving to boat building—and often living aboard boats—before opening his sailing-charter company in 2006. Today, California Classic Sail operates from Santa Cruz on the shores of Monterey Bay, earning praises from previous passengers and a Santa Cruz Sentinel feature story.
Roberts's background in the building industry helped him recognize the superb craftsmanship in his current yacht, Sarah. The builder, William Garvie—who named the vessel after his granddaughter—constructed the 52-foot-long boat based on a line drawing published in an early 20th-century yachting-magazine spread. Made of wood instead of the fiberglass many modern boats are made of, its vintage style and wood hull set it apart from other Santa Cruz charter vessels. Dubbed a "Sharpie" for its long, narrow shape, rather than an ability to leave permanent wakes, the graceful yacht zips through the bay waters on chartered trips for groups of up to six. Passengers can relax onboard as Roberts steers, or choose to learn basic sailing maneuvers through hands-on instruction. Roberts can also tailor trips to special occasions such as engagements and birthdays, and can sail during many times of day, including more-scenic mornings and sunsets.
1400 Wharf Rd.
Capitola
California
US
831-706-8574
---