Things to Do in Morganton
---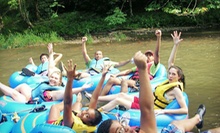 Groups of aqueous adventurers float along the peaceful waters of New River atop new tubes with built-in headrests
---
Recommended Things to Do by Groupon Customers
---
Former professional driver and expert instructor Randy Baker and his team have been guiding drivers toward greatness for more than 20 years; past pupils include Jeff Gordon, Tony Stewart, Jeff and Ward Burton, and the shadowy pit mechanic known only as Racer X. At SpeedTech Auto Racing School, Randy combines a fleet of super-speedy rides—authentic, metal-bodied vehicles boasting 650-horsepower V-8 engines—with a serious emphasis on safety to prepare drivers for any mishap on the track. Gearheads, speed junkies, and people who still sleep in a racecar bed despite their adult children's protestations soak up Randy's knowledge during one of SpeedTech's many race programs, varying in length from 3 laps to more than 100. With the school's built-in HD video feeds, drivers can commemorate their laps or prove to the family car it's been cheating on them with the hotel's valet.
151 Speedway Blvd.
Bristol
Tennessee
The Murder Mystery Company's talented troupe of improv actors performs live-action murder mysteries at public and private events to sharpen guests' latent detective skills. Throughout the play, the cast drops hints and misdirects blame, inviting audience members to get involved in a web of intrigue and hilarity. Besides public dinner parties, murder mysteries can unfold during corporate events, team-building exercises, and birthday parties for aging Sherlock Holmes impersonators.
3030 Freedom Dr.
Charlotte
North Carolina
The idea for an annual barbecue expo began slow-cooking in 2010 at a family lunch. The Boyds thought about organizing a little barbecue competition and ended up luring 8,500 barbecue enthusiasts to their "small" cook-off and fundraiser. Now in its third year, the charitable event continues to develop flavor and raise money for local schools while packing bellies with some of the area's best barbecue recipes.
With napkins in hand, attendees can follow the smoky scents and sounds of sauce-splattered high-fives from the tents of a variety of vendors. Ten teams of grilling gurus face off in a whole-hog cook-off, with the winners earning a cash prize and a spot in the state championship later this year. A new Chick-fil-A sauce competition sifts through the day's top toppings until a winner is crowned. Between bites, guests can also savor the festival's many attractions, including a police dog demonstration, a petting zoo, and a BMX bike show, where riders wow onlookers by performing tricks and bunny-hopping over smokers.
311 Eighth Ave.
West Hendersonville
North Carolina
Balls roll uphill. Surging streaks of water flow upward behind them. People struggling to stand at a 90-degree angle are upright at 45-degrees. Such are the laws of gravity at Mystery Hill's Mystery House, an enigmatic amusement center perched atop a slope that enjoys a stronger-than-average gravitational pull to the north. The same peculiar pull looms over the nearby Mystery Platform, where people standing on the north side always appear larger than those on the south. For more than 50 years, visitors have flocked to the curious hilltop to explore its strange gravitational pull and interact with other science-related exhibits.
Aside from the Mystery House, most of the museum's scientific attractions congregate in The Hall of Mystery, where guests can step inside a giant bubble, flee the chase of their shadow, or learn to beat the moon at rock-paper-scissors. Alternatively, Mystery Hill museums include Appalachian Heritage Museum, which houses antique sewing machines, books, and a list of the personal blog URLs of mountain families from the late 1800s to early 1900s. The Native Artifacts Museum assembles more than 50,000 arrowheads, effigy pipes, awls, and other accouterments culled over 70 years from 23 states.
129 Mystery Hill Ln.
Blowing Rock
North Carolina
828-263-0507
Haunted rides amble through picturesque stretches of the Latta Plantation Nature Preserve, surrounding guests in the season's spine-tingling chills and frightful sights on select October evenings. Rolling through the dark shadows of the haunted forest, the ride activates guests' latent scream sensors while it creeps past eerie haunts and awkward zombie family reunions. After hopping off the macabre vehicle, groups are free to peruse the premises' plethora of fall activities, such as a jaunt through the twists and turns of the straw maze ($3), a ride on the cow train ($2), or malicious marshmallow roastings over an open flame ($1) (additional activities are not included with this offer).
6201 Sample Rd.
Huntersville
North Carolina
Weather, sports, and the adorable antics of children. Too frequently these topics dominate dinner-table discussions. Seldom do diners dig into the important topics of the day, such as who is sending threatening letters to a famous country music family? How did someone end up dead on the set of an '80s trivia game show? And who could have possibly wanted a Roaring Twenties gangster dead?
These kinds of riveting questions swirl around the dinner tables at the Casbah Theater, where Two Pence Productions inspires intrigue with a lineup of dinner shows, many of which are murder mysteries penned by playwright Eileen Moushy. Her original whodunits follow the classic sleuth framework that begins with a prelude to a murder, progresses to the dastardly deed, and culminates in an epic revelatory scene.
As the actors circulate throughout the theater and among the tables, guests listen in on dialogue to pick out clues and root out motives. Each plot line unfolds in a rich, evocative setting––such as the glamorous '80s or the dapper '20s––and the theater encourages guests to dress in costume, often awarding prizes to those who stay in character and use their cell phones as lie detector devices.
807 W Walnut St.
Johnson City
Tennessee
423-202-3660
---