Morrisville, NC Indoor Activities
---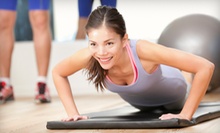 Nationally certified trainers help clients meet specific goals; Zumba, Pilates, and cycling fitness classes
---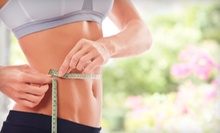 Plans include weight-loss medications, week-long meal plans, seven-day workout schedules, personal training, and physicals
---
Recommended Indoor Activities by Groupon Customers
---
A basket greets visitors at the entrance to Soula Grove, inviting them to kick off their shoes before they pad through the door. Inside, up to eight students or two fitness-focused octopodes gather inside a cozy studio space that hosts yoga, Pilates, and meditation sessions for all skill levels. During each type of class, seasoned instructors guide pupils toward greater levels of inner calm and mind-body balance. Traditional Hatha Yoga classes revolve around ancient poses and breathing exercises that strengthen the muscles while centering the mind, and private hatha instruction can focus on alignment of specific poses or larger fitness goals such as toning the limbs and boosting flexibility. Filled with core-sculpting isometrics, Pilates mat classes help make physiques as long and stretchy as a slinky made of string cheese. Many classes conclude with relaxation treatments, which range from soothing eye masks to cool cloths scented with lavender or peppermint.
118 E Main St., Suite 210
Carrboro
North Carolina
919-636-1881
Whether he's practicing chiropractic or conducting health lectures, Dr. Josh McMillon never loses sight of his ultimate goal: to guide his patients toward a renewed sense of "hope and vitality." This lofty mission, which Dr. McMillon shares with his staff at Proactive Health & Wellness, serves as the philosophical foundation of his chiropractic program. His knowledge of human anatomy and mastery of technology-assisted therapies such as portable ultrasound and the Graston Technique allow him to measure nervous-system functions and break down fascial restrictions to ensure optimal health.
These chiropractic services represent only one aspect of the center's program for holistic health. Massage therapy soothes tension and coaxes toxins out of muscles, potentially fending off disease. Similarly, yoga classes relax the mind and body with poses that improve one's abilities to breathe deeply and slither through drain pipes. Proactive Health & Wellness maintains a commitment to the community that extends beyond its flagship trifecta of therapies; the center's outreach programs include free health lectures and quarterly food and clothing drives.
8320 Litchford Rd., Suite 152
Raleigh
North Carolina
919-341-4691
As they gaze through floor-to-ceiling windows at the wooded landscape, guests at Triangle Yoga find it easy to believe that they're floating above the treetops. This daydream holds especially true for aerial yoga and dance students—who are indeed floating with the aid of suspended fabric slings—but the studio strives to imbue all of its visitors with that serene feeling of weightlessness, subtracting stress with specialized classes for all ages and abilities.
The studio's certified instructors hold at least four classes each day, seven days a week, filling the loft-like space with several varieties of Hatha yoga. Their emphasis is on accessibility; aside from leading a long list of beginner's and advanced offerings, they welcome seniors to Yoga Over 50 sessions, pre- and postnatal moms to baby-centric series, and children to playful workshops. With free classes every month and a work-trade program, which exchanges class time for help around the office, they steer around many patrons' financial difficulties.
Though the studio has earned the 2011 Best of Chapel Hill Award in Yoga Instruction from the U.S. Commerce Association, it summons peace in myriad ways besides posing. Certified massage therapist Natalie Sablina imbues all of her kneads with reiki or other energy work, such as aromatherapy scents culled from the dreams of candlemakers. Kirtan call-and-response chanting assemblies collect donations for children in need, and artists sketch renditions of live models during meetings of the woman's art co-op.
930 Martin Luther King Jr. Blvd.
Chapel Hill
North Carolina
919-933-9642
---