Nightlife in Morrisville
---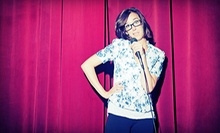 Nationally recognized comedy club hosts showcases of local and national comics, such as Bret Ernst, Josh Blue, and SNL alum Finesse Mitchell
---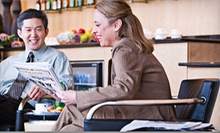 VIP lounges take the edge off layovers with wifi access, free alcoholic beverages & showering facilities
Use Today 7:00am - 6:00pm
---
Recommended Nightlife by Groupon Customers
---
Inside Bender's Tavern, bites of burgers, philly steak sandwiches, and french fries leave brief pauses in the cheering, which is directed at professional and collegiate sports on flat-screen televisions. The clash of billiard balls rings through the air, matched only by the furious sound of spinning paddles from a nearby foosball table. Trivia contests serve as another outlet for competitive spirits and allow customers to put to use the three days they spent trapped under crates of history books. Those interested in other distractions can take their reubens and draft beers to the game room.
4517A W Market St.
Greensboro
North Carolina
While people-watching amongst the picnic tables of its outdoor patio, browse the Borough's menu and take comfort in an order of Charlie & Simone, the restaurant's house-made hush puppies ($4.50), or dip into the Boomerang, a cheesy chopped spinach and mushroom mélange ($6). The Borough's entree selections provide down-home reinterpretations of the best seafood, landfood, airfood, and plantfood. The Valhalla 2.0, a 4-ounce filet mignon medallion drizzled in creamy crab sauce ($9.50), patches many of the bugs in the Viking paradise's operating system, making it Ragnarok-compliant. The Craw Diddy, a house-made crab-cake sandwich ($8.50), makes your tongue feel like a bayou pop star, while The D Train, a marinated chicken breast with grilled red peppers and spicy mustard ($7), transports it home after a hard day's work licking coworkers' faces. The Borough's vegetarian-friendly selections include the Blackbeard, a black-bean burger ($7.50); and the Mock Bawk Bawk, a vegan barbecue mock-chicken sandwich ($7)—making the eatery a welcoming habitat for runaway ex-carnivores looking to reunite for a meal with their former wolf pack.
317 West Morgan St., Suite 117
Raleigh
North Carolina
A comedic abode of gut-busting proportions, DSI has hosted hundreds of joke slingers that have corralled scores of laugh-seeker smiles without nitrous-oxide tanks or clips of football-privates contact. A company of 45 active performers lives underneath the 84-seat non-smoking theater, constantly training with dummy microphones and audience dummies to provide optimal quip delivery. Owner Zach Ward leads this comedic cabal, and also has trained and worked with nationally known giggle catalysts of Saturday Night Live and MADtv fame. Visitors will be able to choose from a variety of scheduled Friday- and Saturday-night shows, including improv slams, stand-up, and slide shows of platypus photos.
200 North Greensboro St.
Carrboro
North Carolina
---