Nightlife in Morrisville
---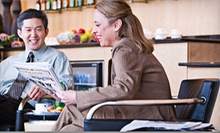 VIP lounges take the edge off layovers with wifi access, free alcoholic beverages & showering facilities
Use Monday 7:00am - 6:00pm
---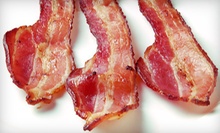 Chefs flip pancakes and break eggs for skillets and benedicts as balls crack in the billiards hall
Use Today 11:00am - 2:00pm
---
Recommended Nightlife by Groupon Customers
---
Inside Bender's Tavern, bites of burgers, philly steak sandwiches, and french fries leave brief pauses in the cheering, which is directed at professional and collegiate sports on flat-screen televisions. The clash of billiard balls rings through the air, matched only by the furious sound of spinning paddles from a nearby foosball table. Trivia contests serve as another outlet for competitive spirits and allow customers to put to use the three days they spent trapped under crates of history books. Those interested in other distractions can take their reubens and draft beers to the game room.
4517A W Market St.
Greensboro
North Carolina
A comedic abode of gut-busting proportions, DSI has hosted hundreds of joke slingers that have corralled scores of laugh-seeker smiles without nitrous-oxide tanks or clips of football-privates contact. A company of 45 active performers lives underneath the 84-seat non-smoking theater, constantly training with dummy microphones and audience dummies to provide optimal quip delivery. Owner Zach Ward leads this comedic cabal, and also has trained and worked with nationally known giggle catalysts of Saturday Night Live and MADtv fame. Visitors will be able to choose from a variety of scheduled Friday- and Saturday-night shows, including improv slams, stand-up, and slide shows of platypus photos.
200 North Greensboro St.
Carrboro
North Carolina
Since its founding at a secure location off of Glenwood Avenue one year ago, LoneRider has adhered to its founding principle: that beer is a delicious, drinkable expression of personal creativity. Casual and professional imbibers from across the Triangle have, at their first sip of LoneRider suds, been know to drop meek and flavorless drafts and finally take action on their plans to create a race of atomic super-men. The flagship brew, the hazel-eyed Shotgun Betty, is a sassy hefeweizen with a banana-clove nose and a dry finish, unusual and unabashedly individual. The DeadEye Jack porter rides into town on a chocolate horse with a malt mane, and then performs a complicated dressage routine on your tongue.
8816 Gulf Ct., Suite 100
Raleigh
North Carolina
---