Yoga in Morrisville
---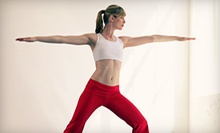 Cozy studio with duo of certified instructors offers Vinyasa, Hatha & hot-yoga classes & Pilates instruction six days per week
---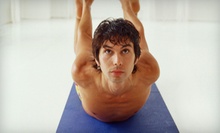 Fresh air circulates every three minutes in a heated studio as students flow through a series of 24 Bikram poses
---
Recommended Yoga by Groupon Customers
---
At Arrichion, new members will benefit from an encouraging workout environment and a variety of classes to suplex fat and boost strength. Arrichion's coach, Larry Reynolds, has extensive hot-yoga and mixed martial arts experience and has been coaching for 30 years. By employing a system that's designed for repeatability and offers continuous feedback, participants can achieve efficient fitness results and a ripply abdominal cheese grater. Figure toners can tighten up and acquire alley-navigating techniques with mixed martial arts fitness classes or shed stress while increasing flexibility with hot yoga. Additionally, three yoga classes are available, such as the fundamentals-honing topaz class, core-strengthening krystallos class, and fluid-movement-utilizing bloodstone class.
8606 Jersey Ct.
Raleigh
North Carolina
Inside SyncStudio's cycling room students stand on stationary bicycles, moving their upper bodies in time with one another and the music in an effort to tone their cores and strengthen their legs. Meanwhile in the yoga studios, students move through poses designed to reduce stress, build strength, and burn calories. Other programs offered—including kettlebell training, TRX-suspension classes, and circuit training—aspire to promote total-body wellness. In addition to these fitness programs, sports nutritionists onsite can tailor individual diet plans to help members keep their bodies as harmonized and balanced as a tightrope-walking barbershop quartet.
6815 Fayetteville Rd.
Durham
North Carolina
919-572-7962
Practice makes perfect, especially at Bikram Yoga Durham, where each class follows the exact sequence of 26 hatha yoga postures designed by Bikram Choudhury. Espousing this mantra, instructors come to class armed with their 500-hour Bikram training certifications. Held in a 105-degree studio regulated by eco-friendly heating and air-purification systems, the courses begin with standing postures and transition into mat poses, a progression that works the entire physique more effectively than performing jumping jacks on a treadmill. Students of all fitness levels can jump into the toasty fray, exercising as the heat detoxifies systems, enhances flexibility, and increases heart rates for a cardio workout.
807 E Main St.
Durham
North Carolina
919-251-8763
A basket greets visitors at the entrance to Soula Grove, inviting them to kick off their shoes before they pad through the door. Inside, up to eight students or two fitness-focused octopodes gather inside a cozy studio space that hosts yoga, Pilates, and meditation sessions for all skill levels. During each type of class, seasoned instructors guide pupils toward greater levels of inner calm and mind-body balance. Traditional Hatha Yoga classes revolve around ancient poses and breathing exercises that strengthen the muscles while centering the mind, and private hatha instruction can focus on alignment of specific poses or larger fitness goals such as toning the limbs and boosting flexibility. Filled with core-sculpting isometrics, Pilates mat classes help make physiques as long and stretchy as a slinky made of string cheese. Many classes conclude with relaxation treatments, which range from soothing eye masks to cool cloths scented with lavender or peppermint.
118 E Main St., Suite 210
Carrboro
North Carolina
919-636-1881
At Vault Yoga, co-owners Patricia and Diane keep the stressors of the outside world at bay with an industrial-strength bank-vault door. A few years ago, Patricia, a former aerobics instructor, and Diana, who came to yoga after dusting off an old yoga VHS tape, fell head over heals for the healing postures. After they earned their 200-hour certifications, they started looking for a studio space that embodied the inner peace and physical strength yoga had brought them. After a lavender field filled with Mr. Universe contestants fell through, a century-old bank, complete with an old-timey vault, seemed just the ticket. Now, along with a team of instructors, the studio invites students of all abilities and experience levels to limber up in classes that range from gentle Yin fusion to rigorous Vinyasa flow.
234 Fayetteville St.
Raleigh
North Carolina
919-996-0934
Whether he's practicing chiropractic or conducting health lectures, Dr. Josh McMillon never loses sight of his ultimate goal: to guide his patients toward a renewed sense of "hope and vitality." This lofty mission, which Dr. McMillon shares with his staff at Proactive Health & Wellness, serves as the philosophical foundation of his chiropractic program. His knowledge of human anatomy and mastery of technology-assisted therapies such as portable ultrasound and the Graston Technique allow him to measure nervous-system functions and break down fascial restrictions to ensure optimal health.
These chiropractic services represent only one aspect of the center's program for holistic health. Massage therapy soothes tension and coaxes toxins out of muscles, potentially fending off disease. Similarly, yoga classes relax the mind and body with poses that improve one's abilities to breathe deeply and slither through drain pipes. Proactive Health & Wellness maintains a commitment to the community that extends beyond its flagship trifecta of therapies; the center's outreach programs include free health lectures and quarterly food and clothing drives.
8320 Litchford Rd., Suite 152
Raleigh
North Carolina
919-341-4691
---