Coffee & Treats in Mount Clemens
---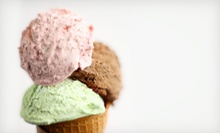 More than 40 flavors of Stroh's ice cream served in hand-dipped cones, along with frozen custard, fruit smoothies, malts, and flurries
---
Recommended Coffee & Treats by Groupon Customers
---
Since 1948, Ackroyd's™ Scottish Bakery has offered premium Scottish baked goods made-from-scratch. Family owned and operated for three generations, we are dedicated to providing quality products and unmatched value.
25566 5 Mile Road
Redford
Michigan
313-532-1181
Marty's creations are certifiably kosher and have no artificial ingredients. Choose from more than a dozen custom creations from the cookie gallery, ranging from the progressively futuristic chocolate chip ($1.75 each) to the signature chocolate drizzle cookie ($3.50 each). Before you trade your cow for an unenchanted bean, stock up on milk for cookie-tray acquisition; serve 8–12 people with a 60-cookie assortment for $37.99. Foolish lovers don't have to give flowers to apologize; give cookie bouquets—six long-stem cookies lovingly wrapped in a rose box sealed with ribbons, bows, and blown kisses ($39.99).
6585 Commerce Rd.
West Bloomfield
Michigan
Chazzano Coffee roasts fair trade and organic coffee every day for restaurants, cafes, country clubs, retail shops, offices and individuals. Good Coffee Makes You Sing!
1737 East 9 Mile Road
Ferndale
Michigan
248-691-4256
Since 1918, Blak's Bakery has prepared a large variety of sweet and savory baked goods with care and ages-old know-how. Although the bakery is small in size, it is known for boxing approximately 24,000 paczki per year on Fat Tuesday—a feat that earned the attention of CBC News. In addition to paczki, the bakers create an array of goodies, such as mincemeat pies, 9-inch cakes, and breads, which are baked in the original 1918 Peterson brick-hearth oven instead of on the engine block of an overheated car.
1022 Langlois Ave.
Windsor
Ontario
519-253-4344
Founded by ice-cream enthusiasts Donald and Susan Sutherland in 1988, Cold Stone Creamery has grown to more than 1,400 locations across North America. Each day, the shop's scoopers mix up fresh batches of ice cream, yogurt, and sorbet, which are served by the scoop, piled high in sundaes, and blended into shakes. After customers choose their desired flavor, the staffers toss the chilly sustenance upon a slab of frozen granite and fold in a smorgasbord of candy and nuts to achieve the ideal ice-cream-to-add-in ratio. Customers can dream up their own creations or opt for a signature masterpiece, sampling one of more than 11.5 million possible flavor combinations, which still await a brave conqueror to unlock them all. To accommodate sweets cravings at celebrations, staff members also dish out ready-made treats, such as ice-cream cakes, cupcakes, and cookies.
31961 Gratiot Ave.
Roseville
Michigan
586-294-2013
Owners Tina and Kevin Yancey didn't start their marriage with the idea of running a bakery. Kevin, a business owner, and Tina, a corporate employee, were simply fans of their local Great Harvest franchise and the freshly baked breads the staffers forged from scratch each day. With the couple's natural love for cooking and entertaining, they quickly realized the fulfillment they would gain from opening their own Great Harvest bakery. In 2007, they found that fulfillment by unveiling their very first location in Las Vegas.
Though far from the glitter of the Strip, the Yanceys' Birmingham location still bakes pillowy breads with the same techniques as the original Great Harvest that impressed them years ago. Everything from sweet scones and cookies to 10 types of flavorful bread are made completely from scratch with whole-grain flour the company mills itself and baked in an oven fueled by the company's fire-breathing staff members. The menu transforms from month to month, giving new and veteran customers alike new treats to taste throughout the year.
1137 S Adams Rd.
Birmingham
Michigan
248-594-0505
---