Mount Clemens, MI Health and Fitness
---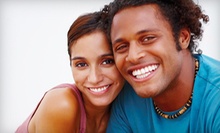 Dr. Sonia and her hygienist Rebecca do a full survey and scrubdown of your teeth, catching any long-term issues early with digital X-rays
Use Tuesday 9:00am - 6:00pm
---
Recommended Health & Fitness by Groupon Customers
---
Most treadmills require sneakers, or a really rubbery pair of feet. But a special treadmill at The Rochester Athletic Club obliges athletes to don ice skates. The hockey treadmill sends 50 square feet of simulated ice whizzing beneath the skates of training players. Not only can players practice passes along the front lip of the treadmill, where a puck glides to and fro, but they can also tweak the speed and elevation of the treadmill to their skill levels.
This specially calibrated treadmill embodies the contemporary nature of the 28,000-square-foot gym. The modern space's programs include group fitness classes, personal training, and wellness courses for patrons more than 50 years old. Classes utilize abundant cardio equipment, a circuit of Cybex weight machines, and high-definition televisions. And with the Paint Creek Trail and Rochester Municipal Park next door, workouts can get back to basics during boot camp and other seasonal outdoor classes, such as how to outrun a squirrel.
637 N Main St.
Rochester
Michigan
248-650-6200
At Total Health Colon Care, colon therapists take what could be considered a reverse approach to wellness. Rather than treat symptoms after they arise, they use their FDA-approved colon-hydrotherapy equipment to maintain intestinal health and prevent problems before they occur. During treatments––which take approximately 45 minutes—a gentle stream of warm, filtered water is introduced into the colon and, after a brief getting-to-know-you question-and-answer session, gets to work softening and breaking up impacted matter. Paired with light abdominal massage it helps muscles expand and contract. The process helps hasten the colon's natural function and may also help it to better absorb nutrients.
Alongside the center's colon therapists is a team of massage therapists who each have completed at least 600 hours of training. They specialize in a range of styles from gentle relaxation and deep-tissue massage to Hawaiian lomilomi massage, which works with the body's energies to promote mental clarity––a practice often used on the state's active volcanoes to keep them from blowing up.
40580 Van Dyke Ave., Suite D
Sterling Heights
Michigan
586-268-5444
The experienced instructors at Body Experience Fitness Studio view closeness as a key ingredient to health. Their group studio accommodates a maximum of 18 students, allowing enough space for dynamic Zumba steps and reaching stretches while simultaneously preserving an air of intimacy. During classes, they foster the familiar atmosphere by giving personalized directions—yoga poses might shift to include challenging poses for advanced yogis or a supportive chair assist for beginners, and the tension of resistance bands can rise if pupils accidentally use pantyhose instead of sanctioned resistance bands.
Their curriculum includes lessons in varied fields, from boot-camp drills to Hatha sequences, and their histories are just as diverse. For example, trainer Shelly Haag entered the fitness industry to combat her fibromyalgia, and registered yoga teacher Heidi Rohrbeck simply seeks to augment the happiness of others. However, the staff shares the goal of holistic health improvement, regardless of age, body type, and limitations.
49103 Schoenherr Rd.
Shelby Township
Michigan
The clinical director Doctor of Chiropractic Tanya Dejkunchorn has treated formidable injuries while caring for professional football players and international athletes. Though her patients now rarely complain about being hit by a 350-pound lineman or being yelled at by a rude coach, Dr. Tanya always takes the time to listen to and correct the unique needs of each ailment. Along with her team of physical and massage therapists, she employs natural, noninvasive healing techniques, including acupuncture, therapeutic massage, and musculoskeletal rehabilitation.
1905 E Big Beaver Rd.
Troy
Michigan
248-720-0444
---