Restaurants in Mount Juliet
---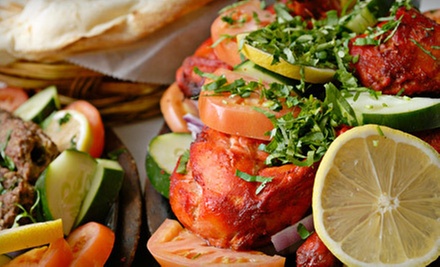 ---
Recommended Restaurants by Groupon Customers
---
SouthernBred's décor is as simple as Grandma's tap-dancing routine, yet the food is luxuriously robust, with most of the steamy biscuits, breads, and cakes made from scratch, the mysterious, prescience-enhancing substance that the Spacing Guild depends on for interstellar travel. Start your homespun meal off with a starter of fried green tomatoes in Louisiana ranch dressing ($5) before feasting on Southern classics such as chicken and dumplings ($9)—a time-honored, timeless, and timely ensemble of chicken, dumplings, choice of two sides, and your own conflicting tears of triumph and desire for more. If you're in the mood for something different, try the whiteout ($6/$8 with catfish filet), an invigorating mix that marries homemade cornbread, white beans, cole slaw, and chow-chow. In a pinch, it can also be used to erase Sudoku mistakes.
1048 E Trinity Ln.
Nashville
Tennessee
Four miles from the Capitol Grille kitchen, executive chef and able farmer Tyler Brown plucks heirloom veggies from the fertile soils of 66-acre Glen Leven Farm. A member of Southern Foodways Alliance and Slow Food USA, Brown champions a commitment to cultural sustainability—a movement that cherishes a region's dish traditions and embraces the culinary artistry of today. The seasoned yeoman not only incorporates his heirloom veggies into traditional Southern dishes, but also cultivates his patch without pesticides or harmful putdowns. Brown also raises heritage breed beef on a nourishing grass-fed diet. His approach to cuisine has earned nods from myriad media outlets, which praise his menu of dry-aged beef and creative flourishes such as huckleberry jus and cranberry moutarde. Situated inside the 100-year-old Hermitage Hotel, Capitol Grille dazzles patrons with towering ceilings, marble walls, and crisp white linens.
231 6th Ave. N
Nashville
Tennessee
615-345-7116
Please give Otter's 24-hours' notice when placing your catering order. Delivery fees apply but you may pick up for free.
1528 Demonbreun St.
Nashville
Tennessee
Curry powder, a blend of spices such as turmeric, coriander, and fenugreek seeds, is lauded for its curative properties; many Ayurvedic practitioners believe that it aids in digestion and detoxifies the body. At Shagor Indian Cuisine, chefs use the traditional spice blend to flavor a menu of recipes from across the Indian subcontinent. Options range from East Indian bhuna, an entree chock-full of garlic, ginger, veggies, and meat to tandoori chicken tenderized with yogurt and lemon juice. Diners may supply their own adult libations at this BYOB eatery or sip glasses of mango lassi, a yogurt-based beverage.
Inside the eatery, white tablecloths drape over tables, and yellow walls stand out brightly from white walls and a black ceiling like a bumblebee's contrasting stripes—if the bumblebee just rolled in red paint, Shagor's fourth major hue. Green plants and framed artwork fleck the flanks of the dining hall, where white pillars furnish both structural and aesthetic goodness.
11540 Lebanon Rd.
Mt. Juliet
Tennessee
615-758-9242
To surprise diners with a new dish on a daily basis so that they don't resort to playing soup-can-recipe roulette, The Mad Platter's changing menu showcases new options every day. Appetizers such as the fried green tomato with gulf shrimp in a lemon-herb emulsion ($7), "chili mac" (blackened beef tips and ricotta gnocchi in a three-cheese sauce drizzled with white-truffle oil, $7), and hand-picked chef's cheese composition ($8) give the taste buds a drum roll as the curtain rises on dinner dishes such as black-iron pork loin ($18), artichoke risotto ($18), and caramelized salmon with a mango-rum glaze ($19). A wide selection of wines offers soothing sips with every bite, especially when paired by the knowledgeable staff. Lunchtime gourmands, meanwhile, can dazzle their fellow UPS workers with the curried-chicken quesadilla ($5.50) and Tuscan grilled-chicken stew ($10). Both meals can be crowned with a dessert of crème brûlée ($6), bananas foster ($6), or chocolate Elvis ($6.50), the size of your portion depending on its point in Elvis's career.
1239 6th Ave. N
Nashville
Tennessee
The Family Wash offers a small yet robustly flavorful menu of fresh, hearty dishes. Start your sensory escapade with the gorgonzola chips ($6), kettle-cooked potato chips smothered in gorgonzola cheese, bacon, and cheddar, designed to soak up booze and smother the face of unruly patrons. Melt your tongue with the mama-approved meatloaf ($12) served with mashed potatoes and a choice of side salad or seasonal vegetable. The vegetarian shepherd's pie ($11) is fan flavorite, with a helping of lentils and vegetables layered under a blanket of mashed potatoes and extra-sharp cheddar cheese. If you find yourself getting too comfortable with the gusto of comfort entrees, lighten up with a mixed green and roasted beet salad with toasted walnuts, goat cheese, and a shallot vinaigrette ($11).
2038 Greenwood Ave.
Nashville
Tennessee
---