Restaurants in Mount Juliet
---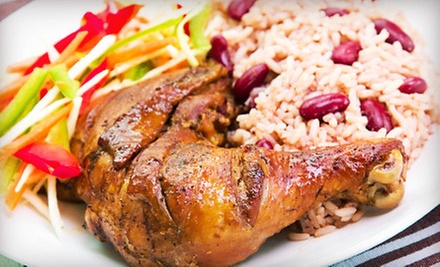 Nashville-Davidson metropolitan government (balance)
---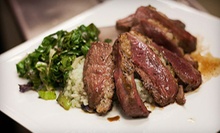 Latin-, Asian-, and Southern-influenced cuisine ranges from shrimp and alligator ribs to lamb burgers and seafood pasta
---
Recommended Restaurants by Groupon Customers
---
Curry powder, a blend of spices such as turmeric, coriander, and fenugreek seeds, is lauded for its curative properties; many Ayurvedic practitioners believe that it aids in digestion and detoxifies the body. At Shagor Indian Cuisine, chefs use the traditional spice blend to flavor a menu of recipes from across the Indian subcontinent. Options range from East Indian bhuna, an entree chock-full of garlic, ginger, veggies, and meat to tandoori chicken tenderized with yogurt and lemon juice. Diners may supply their own adult libations at this BYOB eatery or sip glasses of mango lassi, a yogurt-based beverage.
Inside the eatery, white tablecloths drape over tables, and yellow walls stand out brightly from white walls and a black ceiling like a bumblebee's contrasting stripes—if the bumblebee just rolled in red paint, Shagor's fourth major hue. Green plants and framed artwork fleck the flanks of the dining hall, where white pillars furnish both structural and aesthetic goodness.
11540 Lebanon Rd.
Mt. Juliet
Tennessee
615-758-9242
To surprise diners with a new dish on a daily basis so that they don't resort to playing soup-can-recipe roulette, The Mad Platter's changing menu showcases new options every day. Appetizers such as the fried green tomato with gulf shrimp in a lemon-herb emulsion ($7), "chili mac" (blackened beef tips and ricotta gnocchi in a three-cheese sauce drizzled with white-truffle oil, $7), and hand-picked chef's cheese composition ($8) give the taste buds a drum roll as the curtain rises on dinner dishes such as black-iron pork loin ($18), artichoke risotto ($18), and caramelized salmon with a mango-rum glaze ($19). A wide selection of wines offers soothing sips with every bite, especially when paired by the knowledgeable staff. Lunchtime gourmands, meanwhile, can dazzle their fellow UPS workers with the curried-chicken quesadilla ($5.50) and Tuscan grilled-chicken stew ($10). Both meals can be crowned with a dessert of crème brûlée ($6), bananas foster ($6), or chocolate Elvis ($6.50), the size of your portion depending on its point in Elvis's career.
1239 6th Ave. N
Nashville
Tennessee
The Family Wash offers a small yet robustly flavorful menu of fresh, hearty dishes. Start your sensory escapade with the gorgonzola chips ($6), kettle-cooked potato chips smothered in gorgonzola cheese, bacon, and cheddar, designed to soak up booze and smother the face of unruly patrons. Melt your tongue with the mama-approved meatloaf ($12) served with mashed potatoes and a choice of side salad or seasonal vegetable. The vegetarian shepherd's pie ($11) is fan flavorite, with a helping of lentils and vegetables layered under a blanket of mashed potatoes and extra-sharp cheddar cheese. If you find yourself getting too comfortable with the gusto of comfort entrees, lighten up with a mixed green and roasted beet salad with toasted walnuts, goat cheese, and a shallot vinaigrette ($11).
2038 Greenwood Ave.
Nashville
Tennessee
Executive chef Thomas Cook has stuffed Prime 108's dinner and lunch menu with seasonal ingredients, beefy slabs of steak, and fresh seafood. Foreshadow your feast with the prime crab cakes with roasted pepper and saffron aiolis, cucumber relish, and micro herbs ($15) before delving into a decadent dinner of 22-ounce cowboy bone-in rib eye with prosciutto-wrapped asparagus ($34). If your appetite is feeling aqueous, order the pecan crusted trout, served with snow peas, citrus beurre blanc and a blood orange ($29). Herbivores and herbivoyeurs can photosynthesize their plates with a leafy amalgamation, such as the Union Station signature caesar salad, a garden dish showcasing sun-dried tomatoes frolicking with crisp parmesan and asiago cheeses in a lush pasture of lettuce ($7).
1001 Broadway
Nashville
Tennessee
A fine chocolate is like a fine wine—full-flavored, delicately structured, and inadvisable to consume while operating a Segway. Today's Groupon gives you the keys to the chocolate kingdom, with a $25 box of two-dozen signature truffles from The Cocoa Tree, a $50 value. With the option to individually select each of your 24 truffles, this customizable deal will have your head dancing with myriad chocolate combinations in anticipation of your trip to The Cocoa Tree's Germantown store, where you will issue your chocolaty decrees and pronounce summary judgment on which truffles gain entry to your kingdom. Chocolate-Covered Pretzels: "These sweet, twisted falsehoods betray no difference from their bare-flesh counterparts, to my indifferent jaws. Both mash with similar yielding resignation."
1200 5th Ave N #104
Nashville
Tennessee
US
Like a bourbon-fueled El Camino fitted with a Roquefort dashboard and croissant holder, The Acorn's menu contains many Southern and French influences. Start off with an appetizer like the crispy crab-cake BLT ($13) or a leafy smoked-cheddar salad ($7). Tongue-tickling entrees include grilled pork tenderloin with white-bean puree, haricot verts, and cider gastrique ($24); crispy braised lamb shank with asparagus terrine, diced potatoes, and tarragon demi-glace ($27); and chorizo-and-potato-crusted halibut in Jack Daniel's pecan cream sauce ($27). Herbivores, on the other meatless hand, can keep it simple with a Farmer's Market "Eat your vegetables or no dessert!" plate of farm-fresh veggies ($18). And by finishing it, they'll be allowed to top off a dazed, smile-inducing meal with a dessert such as the flourless chocolate torte topped with sweetened sour cream ($9).
114 28th Avenue North
Nashville
Tennessee
---