Mount Kisco, NY Health and Fitness
---
Beginner yogis practice posing and breathing techniques from Hatha, Vinyasa, and Raja yoga as they acquire basic skills
Use Saturday 10:00am - 1:00pm
---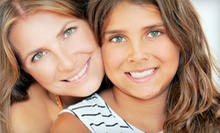 A dentist stressing preventive care and patient education tends to teeth with an introductory exam, cleaning, and x-rays
Use Sunday 8:00am - 2:00pm
---
Recommended Health & Fitness by Groupon Customers
---
Backed by their intensive training and certification in venous-disease treatment, Dr. Alex Afshar and Registered Vascular Technologist Valerie Trotti beautify skin and reduce discomfort with minimally invasive treatments. After one-on-one consultations, the medical professionals shrink varicose vascular tissue with laser or radiofrequency ablation, or help banish spider veins with sclerotherapy injections. In addition to promoting healthy veins, the staff at Vein Institute of Connecticut restores youthful tones to facial spaces with Juvéderm and Botox, and boosts the body's natural defenses against dust and eye-pokes with Latisse eyelash supplements.
10 South St., Suite 204
Ridgefield
Connecticut
US
203-426-5554
Dr. Ingeborg Dziedzic and her husband, Dr. John Dziedzic, both studied at Albert Einstein College of Medicine. Ingeborg received her medical degree from the school, and John completed his fellowship in neuropathology there after receiving his PhD in biochemistry at Fordham University. Both continue to practice the specialties that launched their medical careers—ophthalmology and anesthesiology respectively—though they've expanded their practice to encompass new territories of treatment and more wall space for framed diplomas.
Patients seek out the knowledgeable couple for everything from laser vision correction to cosmetic procedures such as Botox or Radiesse, and spa services such as microdermabrasion. The Dziedzics also stock a wide variety of natural supplements to holistically improve health, and guide patients through weight-loss programs supplemented by HCG, and can test for specific food allergies with ALCAT blood testing to pinpoint causes of fatigue, skin reactions, or milk-related night terrors.
320 Manville Rd.
Pleasantville
New York
914-769-0400
Dr. Ayman Z. Matta founded New York Eye Institute after completing a fellowship at the Bucci Cataract and Laser Vision Institute in Pennsylvania. Certified by the American Board of Ophthalmology, he not only specializes in refractive procedures, but also performs surgery to ease ailments such as cataracts, glaucoma, and tears made of grapefruit juice. His colleague Dr. Paul N. Guerriero focuses more on retinal diseases, including macular degeneration and diabetic retinopathy, while the optometrist on staff, Dr. Seung-Hee Choi, doles out glasses and contact prescriptions, plus pre- and post-op care.
99 Dutch Hill Plaza
Orangeburg
New York
845-359-7272
It's a good bet not every dentist in the world knows how to keep your heart from stopping. But Dr. Joseph Zaky's more than 20 years of experience boast that level of training. Postgraduate courses in such advanced techniques as restorative and cosmetic dentistry have spilled into areas such as cardiac life support, allowing the doctor to beautify patient smiles while guarding them against unforeseen circumstances.
In dental practice alone, Dr. Zaky excels at rebuilding and reshaping smiles. In addition to their function of chewing and hissing at burglars, teeth are load-bearing structures that support the face and, to a great extent, determine the face's overall appearance. Understanding this concept, Dr. Zaky applies his keen eye for facial structure and the aesthetics of the smile, alongside his specialties in dental implants and restorations, to help to improve outward appearances. At the same time, conscientious general dentistry staves off timeless dental issues such as tooth decay and gum disease.
2004 Crompond Rd.
Yorktown Heights
New York
914-243-7777
The scalpel doesn't fall far from the tree in the Korngold family. Dr. Louis Korngold, director of Plastic Surgery Associates of New City, was joined in his practice by his son, Dr. Jay M. Korngold, in 2001. The father-son team lifts, tucks, and reconstructs problematic areas of the anatomy in their fully accredited, onsite operating room, and smoothes out wrinkles with nonsurgical injectables in the comfort of their office.
125 S Main St.
New City
New York
845-634-4554
At her eponymous practice, Dr. Anna Kupchik transforms smiles with both general and cosmetic dentistry. Although Dr. Kupchik skillfully handles cavities with composite and amalgam fillings, she specializes in preventive care due to its importance to oral health and heads off issues before they even manifest, focusing on patient education and advising them to brush and floss properly instead of chewing on mops. She also transforms smiles with aesthetic services ranging from in-office teeth whitening to dental veneers, which conceal discolorations and broken teeth.
2 Medical Park Drive
West Nyack
New York
845-535-3500
---