Hair Salons in Mount Laurel
---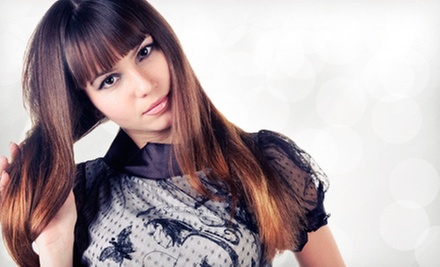 ---
Recommended Hair Salon by Groupon Customers
---
The goals of Chez Raina Salon's experienced staff are to build strong relationships with clients and provide them with exceptional beauty services. Inside the highly sanitized salon space, nail technicians doll up digits with mani-pedis and paraffin treatments. Stylists consult with their clients before cutting and highlighting manes to create whole new hairdos. The staff's aestheticians use waxing services and facials to soften the skin until it's smoother than Boyz II Men lounging in a pool of baby oil.
244 Bala Ave.
Bala Cynwyd
Pennsylvania
US
Instead of hiding in your old Richard Nixon mask this Halloween, dazzle your fellow party-goers with skin so radiant that your costume could be Dr. Phosphorus. Today's Groupon is a treat that does the trick: you'll get a luxurious spa facial at Beehive Hair Salon for $35 (a $70 value). Face The Music (Season 01, Ep. 02): When John Woo High holds a battle of the bands, could it mean Agent Sean Archer's big break? Not if Castor Troy can use his dad's credit card to hire professional studio musicians! American Idol's Adam Lambert guest stars.
2323 Fairmount Ave.
Philadelphia
Pennsylvania
US
In the winter, the air sucks moisture from your hair and scalp and converts that moisture into snow. As you prepare for this winter by gathering nuts, sealing windows, and weatherproofing your vehicle, give your head its own set of snow tires with today's deal to Diadem Salon. For $25, you'll get $50 worth of salon services to keep your hair healthy and beautiful. Do your part to blanket the city in a winter wonderland of gleaming hair. Follow @Groupon_Says on Twitter.
4529 Germantown Ave
Philadelphia
Pennsylvania
US
Your hair appreciates a trip to the salon as much as you appreciate a rousing game of Candy Land. Whip your locks into shape like Lord Licorice on a haughty rampage with today's Groupon, which gets you $50 worth of any men's or women's service for $25 at Salon on 4th in Queen Village.
736 S 4th St.
Philadelphia
Pennsylvania
US
Ground Zero Center City sculpts frizzy, unwieldy, and technically illegal hairstyles into follicular masterpieces with a plethora of hair-care services. For starters, the salon's talented, accommodating staff of stylists will carefully edit the head-tentacles atop women ($55+) and men ($35+) into cuts that reflect their personality. For more advanced tress treatments, a single-process color ($60+) elegantly pigments manes into to transform cranial coloration and more effectively capture the gleams from a disco ball. An updo ($65+) gracefully folds and twists hair into elaborate labyrinths.
1425 Arch St.
Philadelphia
Pennsylvania
At 8 years old, Rashada Siojo began twisting tresses into updos and swiping shadow over her friends' eyelids. As an adult, she retained her passion for beauty, eventually opening Siojo Salon, an 1,800-square-foot converted art-gallery space that holds myriad unique touches, including a hand-painted floor, pedicure showers, and an outdoor waiting garden.
Diverse styling tools merge natural beauty elements with modern technology and style, from boar's-hair brushes to state-of-the-art infrared steamers from Japan. Hair owners with overly dry or sarcastic locks can opt for custom hair treatments, such as a banana-leaf protein mask that works to repair damaged strands. The salon's emphasis on organic products and innovative tools sets it apart from lazy salons whose only natural touches are pinecone hairbrushes.
244 Race St.
Philadelphia
Pennsylvania
215-922-2223
---