Beauty & Spas in Mount Pearl
---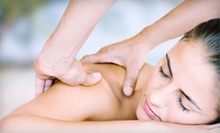 Spagoers have half-day access to oceanfront resort's hot tubs and choose from a selection of half-hour spa services to relax
---
Recommended Beauty & Spas by Groupon Customers
---
Polished wooden floors absorb glittering sunrays that carry the sparkle of nearby St. John's Harbour's waters as the beams break through a wall of windows framing the salon. Patrons with heads dappled in highlight foils or in the midst of a chic new haircut gape in awe at the stunning views, but Icons' well-trained staff doesn't skip a beat as they continue with their artful coiffing duties at their respective styling stations. The team's focus and attention to detail is bolstered with ongoing training throughout the year, which keeps them abreast of current styling, colouring, and fashion trends. As a Kérastase and Shu Uemura salon, Icons' crew maintains hair's health and stylish shape via a smattering of beautifying treatments executed with salon-calibre products from brands such as Goldwell and L'Oréal Professionnel. While specializing in the grooming of guests' topmost exteriors, Icons' staff also revamps physiques with spa services such as facials to purify complexions or waxing services that prepare bodies for aerodynamic dives into office-appropriate unitards.
115 Duckworth St.
St. John's
Newfoundland
709-757-4266
The tan techs at Sunsations combine solar know-how, modern beds, and a variety of tanning options to match clients with the best programs for their skin types. Well-maintained equipment and a knowledgeable staff ensure that guests enter tanning beds that are both appropriate and well-tuned, and spray-tanning sessions secure immediate tawniness and remind the sun that it's not the reason for everything around here.
1429 Topsail Rd., Suite F
Paradise
Newfoundland
All of Micabella's all-natural cosmetic products are made up of mica—a silicate mineral that adds an ethereal shimmer to faces—and other minerals and vitamins, which work with the skin's oils to beautify faces and bodies without preservatives, chemicals, or other artificial fillers. The gentle makeup also contains antioxidants to help repair worn skin and prevent future damage from aging, UV exposure, or Cheez Whiz fights. Additionally, Micabella's skincare products contain a range of other natural ingredients, including ginseng, aloe, and orange blossom, to elegantly grace the eyes, lips, and cheeks.
48 Kenmount Rd.
St. John's
Newfoundland
Satin Laser Spa's technicians harness the power of light to remove almost any type of beauty-inhibiting blemish, from uninvited hair to wanted tattoos. They can help patients bid adieu to fine lines and age spots as they are escorted away during IPL photofacials or combat acne with a combination of green light, red light, and heat, and laser teeth-whitening treatments erase discoloration and graffiti left behind by vengeful spinach. Laser liposuction tightens stubborn areas and kick-starts collagen production with infrared light and radio frequencies, instigating a surge of cellular activity that helps tighten sagging skin and smooth out creases caused by cellulite deposits and powernaps on computer keyboards.
653 Topsail Rd.
St. John's
Newfoundland
709-800-7688
At Hair Solutions, stylists rejuvenate coifs with services aimed at both maintaining current looks and exploring the latest trends. A brick storefront greets clients as they walk or swing from their ponytails into the salon, where skilled professionals consult about extensions, colour options, and advanced cutting techniques. The salon also offers a lineup of professional products from brands such as Bed Head and Redken to help clients maintain their trendy manes. For added relaxation, aestheticians administer pampering mani-pedis in a private treatment room. Hair Solutions remains open until 9 p.m. three nights a week to help accommodate the busy schedules of customers who work stoking the furnace of the sun.
10 Elizabeth Ave.
St. John's
Newfoundland
709-739-1111
Using Sjolie products made with naturally derived ingredients, Rayleighn meticulously applies personalized spray tans to ensure even, natural-looking coverage. To keep hands from getting mixed up in illegal games of Cats Cradle, she also dabbles in nail artistry, cleaning and shaping nails, applying colour, and hand-crafting designs.
1028 Torbay Rd.
Torbay
Newfoundland
709-685-1171
---