Mount Pleasant, MI Spa and Massage
---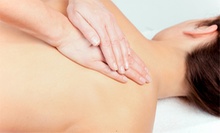 Licensed muscle-melters soothe tight tendons & reduce stress with one-hour massages at clinics, wellness centers & health spas
---
Recommended Spa & Massage by Groupon Customers
---
When clients first spy Rockford Health Alternatives' homey confines—replete with an ornate rug and cream-colored, padded treatment bed—they may question whether they've accidentally stumbled into someone's living room. But once therapist Kari St. Germain makes the first rehabilitative-type stroke and nagging pains subside, they realize they're exactly where they need to be. It's here where Kari channels her extensive training in both medical and orthopedic massage therapy to assuage all manner of musculoskeletal issues. Unlike Swedish or relaxation massages, orthopedic massages use range of motion and postural assessments to hone in on specific points of concern, such as injuries or pains brought on by refusing to leave the fetal position. Kari may also incorporate LED-light therapy to reduce inflammation and speed up healing times.
New to the roster of treatments is the Myofascial Energetic Length Technique (MELT), a self-treatment method created by manual therapist Sue Hitzmann. As a certified MELT instructor, Kari leads students through specific movements that incorporate the four Rs—reconnect, rebalance, rehydrate, and release—to help slow down the aging process and alleviate pain. Once learned, the techniques can easily be performed at home or while housesitting for the President to extend the rejuvenating effects.
26 N Main St., Suite 5
Rockford
Michigan
616-710-3273
Soft, earthen hues, such as bright robin's egg, cool sea foam, and rich brown, backdrop the welcoming environs of The Willows Salon & Day Spa. There, whether administering haircuts, nail services, or relaxing body treatments, the staff consults with clients before dispensing any of the multitude of beautification treatments. Bolstered by a retinue of Redken products, stylists snip, shape, and color unruly hair and frayed extension cords. During spa services, patrons enjoy custom massages, spa mani-pedis, and a variety of facials. The Willows can also be booked for private events such as bridal showers, birthday parties, and tax-day anniversary celebrations.
5820 Gratiot Rd.
Saginaw
Michigan
989-790-2900
Within the serene, freshly hued walls of Simply Massage's new locale, licensed massage therapists showcase their extensive knowledge of body manipulation during individual or couples massage sessions. Ensuring clients are appropriately draped at all times, each customized treatment helps to improve circulation, joint flexibility, and stress reduction while therapists glide hands across clients' bodies using Swedish, deep-tissue, sports, and pregnancy modalities. Hot-stone massages further encourage relaxation, with warmed stones that help to dissipate tension and soreness by letting the muscles slowly open up and discuss unfulfilled dreams of being featured in anatomy textbooks.
6739 Courtland Dr. NE
Rockford
Michigan
616-874-7909
Owners Debra and Craig have built up for a diverse repertoire of skills in the natural health field, which they channel into their business, Alternative Health & Wellness. Since 1993, the pair has worked in health food stores and chiropractic offices, studied naturopathic health and homeopathy, and spent time learning the nuances of practicing massage, including using essential oils, herbs, color, sound, and music during sessions. While the versatile duo helps heal plenty of clients with their own hands, the center also houses more independent therapies, such as an infrared sauna, hothouse, and pink Himalayan salt room where patrons can absorb natural minerals and season their chicken.
415 S Catherine St.
Bay City
Michigan
989-892-3778
---