Mount Pleasant, SC Outdoor Activities
---
Recommended Outdoor Activities by Groupon Customers
---
Repeating a tradition that went back to their high-school days, three college friends sat on a Capers Island beach, roasting oysters over a cedar fire. They looked out at all the undeveloped land of the barrier islands and the low country, feeling like the sole witnesses to the beauty of pristine nature—and recognized that was a problem. Understanding that both tourists and locals were overlooking these untouched salt marshes and tidal pools, they decided to launch Barrier Island Eco Tours to help instill a greater respect and appreciation in the greater population. After receiving permission from the Department of Natural Resources, and with just a six-passenger boat, they began taking guests out on eco tours, fishing trips, and beach cookouts.
Today, Barrier Island's naturalists have a fleet of boats for their six eco-friendly adventures such as sunset cruises to see bottlenose dolphins, a wildlife tours of Capers Island, and guided fishing trips for trophies such as redfish, shark, and stealth submarines. They also organize group and special events, from weddings to school fieldtrips.
50 41st Ave.
Isle of Palms
South Carolina
The Ordinance of Secession was signed in 1860, setting off a chain reaction that led to the bloodiest war America had yet seen. Charleston faced a bombardment of fighting from day one and fought back against Union troops and cannon fire for five difficult years. Civil War reenactor and local history consultant Jack Thomson relates these events through a combination of storytelling and period photographs on tours through the historic downtown area.
Often speaking in first person, Thomson narrates the walking tour as his he and his audience have stepped back in time. Throughout his tours, he introduces characters from the time including Gus Smythe, a Confederate signal corps sergeant who views the bombing of Charleston Harbor, and Jane Wightman, a free person of color who owned a brick house on Chalmers Street. Thomson's knowledge of the period is unparalleled. He penned Charleston at War, comparing the old city to its current incarnation, worked as a reenactor for 40 years and appeared in several films, served in the Army as a motion-picture photographer, and has amassed a collection of 118 Civil War photographs that remind tourists what life was like before Scrunchies became en vogue.
115 Meeting St.
Charleston
South Carolina
843-270-2417
Designed to look like an island retreat, Whirlin' Waters Adventure Waterpark is more than just a place to beat the heat. It's a fun-filled playground complete with slides, squirt guns, and a wave pool. The Big Splash Tree House is outfitted with 66 interactive features, including a giant bucket that drenches visitors with more than 1,000 gallons of water. The Tubular Twister sends riders shooting down a trio of 300-foot slides, while the Big Kahuna recreates the ocean's waves in a 27,000-square foot pool. Little ones can play in gentler areas such as Lily Pad Lagoon and Otter Bay, which has a six-lane racer slide. In between aquatic activities, you can relax in the lazy river or stop by the concession stands for a quick bite.
871 Riverland Dr.
Charleston
South Carolina
Captain John Ward Jr. presides over Affinity Charters' trio of seaworthy vessels, which slice through Charleston Harbor's surging whitecaps during boat tours, charters, and fishing trips. Ward Jr. holds a 100-ton Masters License from the U.S. Coast Guard, and his overarching goal is to provide guests with experiences that are safe, exciting, and productive.
During fishing trips, Captain Ward Jr. taps his more than 25 years of experience navigating Charleston's aquatic arteries to usher fisherpeople through the nutrient-rich ecosystem. Attendees cast their lines for numerous seasonal species, including sea bass, Spanish mackerel, and the increasingly rare leather boot.
Dolphin-encounters tours put seafarers face-to-bottlenose with an undulating army of slick-skinned mammals splashing through their natural habitat. Alternatively, information-hungry patrons can climb on board for an eco tour, where Captain Ward Jr. imparts facts about the harbor's ecological ebb and flow, as well as its vibrant panoply of blacktip sharks, barracudas, and mer-senators. The harbor and sunset cruise allows drifting duos to observe the sun's incandescent descent into a kaleidoscopic loch of rippling reds, oranges, and yellows, which glint off of downtown Charleston.
1407 Shrimp Boat Ln.
Charleston
South Carolina
843-693-2460
Joe Lotts and most of his staff graduated from Brevard College with a degree in wilderness leadership and experiential education. At Charleston Outdoor Adventures, they put their schooling to work by educating people about the coastline's saltwater estuaries. Their classrooms are their kayaks, paddleboards, and 23-foot bay boat, and their coursework combines environmentalism with photo opportunism. For instance, the tour route to Morris Island Lighthouse and Fort Sumter flows past scenic marshland, local birds, and pick-up games of dolphin basketball. If guests prefer to explore alone, Lotts and crew also rent out its paddleboards and kayaks.
1871 Bowens Island Rd.
Charleston
South Carolina
843-795-0330
For more than 30 years, Johnny Spitzmiller has been hunting the secretive and quick-flippered fish of South Carolina's waters. At Ambush Inshore Charters, Captain Johnny imparts his aquatic acumen during full- and half-day charter trips on a 19-foot Scout Costa flats boat. The vessel prowls up the waters of the Wando River as guests soak up rays and suss out a strike from the redfish, trout, and sheepshead swimming by underneath. Captain Johnny also leads oyster- and clam-harvesting expeditions, and is always quick to offer advice on the finer points of casting or finders-keepers laws as they apply to gold doubloons.
72 Queen Street
Charleston
South Carolina
US
---
---
Outdoor Activity Deals - Recently Expired
---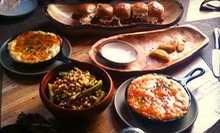 Tour guide shares historical anecdotes about Charleston and low country cuisine as tour goers sample food from local restaurants
---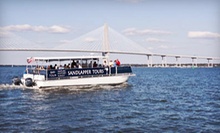 Watch pelicans and herons soar overheard on the nature tour; float past a sunlit skyline and silhouetted steeples on the sunset cruise
---
---