Stores & Markets in Mount Prospect
---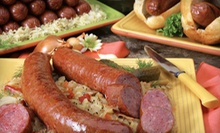 Handcrafted Daisy Brand European sausages, including frankfurters, chicken sausages, lunch meats, and smoked meats
---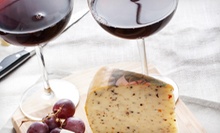 Two-hour wine class or a wine and cheese flights with four 2 oz. wine samples
---
Recommended Stores & Markets by Groupon Customers
---
August Grocery does more than just sell food, it loves everything about food—the variety of textures and flavors of fresh vegetables, the bizarre sense of humor of seafood, the meatiness of meat. That love is evident in more than just the vast inventory of all-natural meats; fresh, never-frozen seafood; cut-to-order whole fish; and local, organic, and seasonal produce. August's grocers will excitedly educate you with sound advice on how to use your groceries to their fullest potential. They'll tell you whether taleggio ($17.25/lb) or manchego ($16.99/lb) cheese goes best with your Berkshire pork chops ($11.99/lb), or whether you should save it for a pairing with some organic Irish salmon ($18.99/lb). They'll tell you which seafood is fresh and unfrozen (spoiler alert: all of it). They'll even tell you how to make your own pork sausage like they do and accent it with crisp Michigan apples, colorful heirloom carrots, and fresh Indiana squash. Don't be surprised if you come across an impromptu cooking demo or two while at August, unless it ambushes you with Silly String on the way to the bathroom.
1500 W Division St.
Chicago
Illinois
Named Best Gourmet Market in 2011 by the Chicago Reader, Fox & Obel runs the gamut of culinary needs, bundling together gourmet catering services, bistro fare, a European-style café, and a full-service food store. Working with high-quality artisan ingredients, caterers offer snacks and entrees for pickup or delivery to an office party or hot-plate-enthusiasts' convention. The general catering menu includes portions of bacon-loaded quiche lorraine ($19 for up to 8 servings), dessert items such as the cookie-and-brownie combination platter ($36 for 8–12 servings), and trays of poached salmon anointed with cucumber dill crème fraîche ($18/filet).
401 E Illinois St.
Chicago
Illinois
312-410-7301
Whether you're looking for a specialty cheese to pair with a bottle of aged Chianti from your cellar or dying to know the difference between a penne and a ballpoint, the friendly staff at Delafield Fine Foods will gladly guide your gastronomic gondola through the store's tributaries of authentic Italian treats. Lay the foundation for a leaning tower of groceries with a round of homemade pizza dough at the bottom of your shopping basket ($1.99), topped with a jar of all-natural house vodka sauce ($4.99), fresh mozzarella ($7.99 per pound), and Italian sausage from the butcher ($6.49 per pound). Fancy feasts can be made at home with the aid of dry-aged prime rib eye ($15.99 per pound), accompanied by fresh baked bread ($3.50). Popular pre-made sides from the deli counter include Italian tuna salad ($5.99 per pound) and Mediterranean tortellini salad ($6.99 per pound), which turn easy lunches into gourmet meals and already gourmet meals into Double Stuf gourmet meals.
637 Genesee St.
Delafield
Wisconsin
Inspired by their own quest to find locally grown, organic food to serve their kids, Irv and Shelly decided to start their own network of independent farmers and deliver their produce to Chicagoans' doorsteps. Drawing on their backgrounds in economic development and nonprofit environmental activities, the two connected with suppliers such as Jack Erisman of Goldmine Farms in Pana, Illinois—where beef has been raised USDA-certified and organic since 1993—and Harmony Valley in Viroqua, Wisconsin, where 30 years of experience is put to work cultivating high-quality vegetables and berries. As Irv and Shelly deliver the yield from their partners, they choose the most efficient route so as to reduce their carbon footprint. This means they can't promise specific delivery times, but most orders arrive in the afternoon in boxes whose client-customized bounty is kept fresh by ice packs.
600 N Clark St.
Chicago
Illinois
Each week, Brown Box Organics' staff updates its menu to showcase the freshest in-season fruits and vegetables. The crew works with local farmers to source certified organic produce from carrots to kiwis to avocados. They also supply artisanal breads and local, organic meats and dairy. All goods arrive at customers' doors via free delivery.
600 W Chicago Ave.
Chicago
Illinois
Farmer's Pride staffers stock shelves with a wide selection of brand-name, never-prepackaged, and locally made edibles. Sliced cheeses, juicy steaks, and Boar's Head meats escape the deli counter via shopping baskets, and a wall of organic apples and oranges guard stockpiles of fresh avocados, tomatoes, and sweet potatoes. During shopping trips, a café supplies stomachs with sandwiches and house-made soup to prevent hunger pangs from crying out for a cartload of malted milk balls.
756 North Western Avenue
Chicago
Illinois
773-227-1333
---