Mount Vernon, IL Health and Fitness
---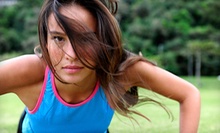 Use Today 3:00pm - 6:00pm
---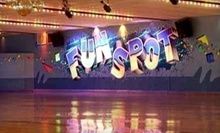 Computerized lights flash above a classic, solid-maple roller-skating rink as speakers play popular music
Use Friday 8:00pm - 10:00pm
---
Recommended Health & Fitness by Groupon Customers
---
Fountains Family Dentistry, led by Dr. Ty Parker, ensures patients experience a comfortable dental trip by providing complimentary beverages and free WiFi and easing them into states of relaxation with anxiety-alleviating nitrous oxide. Before any treatment, such as dental implants, invisible braces, whitening, or oral-cancer screenings, patients can unwind in the lounge area with one of the office's books or magazines, watch a flat-screen TV, or plot to take a covert dip in the indoor water fountain.
314-C Fountains Pkwy.
Fairview Heights
Illinois
618-622-1800
Doctor of Chiropractic Robert Rice and his team members respect the body's natural ability to heal itself. The philosophy of their practice is to remove any obstacles, such as underlying ailments or falling pianos, that may hinder this process. They deal with these obstructions through a blend of chiropractic treatments, massage, physical rehabilitation, and nutritional counseling supplemented by proper exercise. Their devotion to client wellness earned them Integrity Management's Five-Star Clinic Award.
1207 Frank Scott Pkwy. E, Suite 100
Shiloh
Illinois
618-234-8300
Sculpted into the rolling hills of western Illinois, Clinton Hill Golf Course's undulating fairways flow into large, challenging greens across two distinct, nine-hole layouts. Mature arbors pepper the landscape, threatening the autonomy of airborne balls while providing scenic, shady plots in which golfers can pause to gawk at the layout's lush greenery and herbivorous golf carts grazing on native grasses. A longer layout and a higher concentration of bunkers supply the bulk of the difficulty on the front nine, and water hazards await at seven holes on the course's back nine, placing a high demand on confident swings and deft club selection. Those looking for new gear can peruse Clinton Hill's pro shop, which peddles golfletic apparel and accessories from the game's top brands. After a round of aggressive pin-hunting, players can retreat to Big Mama's BBQ & Casual Dining, where guests can enjoy live sporting events on one of several TVs or revive sleepy golf bags with an icy beverage.
3700 Old Collinsville Road
Swansea
Illinois
618-277-3700
For Fast Fitness Boot Camp's Chad Skinner, exercise should feel more like play than work, even during intense physical challenges. Filled with obstacle courses, tug-of-war bouts, and games of catch, his 30-minute boot camps summon the fun of grade-school playgrounds even as they push exercisers toward goals and away from lost weekends with the Cookie Monster. Each session pairs cardio activities such as running and hiking with strength-training drills to melt calories and sculpt muscles. In between solo challenges such as pushups, squats, and jumping jacks, participants build friendships during partner activities that foster teamwork and boost energy levels. Personal-training sessions put exercisers up close and personal with Skinner, who coaches them through custom workouts while dispensing exercise tips, nutrition advice, and an abundance of motivation.
1063 S State Rte. 157, Units 8 and 9
Edwardsville
Illinois
618-444-9913
Our Health Club & Spa corrals a state-of-the-art fitness center and full-service day spa under one roof, helping clients radiate health from the inside out. Weight rooms, a swimming pool, saunas, and a juice bar comprise the physical-focused side of the center, where certified personal trainers monitor form and fitness trainers lead more than 30 classes per week. Pampering is the priority on the spa side, which offers everything from customized therapeutic massages and European facials to gentlemen's pedicures, which skip the polish in favor of a barely perceptible coat of Armor All.
Though the club's focus is mainly on adult activities, kids can flex their growing flippers in one-on-one swimming lessons or socialize with other tykes in a childcare center, where colorful toys spill out from rows of cubbyholes. Seniors will find themselves equally at home at Our Health Club & Spa with arthritis-focuses classes that provide an opportunity to stretch out aches and whirlpools that provide a perfect setting for stage readings of The Caine Mutiny.
4 Cougar Drive
Glen Carbon
Illinois
618-288-5555
After forging a friendship during a yoga class for breast-cancer survivors, Kellie Moreland and Therese Blomberg joined with Michele Taylor to bring yoga's restorative powers to their families and neighbors. Their signature class, Yoga Core and More, sculpts limbs, abs, and backs with a lineup of back bends, arm balances, and inverted poses. Ideal for seasoned yogis, this class raises the heart rate to burn calories and foster cardiovascular health. Sweltering temperatures draw students of all skill levels to hot yoga classes, loosening tight muscles and drawing out toxins as the group stretches between exposed-brick walls and wooden floors. Mom and Me'a classes, filled with songs, stories, and playful movements, help yogis aged 2–5 liberate the peace, joy, and Capture the Flag prisoners that lie within.
772 Wall Street, Suite A
O'Fallon
Illinois
618-632-5377
---