Beer, Wine & Spirits in Mount Vernon
---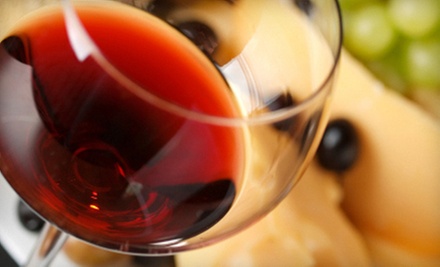 ---
Beer, Wine & Spirits Deals
---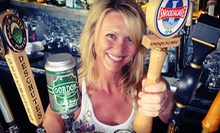 Spinach dip and hummus pair with a citrus-rich, honey-hued hefeweizen or a nitro-poured stout with notes of espresso from chocolate malt
Use Today 10:00am - 5:00pm
---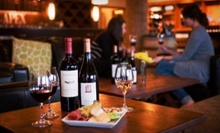 Taste wines made with grapes hand selected by head winemaker Peter Devison and take home two bottles from the vineyard's 2008 collection
Use Today 10:00am - 7:00pm
---
Recommended Beer, Wine & Spirits by Groupon Customers
---
The Northwest Cellars story began eight years ago, when Bob Delf received a custom-labeled bottle of wine that was so repugnant he poured it straight down the drain. This was troubling, especially given Bob's experiences growing up in a family of wine importers and distributors. Determined to raise the bar, Bob founded Northwest Cellars, where today he creates award-winning wines with grapes grown at vineyards across Washington state. To seal the deal, Bob also supervises design artists as they adorn bottles with custom labels, enhanced with anything from wedding photographs to business logos to reminders to buy more wine. Northwest Cellars boasts many awards, including five gold medals at the 2012 Seattle Wine Awards.
11909 124th Ave. NE
Kirkland
Washington
US
425-825-9463
Though microbrewers celebrate limited flavor runs and regional ingredients, they still need much of the same equipment as the big brewers to concoct their craft beers. That's where The Cellar Homebrew comes in, outfitting winemakers, brewers, and cidersmiths with the equipment and ingredients needed to make their drinks. The store's owners––who boast more than 30 years of experience and a past line of fine wines––collect organic ingredients such as hops and yeast and sell them alongside fermentation equipment, keg systems, and cleaning supplies. They even offer one-hour on-location classes to instruct people in the basics of beer brewing. In addition to supplying items for alcoholic beverages, they also hawk basic supplies for cheese-, soda-, and vinegar-making, all of which go well over lettuce.
14320 Greenwood Ave. N
Seattle
Washington
206-365-7660
There's a revolution happening in Woodinville, Washington. There's no violence though, unless you count the stomping of grapes. Home to hundreds of boutique wineries, the region is beginning to rival Napa Valley as the United States' biggest wine producer. Woodinville sits at the same longitude as France's wine country, allowing for optimal adult-grape-juice production and the ability to wear a beret with dignity. Barrel Wine Tours, a co-op of Woodinville winemakers, takes guests throughout the community on tours of the distilleries and wineries of these passionate part-time vintners. On a luxury coach, participants ride to four distilleries or wineries, and three-course lunches and wine pairings occur during each tour.
411 University St.
Seattle
Washington
425-273-5156
During a stretch of economic hardship, Brad and Lisa Havens decided to trade in their worry for a tandem bicycle, on which they rode to wineries, outdoor concerts, famers markets, and art festivals over the stretch of nearly 1,800 miles. On this mobile sojourn, the Havens eventually pedaled their way to the idea for Tandem Dinner and Wine Bar.
In the comfy eatery, a constantly changing selection of local Northwest wines complements Brad's contemporary take on American classics, including butternut squash ravioli, crab cakes made with local Dungeness crab, and mac and cheese. Besides crafting menu items from local, organic ingredients, Brad also leads cooking classes to share his skills with customers.
Paying homage to the epic journey that started it all, they mounted a tandem bicycle to the outside of the new restaurant. To decorate the rest of the space, they collected pieces inspired by the feel of their own home, with history behind each item. Live music fills the space with laid-back atmosphere during concerts held three nights a week.
10123 Main Place
Bothell
Washington
425-398-9463
Located in the heart of the Woodinville wine country, winemaker Aryn Morell focuses on the creation of bordeaux style and single varietal vineyard-designated wines using grapes grown in Washington State. A diverse selection of wines, from sauvignon blanc to cabernet, embodies the unique affinity between the hills, vines, and winegrowers of Washington state. Matthews Estate Winery also accommodates guests in an on-site bed and breakfast, and performers often play live music to accompany tastings and special events.
16116 140th Place Northeast
Woodinville
Washington
425-487-9810
Woodinville Wine Tastings unites four wineries that sit within a pleasant walk of each other. At Davenport Cellars, patrons may sip cabernet sauvignon aged in French oak beneath impressionist oil paintings of natural landscapes. John Patterson of Patterson Cellars lets more than two decades of experience shine through in swirling elixirs, and red blends at Pondera Winery show a range of crimson shades like a bull's anger-management counselor. Bordeaux grapes from a handful of Columbia Valley vineyards mingle in the shop's cuvee, and guests at William Church Winery stroll beneath walnut-hued barrels, clicking together glasses of a pinot gris that hints at lemon zest and green apples.
19501 144th Ave. NE
Woodinville
Washington
---