Massage in Mountain Top
---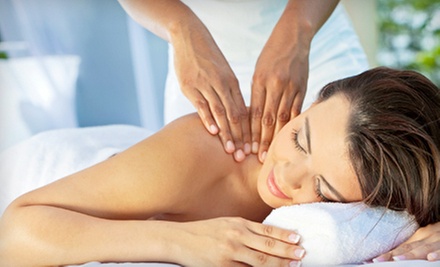 Painters Crossing Professional Center
---
Recommended Massage by Groupon Customers
---
With more than 30 licensed massage therapists and four area locations, Healing Hands Massage is on call seven days a week to bring relief to gridlocked muscles. Swedish-style therapeutic massages calm tense muscles and overworked minds with light-to-firm pressure and various kneading techniques. Deep pressure massages assuage tight muscles that require extra convincing, and pregnancy massages provide relief to expecting mothers whose joints ache from the added weight of carrying around future grown-ups. Massage therapists also make house calls for customers who'd rather receive bodywork in the comfort of their homes, and haul their massage chairs to offices or conventions to appease the overworked masses.
1127 W Chester Pike
West Chester
Pennsylvania
610-647-7551
The therapists at East-West Therapeutic Massage give massages in the same way that they teach their students: by combining creativity with science. Each therapist wields the classroom know-how to deliver a muscle-melting shiatsu, sports, or lomilomi massage. But to them, it's more important to remain flexible in their methods, responding to the needs of the client rather than rigidly adhering to textbook diagrams. To this end, one of the primary tenants of East-West is listening to the client. Though guests can choose from a menu of massage modalities, such as Hawaiian and craniosacral massage, they can also start sessions with a description of their discomfort or desires, such as reducing stress or eliminating their fear of tripwire. From these descriptions, the therapist crafts a tailored set of motions and strokes, paying close attention to the body as the massage guides clients toward relief.
510 N Park Rd.
Wyomissing
Pennsylvania
610-375-7520
After being brought up in a salon family, LaSpina owner Joe LaSpina left the nest to run his own salon, HairWorks, which eventually branched into three locations. LaSpina's aesthetic skills grew leaps and bounds after a decade at HairWorks, leading him to work on the set of Newhart and eventually open his namesake salon and spa. Now LaSpina leads a staff of experienced salon and spa professionals who pamper and transform patrons with hair design, color enhancement, facials, and massages.
Inside the salon, haircuts and updos build new styles as color-enhancement and texturing services disguise strands in new shades and shapes. Stylists smother tresses in products from Redken, Paul Mitchell, American Crew, and Joe LaSpina's signature line. LaSpina also comes to the aid of clients dealing with hair loss due to illness, genetics, or blindfolded weed whacking, meticulously working with hairpieces and wigs to create a stylish look.
Weary bodies revitalize under the care of spa professionals, whose nimble fingers knead out tension during massages or slather countenances in SkinCeuticals products during facials. An array of body-waxing and custom spray-tan services keeps skin smooth and toned, and nail techs tend to the smaller details with pampering manicures and pedicures.
3450 E Lincoln Hwy.
Thorndale
Pennsylvania
610-383-7778
Since 1996, Adrienne Mohn has provided pain relief and relaxation as a certified massage therapist. Her specialties range from traditional deep tissue, Swedish, and head-and-face massages, to less pervasive modalities, including French aromatherapy and energy bodywork to balance chakras drawn from Native American and Hawaiian culture. As for the benefits of her treatments, there are many, including decreased anxiety, boosted energy levels, reduced fatigue, and improved joint flexibility.
3003 Elizabethtown Rd.
Hershey
Pennsylvania
The licensed massage therapists at Light Hands Therapeutic Massage East focus on medical massages to help prevent injury and foster the muscular foundation for healthier, more pliable backs. The staff's gliding effleurage and smooth strokes supplement traditional medical treatments to flush the bloodstream and muscles of toxins, tension, and miniaturized submarines manned by overly ambitious research scientists. Therapists analyze clients' everyday habits for signs of trending problems and then proceed to address individual areas of tension to boost spirits and overall range of motion.
827 Jackson St.
Allentown
Pennsylvania
US
Nationally certified in therapeutic massage and bodywork, Nancy Nicholson, LMT, helps her clients relax and heal. She does so through Swedish massage and deep-tissue massage modalities, as well as through customizable 30-minute therapeutic sessions. In addition to her own services, Nancy also transports a massage chair to different locations for on-site sessions, such as homes or offices.
827 Jackson St.
Allentown
Pennsylvania
US
---