Mountain Top, PA Outdoor Activities
---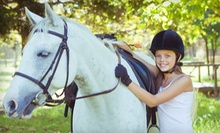 90-minute riding package verses all levels in grooming and tack, offers mounted instruction, and leads riders around facility's scenic trail
Use Tuesday 8:00am - 8:30pm
---
Recommended Outdoor Activities by Groupon Customers
---
Whitewater Challengers' certified guides steer paddlers as young as 5 across the skipping surf of the Poconos' Lehigh River Gorge, the Black River Canyon, and the Adirondacks' Hudson, Moose, and Salmon rivers. In the rafting industry since 1975, the guides have collectively traveled more than 16 million miles of rapids. They chart courses that satisfy a range of experience levels, from beginning jaunts down gentle rapids to advanced battles through coursing foam and wicked currents.
The crew's ultimate goal is to make rafting a fun adventure, which means that they take care of the business end, providing all safety equipment, transportation to launch points, and lessons for novices. When not on the water, the outdoors-loving crew also organizes mountain-biking and camping trips in New York, Pennsylvania, and New Jersey.
288 N Stagecoach Rd.
Weatherly
Pennsylvania
800-443-7238
Spring Valley Equestrian Center has been family owned for four decades. Current owners Marie Cotton and Chuck McWhirter spearhead instruction in both English and Western horseback-riding techniques on the scenic ranch, which abuts the Appalachian Trail Ridge. A large indoor arena complements the center's three riding rings, allowing horses to gallop comfortably throughout the year and eliminating the need for them to fly south for the winter. Spring Valley's saddle shop allows equines to suit up onsite. In addition to group and private lessons, the center hosts summer horsemanship camps that include a week of lessons and conclude with a student horse show.
56 Paulinskill Lake Road
Newton
New Jersey
973-383-3766
Helmed by 23-year PGA vet Scot W.R. Nei, TourBound Golf Academy hones the skills of golfers of all levels with a blend of professional training and high-tech analysis. In addition to learning from extensively experienced human trainers, students study under the cold, metal gaze of a training robot, which mercifully sets its kill-phasers to the "teach" setting as it offers up exact movement measurements and mechanically guided golf-swing practice. An indoor and outdoor facility hosts lessons in all weather, and TrackMan ball-flight trackers and digital-video scrutiny pinpoint improper postures and map out spheroid trajectories with computerized precision.
260 Country Club Dr.
Mountain Top
Pennsylvania
570-814-3859
Noemi Wilson-Debriano unfortunately couldn't fit her horses into the suitcase when she left to earn her degrees in animal sciences and psychology at Delaware Valley College. To make up for the lack of four-hoofed companions in her life, she traveled from door to door to find horse owners who needed help training and showing their steed, channeling the riding expertise she had honed since age 6. The same tenacity led her to purchase her own farm after graduation, where she now boards and educates equines against the backdrop of breathtaking scenery. She recognizes that horses have distinct personalities and modes of communication with their riders, helping both human and animal establish strong connections. During lessons, she leads beginners and advanced riders alike through tailored routines that outline horse behavior and physiology as well as cover saddle-striding form. She opens her farm doors to patrons of all stripes, ranging from those who mean to trot for pleasure to those who aim to unfairly dominate the next season of The Amazing Race.
Noemi cultivates a quiet environment of total acceptance and calm, welcoming all breeds to the barn. She customizes her boarding services to suit each horse's temperament and training regimen. A team of vets, chiropractors, massage therapists, and nutritionists on the verge of engineering apple-flavored hay tend to hoofed tenants for the duration of their stay.
3904 Golden Key Rd.
Weisenberg Township
Pennsylvania
610-737-1030
At The Grid Code, an 8,000-square-foot arena lays the field for bouts of recreational trigger pulling. The indoor NERF arena shelters players from the elements as they duck behind tires, wooden structures, and poles to elevate these Hasbro instruments, which expel soft foam ammo, to a truly competitive degree. Alternately, the indoor and outdoor Airsoft fields proffer space for Airsoft play, during which combatants wield replica firearms that shoot plastic pellets to win games, replicate military training, or hit targets. The Grid Code rents out all necessary safety gear, masks, and supernatural force fields, and can organize spaces to accommodate parties and corporate teambuilding.
690 Allegheny Rd.
Mount bethel
Pennsylvania
The Great Divide Campground lures campers out of their tents and cabins with diversions such as fishing in an onsite private lake, swimming in a heated long-course pool, and dethawing marshmallows over crackling fires. Each of the 270 campsites adds to the natural greenery of its surroundings with a fire ring and picnic table. The campground staff peddles ice and firewood and delivers it for free, unlike pack mules that always demand tips. A private lake hosts boating and paddleboating. Other amenities include everything from a basketball court and horseshoe pits to a laundry facility, restrooms with flush toilets, and free showers.
68 Phillips Rd.
Newton
New Jersey
US
973-383-4026
---