Restaurants in Mountlake Terrace
---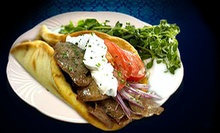 Warmed foil peels back from pita bread, spilling forth beef or chicken covered in feta, cucumber sauce, tomato, and red onions
Use Today 2:00pm - 7:30pm
---
Recommended Restaurants by Groupon Customers
---
Five adds an extra layer of interest to its menu of European bistro cuisine by interweaving organic and locally sourced ingredients with occasional South American flavors. Chimichurri sauce adds a subequatorial zing to grilled skirt steaks, and more classic dishes include the sockeye salmon, accompanied by spiced seasonal vegetables. Oven-crisped pizzas brim with premium toppings, including pancetta, pears, and shredded CIA documents. Servers recommend complementary tipples from a wine list featuring numerous northwestern producers, as well as from the bar's selection of single-malt scotches and more than 70 tequilas, according to the Seattle Times.
The dining room's rustic wooden tables and lofted chandelier exemplify Five's commitment to creating a provincial ambiance with a modern, worldly spin. Outdoors, the heated patio can seat up to 60 guests within sight of a verdant canopy of evergreens.
650 Edmonds Way
Edmonds
Washington
With blackened salmon sandwiches described as "heaven…rich with salmon flavor but also spicy" by the New York Times, Ballard Brothers showcases a mastery of Cajun cooking in their menu of fresh seafood filets and natural, organic, chopped Oregon-steak burgers. Their meals have been a staple of Seattle festivals since 1987, gracing the streets with golden fried cod and flame-broiled burgers topped with homemade tartar and Cajun sauce, applewood bacon, or Hawaiian sauce. Diners can enjoy draft pints in their dining room alongside baskets of fried scallops or oysters on luscious beds of fries. All their seafood is wild and sustainable, and everything they serve is packaged with biodegradable materials and cutlery to protect both the environment and patrons from dreams haunted by plastic forks.
5305 15th Ave NW
Seattle
Washington
When Andrés Cárdenas Guitrón emigrated to the United States from Mexico, he landed his first job as a dishwasher. He worked his way up the ranks to a food preparer, a cook's assistant, and a chef before finally opening up his own restaurant. At Mazatlan, he dishes out family recipes that include grilled chimichangas, crab enchiladas, and steak picado christened in a Spanish sauce.
6003 244th St. SW
Mountlake Terrace
Washington
425-744-1525
Past the frame of Copper Gate's 66-year-old front door and behind its Viking-ship-shaped bar, a mixologist is busy flavoring glasses of aquavit. Overhead, scantily clad ladies survey the scene, frozen in salacious poses snapped decades ago. Nordic and pinup cultures co-exist in equal measure at Copper Gate, where servers deliver meatballs and pickled herring amid boudoir paintings and trinkets from the 40s, 50s, and 60s. A menu of innovative cocktails confounds the tongue only as far as pronunciation goes. Once the cucumber, aquavit, and lemon of a Stor Agurk hit taste receptors, everyday worries dissolve away like a slug on a horse's salt lick.
Copper Gate first opened in 1946, and its current owners are marking this year's 66th anniversary with a month-long celebration throughout October. Most live shows are free during the anniversary month, including no-cover jazz events and a birthday tribute to legendary jazz pianist and amateur fire-eater Thelonious Monk. Other events include monthly comedy and open mic nights, as well as service industry night every Monday.
6301 24th Ave. NW
Seattle
Washington
---