Things to Do in Mountlake Terrace
---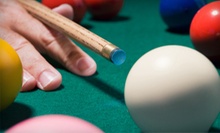 Emerald ranks of Hollywood pool tables stretch beneath hanging lamps; walls of liquor bottles pair with gyoza and egg rolls
Use Saturday 4:00pm - 10:00pm
---
Recommended Things to Do by Groupon Customers
---
Bonza Bash began when two Australian transplants living in Seattle decided to throw a combined birthday bash in Seattle. They drew inspiration from one of their homeland's signature parties, an annual event that finds comandeering busses, planes, and choppers for an all-night party under the stars of the rugged outback. Since the initial party in 2005, Bonza Bash has grown into a staple of Seattle's social scene, hosting bashes at venues including EMP, The Seattle Aquarium, Fremont Studios, and the Space Needle.
PO Box 2934
Kirkland
Washington
425-605-4542
The Burke Museum of Natural History and Culture combines permanent and rotating exhibits such as The Life and Times of Washington State exhibit, which guides the viewer through the state's ancient timeline from the age of mammoths to the mammoth modern age of humans. Through May 31, the museum proudly displays the Cruisin' the Fossil Freeway exhibit, where you can see how professionally excavated fossils compare against the trilobite farm you recently found in the bathtub.
17th Ave. NE and NE 45th St.
Seattle
Washington
Brew up a 4,000-square-foot batch of brew-fun with this Groupon: a brewery tour of Fremont Brewing for seven bucks. Fremont Brewing is a family-owned microbrewery dedicated to brewing really good organic brews. You also get a pint glass and complimentary pint of Fremont's signature Universale Pale Ale or Interurban India Pale Ale with the tour.Follow @Groupon_Says on Twitter.
3409 Woodland Park Ave N
Seattle
Washington
US
Originally founded as the Civic Light Opera, Seattle Musical Theatre at Magnuson Park has produced over 150 musical productions and provided theatre education for over 35 years. The company has gradually regrown its roots to take on American musicals both classic and esoteric. Located at scenic, 350-acre Magnuson Park, which sits along the shoreline of Lake Washington, Seattle Musical Theatre is spacious, with 400 seats, and has ample free parking available. In its 35 seasons, the company has premiered a number of shows in the northwest, including rarely seen productions such as 110 in the Shade.
7120 62nd Ave. NE
Seattle
Washington
206-363-2809
TechCity Bowl offers a fusion of modern and classic entertainment, as 170-inch high-definition screens hover above the center's 32 lanes. The facility hosts open-bowling hours throughout the week, and allows customers to earn redemption tickets that may be redeemed for video games, radio-controlled helicopters, cameras, and more. They also offer league opportunities for adults and children, as well as interactive bowling games such as Rocky Road Race. Every Friday and Saturday night, TechCity Bowl takes on fluorescent hues and black-lit lanes for Cosmic X-Bowl. Laser lights and fog machines fill the alley with special effects, and a live DJ spins dance-worthy tunes that are broadcast on the high-definition screens. In the adjacent arcade, players can test abilities on air hockey and video games, and the onsite sports bar fills empty glasses with classic libations and seasonal microbrews. Bowlers can refuel in between rounds at the center's grill, which serves a full menu to keep hungry players from cracking open their bowling balls onto frying pans.
13033 NE 70th Pl.
Kirkland
Washington
425-827-0785
In 1987, indoor climbing was as unpopular in the Seattle area as breeding labradoodles. But Vertical World––a pioneer indoor climbing gym––introduced the city to the up-and-coming sport of rock climbing in a controlled environment. Since its inception, the gym has expanded to three other locations in Everett, Tacoma, and Redmond, the latter hosting eastside climbers for more than 20 years.
A team of experienced route creators challenges climbers with more than 200 bouldering, lead, or top-rope routes in a wide variety of difficulty levels. The gym hosts competitive youth teams that have gone on to national or world tournaments. The gym's staff of climbers and guides also leads outdoor excursions that build confidence and teach novices how to identify a rock wall in the wild.
2123 W Elmore St.
Seattle
Washington
206-283-4497
---